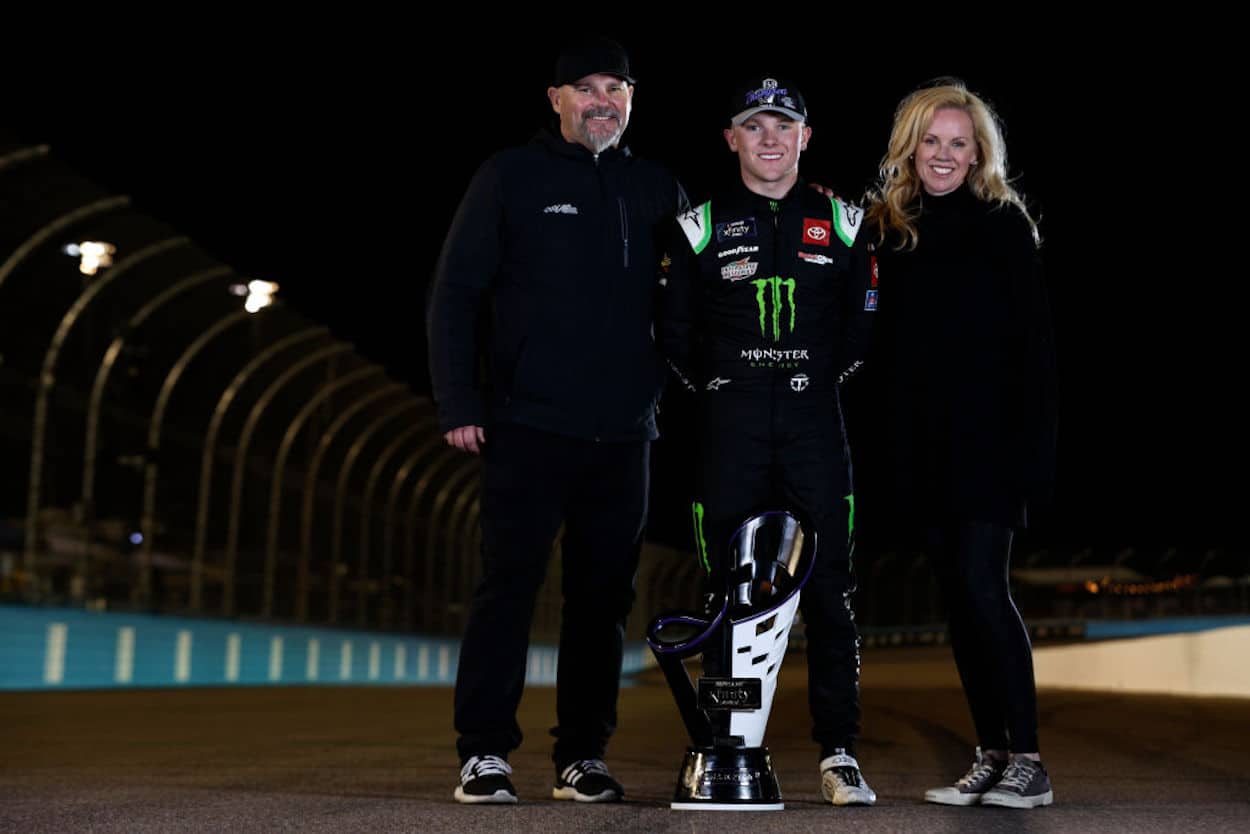 In His Final Public Appearance, Coy Gibbs Praised Son Ty But Also Acknowledged Room for Growth
When Coy Gibbs met with the media after Phoenix, no one could have imagined that would have been his last public appearance.
Before Coy Gibbs died in his sleep early on the morning of November 6, he'd just witnessed his 20-year-old son Ty win the NASCAR Xfinity Series championship a few hours earlier at Phoenix Raceway. 
Coy — the 49-year-old vice chairman of Joe Gibbs Racing and son of NASCAR Hall of Fame team owner Joe Gibbs — died in Avondale, Arizona after watching Ty Gibbs compete against three others for the Xfinity Series championship one day ahead of the 2022 NASCAR Cup Series finale at the same track.
Immediately following the season-ending Xfinity race, Coy Gibbs joined Ty's crew chief, Chris Gayle, in the Phoenix Raceway infield media center to take questions from media members about the race and Ty's 2022 season.
While most of the questions were directed at Gayle, Gibbs shared some compelling thoughts on Ty — who, prior to winning both the race and championship at Phoenix, had faced intense scrutiny all week long. The criticism came after Gibbs wrecked teammate Brandon Jones to win the previous weekend's race at Martinsville, where Jones saw his opportunity to join Gibbs in the Championship 4 erased when Gibbs knocked him into the outside wall in turns 1 and 2 on the final lap.
During the championship team's roughly 12-minute press conference after the Phoenix race, Coy Gibbs discussed the fallout from the Martinsville incident and more. Little did anyone know at the time, of course, that this would be his final public appearance.
Coy Gibbs was 'proud' of how his son Ty battled through the noise at Phoenix
Ty Gibbs' dustup with Brandon Jones at Martinsville wasn't the first time the young driver had tangled with a competitor in 2022. In fact, Gibbs was involved in quite a few on-track incidents over the course of the season, including one in the Martinsville spring race that spilled over to pit road where he and JR Motorsports driver Sam Mayer came to blows and Mayer walked away with a black eye.
But none of Gibbs' run-ins drew as much ire from the NASCAR community at large as the one in the fall Martinsville race, where he ruined a teammate's chance to compete for a championship the following weekend. After the race at Phoenix, Coy Gibbs addressed the criticism his son had faced in the days leading up to the finale.
"It's definitely been a tough week for sure," said Coy, a former NASCAR driver, football coach, and college football player. "When you start this day, I'm kind of like, 'I just want to get this day over with.' That was my mindset, because I want to move on and get past it. But I've been through this before in multiple sports. Ty hasn't. So it was more watching him and seeing how he's going to react during the day.
"I think he's just doubled down and did his job after making a huge mistake last week. It was fun to watch that."
Ty Gibbs drove an incident-free race at Phoenix, never once running into another competitor and earning congratulations afterward from bitter rival and fellow Championship 4 driver Noah Gragson, who finished second to Gibbs just two days after telling reporters at Championship 4 Media Day that he didn't like the oft-controversial driver.
Despite clearly not condoning his son's actions at Martinsville, Coy Gibbs was understandably pleased with how Ty drove at Phoenix — especially being under such an intense microscope in the days before the race.
"I'm definitely proud of him," Coy said. "I mean, I've always got his back as his father. Obviously, it's heartbreaking to go through tough stuff and watch — it's actually more heartbreaking to watch him go through it. I don't give a rip; I'm old and don't care. In fact, I've been racing with Chris since we were like 23 or something, so I've known him forever. We've kind of gone through a bunch of stuff in our life.
"But to see a kid hurting — and he knows he screwed up; and to go through all that, it's tough. It's tough as a parent, for sure."
Along with staying out of trouble, Ty Gibbs led 125 of 200 laps at Phoenix in his No. 54 Joe Gibbs Racing Toyota. The win — which came after starting from the pole — was Gibbs' seventh of the season. 
"Watching it today, yeah, just to see his determination, I think he's got skills and he's determined," Coy said. "It definitely made me proud. I think it made my wife — we were both proud, just because he just hammered down and did his job. If he wants to do this for a living, he's going to learn how to do that."
Coy Gibbs taught Ty important lessons that he'll forever cherish
Sadly, Coy Gibbs will no longer be able to offer advice to Ty, the oldest of his four children. However, Ty will undoubtedly be eternally grateful for the wisdom his father was able to pass along in the years they had together.

Ty received some of his most important guidance from his father during his up-and-down 2022 season.
"It's just a process," Coy said of the way young drivers learn and grow. "They make mistakes. They do stupid things. Sometimes it happens to you, sometimes you're doing it to someone else. Obviously, doing it to your teammate was awful. But I think that's why they're running Xfinity. The Cup guys still make mistakes, that's for sure. I see that every weekend sometimes.
"You've got to learn from it. And you can talk all you want, but you'd better do the right thing down the road. That's kind of what I tell him. It's your actions. We'll see where that goes."
Wherever Ty Gibbs goes and whatever he accomplishes in the future, he'll always have his father to thank for it.