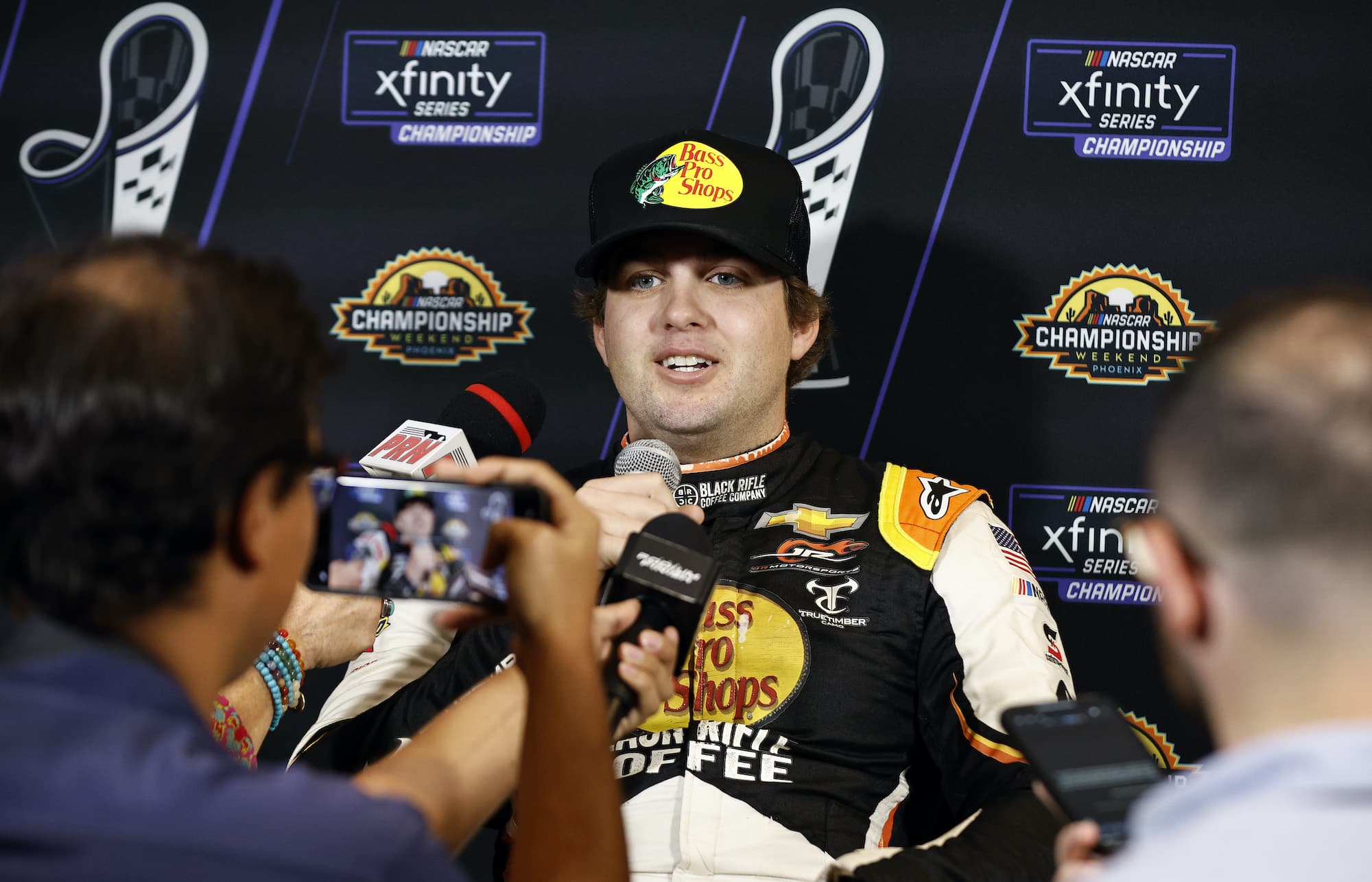 Noah Gragson Doesn't Hold Back and Fires Multiple Shots at Ty Gibbs on Eve of Championship 4
Noah Gragson didn't hold back on Championship 4 Media Day, firing multiple shots at Ty Gibbs, including suggesting the JGR driver lives in a fantasyland.
Noah Gragson is the favorite heading into this weekend's Xfinity Series Championship 4 race in Phoenix with eight wins on the season. Ty Gibbs would be a close second with six of his own. 
Both drivers met with the media this week to discuss the upcoming title race. However, before focusing on that, reporters revisited last week's elimination race at Martinsville, where the Joe Gibbs Racing driver dumped teammate Brandon Jones on the final lap. The JR Motorsports driver talked about the incident, how he's tired of it because it's just the latest in a line of incidents, and expressed a general disdain for his younger counterpart.
Noah Gragson and Ty Gibbs have a history
Noah Gragson and Ty Gibbs have been around each other a lot all season racing up front for wins. Racing in close proximity so often, contact isn't uncommon. However, in Portland, it was more than that.
In the middle of Stage 2, Gibbs lined up in front on the inside during a restart, with Gragson directly behind. The JRM car got a good launch on the wet surface, got even with the JGR car, and made a pass in Turn 3, nudging the No. 54 out wide. A normal racing move by all accounts. The Toyota driver didn't see it that way.
A turn later, Gibbs got into the right rear of the No. 9, sending him for a spin into the grass. After the race, Gragson was not happy.
"I'll take care of that," he told reporters. "I mean we're racing and I got the lead, (he) cheap shot us, but we'll keep that at the back of our mind and try to go to Nashville and win that race. You'll know when I get him back."
Critical of Gibbs after Martinsville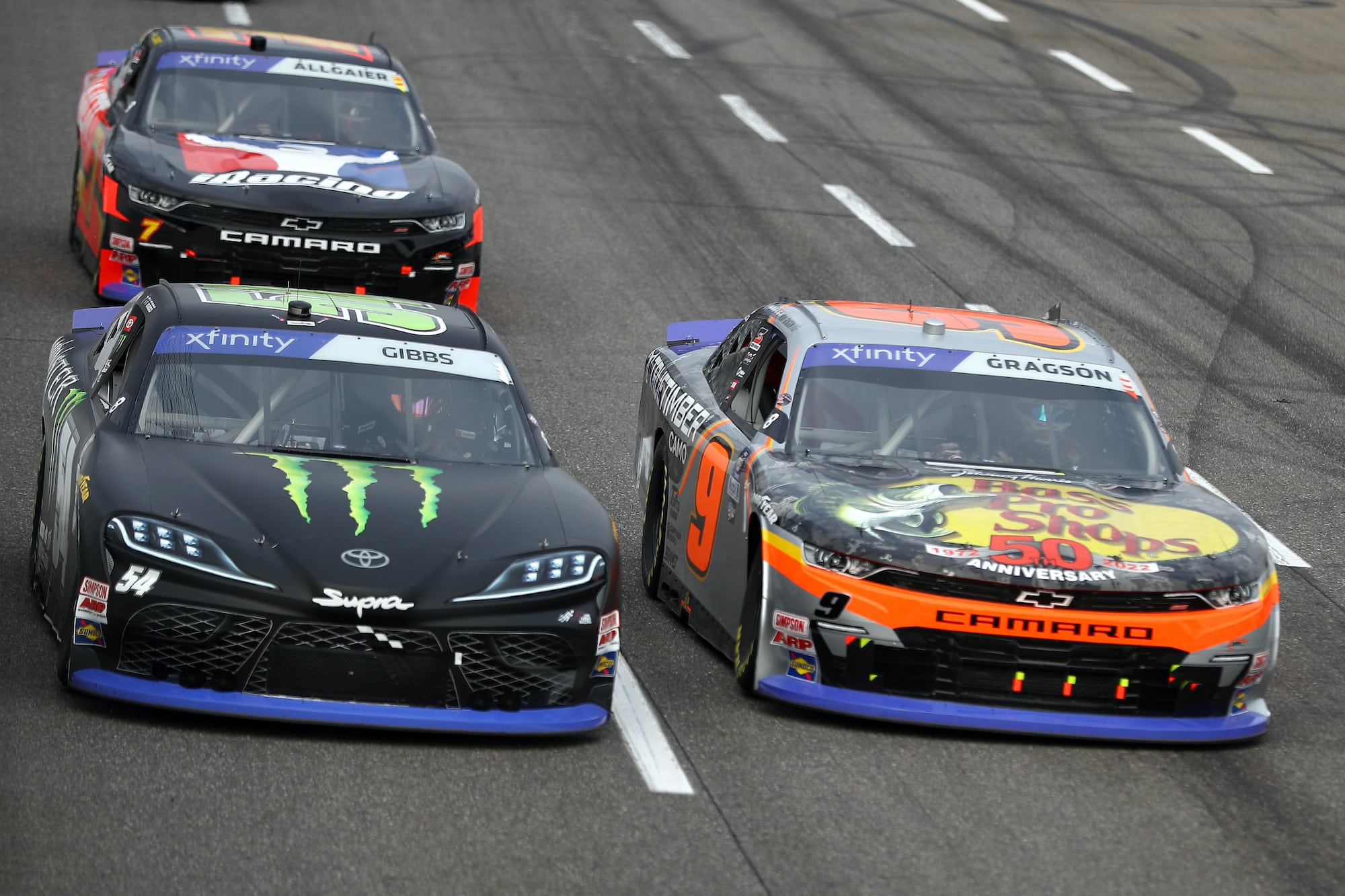 Last weekend after the Martinsville Xfinity race ended, everyone was talking about what had happened on the final lap. It was a shocking move that left most in disbelief. 
Noah Gragson, who's never been one short on opinion, didn't hesitate to share what he thought about the situation.
"It worked out for JR Motorsports, right," he said. "Allgaier got in, but Brandon and I are friends and I know what it would be like if I was in his shoes. And I wouldn't be too happy. He's shown a lot more composure than I would be right now. But I guess you kind of got to deal with that when you're driving a Ty Gibbs Racing, I mean Joe Gibbs Racing car."  
Gragson fires multiple shots at Championship 4 media day 
Gragson is a race car driver and entertainer. He climbs the fence after winning races. He's always good for a quote. This weekend before the Championship 4 race in Phoenix, the four candidates battling for the title met with the media, and the JR Motorsports driver delivered.
While Gibbs expressed remorse for what happened with Jones at Martinsville, Gragson and other drivers aren't buying it because it's the same old song and dance for the JGR driver who has offered similar responses multiple times this year following his on-track actions.
"I'm just sick and tired of 'I'm sorry, trying to learn' deal," Gragson said. "It's been two years." 
Gragson wasn't done. He also admitted that he didn't like Gibbs and when asked if the JGR driver might be less aggressive in the championship race, the JRM driver fired yet another shot. "He doesn't care. He lives in fantasyland."
Based on what Gragson and others have said, this weekend's race at Phoenix for Gibbs likely won't be a fantasy but a nightmare. 
Have thoughts on this topic? Keep the conversation rolling in our comments section below.