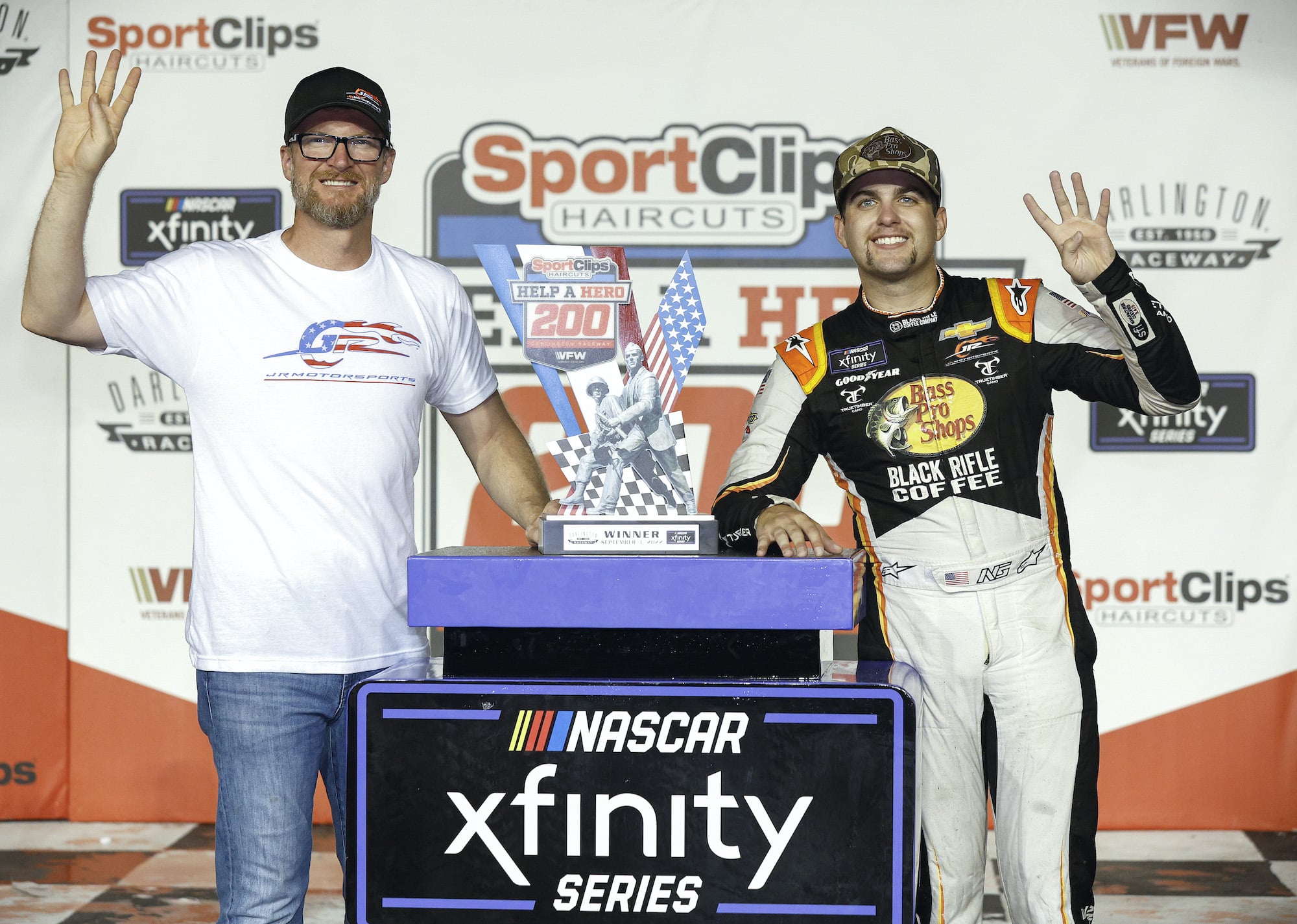 Dale Earnhardt Jr. Admits Concern That 1 JR Motorsports Driver Might Be Overaggressive With Ty Gibbs at Phoenix: 'Got Nothing to Lose' 
Dale Earnhardt Jr. admitted on this week's Dale Jr. Download that he has some concern one of his JR Motorsports drivers might be overaggressive with Ty Gibbs this weekend at Phoenix because he has nothing to lose.
Dale Earnhardt Jr. heads into this weekend's Xfinity Series Championship 4 at Phoenix with confidence. And he should. With three of the four title-contending cars representing JR Motorsports, there's a strong possibility his organization leaves with the trophy on Saturday.
This week on the Hall of Famer's popular podcast, he detailed a conversation he had with his drivers after Martinsville about what he expected from them in racing against the only non-JRM driver in the championship, Ty Gibbs, and candidly admitted there was some concern that one driver in particular might be overaggressive against the Joe Gibbs Racing driver based on their past history together. 
Dale Earnhardt Jr. team with high probability of winning Xfinity title
In the waning laps of Saturday's Xfinity Series race at Martinsville, it appeared that there would be two cars each from JR Motorsports and JGR advancing to the championship race in the desert. Then, Ty Gibbs inexplicably decided to stack the odds against himself by wrecking teammate Brandon Jones on the final lap. 
That single move eliminated Jones from title contention and allowed Justin Allgaier to advance, joining teammates Josh Berry and Noah Gragson for a chance at the title.
Since that unbelievable last-lap decision by the 20-year-old driver, everyone has speculated that Jones might get payback for the move in Phoenix. Many suggest the probability of it happening is even higher, in addition to straight-up retaliation, because Jones announced in September that he would be moving over to JRM in 2023. 
Earnhardt expresses concern that Sam Mayer might be overaggressive with Gibbs
On this week's episode of the Dale Jr. Download, Earnhardt reviewed this past weekend's Xfinity race, including Gibbs dumping Jones, and looked forward to this weekend's championship. The two-time Daytona 500 winner said as much as everyone is talking about how someone will pay Gibbs back for his Martinsville move that everyone in the industry roundly criticized, he's given his four drivers specific instructions. 
"I will tell you that I talked to my four guys post-Martinsville," he said. "And I said, 'Listen, we're not dumping nobody this weekend.' I said, 'We're going to try and that championship.' We're damn sure not going to let that 54 win it, but we're going to walk out of there with our heads up. 
"We're not going to win that championship and be embarrassed about how we did it. And I'm not done talking to them. Because I got — Sam's got nothing to lose, and he doesn't like the kid anyways."  
Mayer and Gibbs have a history
Earnhardt's last remark about Mayer is notable. He recognizes that the 19-year-old driver has a history with Gibbs dating back to their ARCA days. That rivalry was rekindled earlier this year in the spring at Martinsville when the JGR driver didn't like how Mayer had made it three-wide late in the race, and when it was over, rammed into the rear of the No. 1 car multiple times. 
Several minutes later on pit road, Gibbs hurriedly exited his car, walked to Mayer's stall, and confronted him. After a heated discussion for several seconds, Gibbs, who was still wearing his helmet, punched the JRM driver multiple times. 
That incident highlighted just how much the pair don't care for each other. Hence the cause for concern for Earnhardt heading into this weekend's season finale. As Junior said, Mayer's got nothing to lose. Gibbs has everything to lose. It sounds like the perfect recipe for someone getting loose and accidentally wrecking another car. And you know if it happens, Mayer would instantly become a fan favorite.  
Have thoughts on this topic? Keep the conversation rolling in our comments section below.