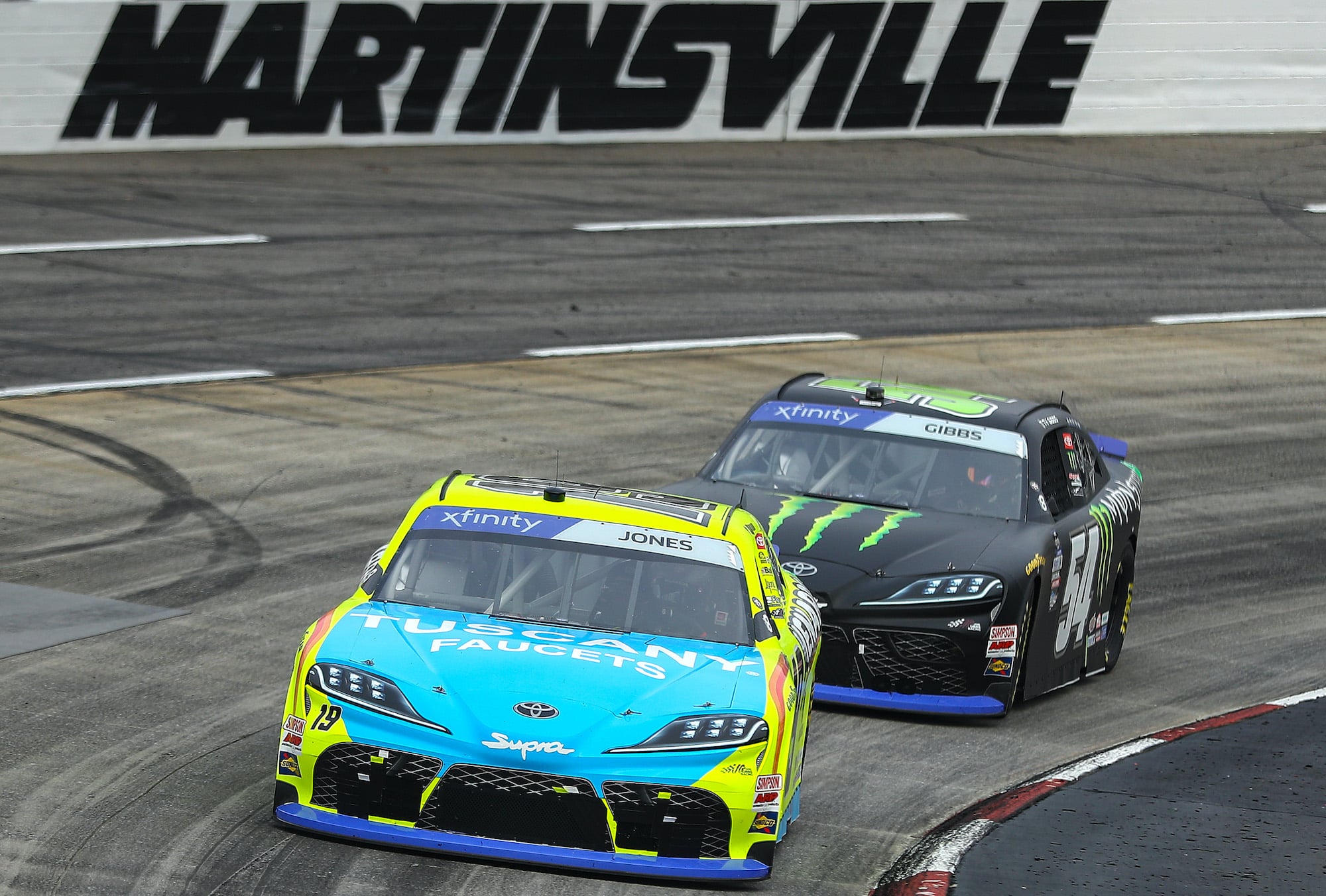 Kyle Petty Doesn't Hold Back and Says What Many Fans Are Thinking About Ty Gibbs After Dirty Move at Martinsville
Kyle Petty blasted Ty Gibbs this week for his "punk move" at Martinsville and used a word many fans have used to the describe the JGR driver for years.
Kyle Petty gets paid to share his thoughts as part of NBC's NASCAR coverage. The network has gotten its money's worth this season with plenty of flame-throwing from the former driver.
This week the 62-year-old commentator offered his latest hot take on the last-lap move at Martinsville Speedway when Ty Gibbs dumped his Joe Gibbs Racing teammate Brandon Jones for the win. Petty chose several descriptive words that fans have been using for the 20-year-old driver for months. 
Ty Gibbs dumps teammate on final lap at Martinsville
Ty Gibbs and Brandon Jones, along with Noah Gragson, appeared to be the top cars at Martinsville. That's why all three were running up front near the end of the race. 
During the final overtime restart, Jones, who started in the second row on the inside behind Gibbs, got a strong launch, made his way inside the No. 54, where he then received a push from Sheldon Creed, to surge out in front. The No. 19 took the white flag with Gibbs right behind him.
Moments later, Gibbs drove hard into the rear of Jones and sent his teammate up the track into the wall. The No. 54 passed and cruised to victory.  
Seconds after finishing his celebratory burnout, Gibbs exited his car to a chorus of boos, where he stood defiantly on the door, and raised his hands as if welcoming the negative reaction from the crowd.
Kyle Petty blasts Gibbs, calling him 'entitled' and making a 'punk move'
Like the rest of the NASCAR world, Kyle Petty couldn't believe what Gibbs had done to his teammate. It was a bad move on so many different levels. During the latest episode of the Backseat Drivers podcast, the NBC analyst talked about the incident and whether the move would have an impact on the other drivers in the garage. 
"I don't believe it changes a lot in the garage," Petty said. "I think it changes the fans' perception of who Ty Gibbs is. I think Ty Gibbs has proven now to everyone that he's arrogant, entitled, thinks that he can just go in and take things when they're not his and do it the wrong way. And that's what I don't like about it as much. 
"We've seen people move people a thousand times. He didn't move this guy. He wrecked him in the middle of the straightaway. When you see it, it's before they ever get to the corner. He's backing it. And then he gets out and raises his hands. It's a punk move."
Petty criticizes NASCAR for Bubba Wallace suspension
Most fans agree with Petty's opinion of Gibbs. They also agreed with his recent take on Bubba Wallace and how the 23XI Racing driver got off light after NASCAR opted to suspend the driver for a single race following his on-track incident and altercation with Kyle Larson at Las Vegas.
"He should have been suspended for the rest of the year. Rest of the year," Petty said during an appearance on Motor Mouths. "He drives for Denny Hamlin, who has been vocal about safety. His teammate (Kurt Busch), the only reason he's in the 45 car is his teammate's career was all but ended because of an accident in this car that the drivers have vocalized that it needs to be safer. He turns a guy in the right rear into the outside wall intentionally. Steering brake? That's laughable. 
"Turns a guy into the outside wall, then walks across the race track. First, you intentionally wreck somebody. That's a suspension. He's walking across the race track and cars are going by him on both sides. That's not safe. That should be another suspension. 
"Physically confronts a driver, shoves him. That's a physical confrontation. If I do that on the sidewalk, I'm in handcuffs somewhere. So, he physically confronts this driver, shoves an official, doesn't get in an ambulance, walks back to the pits, and then stands and bold-faced tells a fib. … The lesson should be the rest of the year, just the rest of the year. That's just me." 
There is just one race for each series remaining in the season. And then there will be no on-track controversy for several months. That will allow Kyle Petty to rest and tune up his flamethrower for 2023.
Have thoughts on this topic? Keep the conversation rolling in our comments section below.