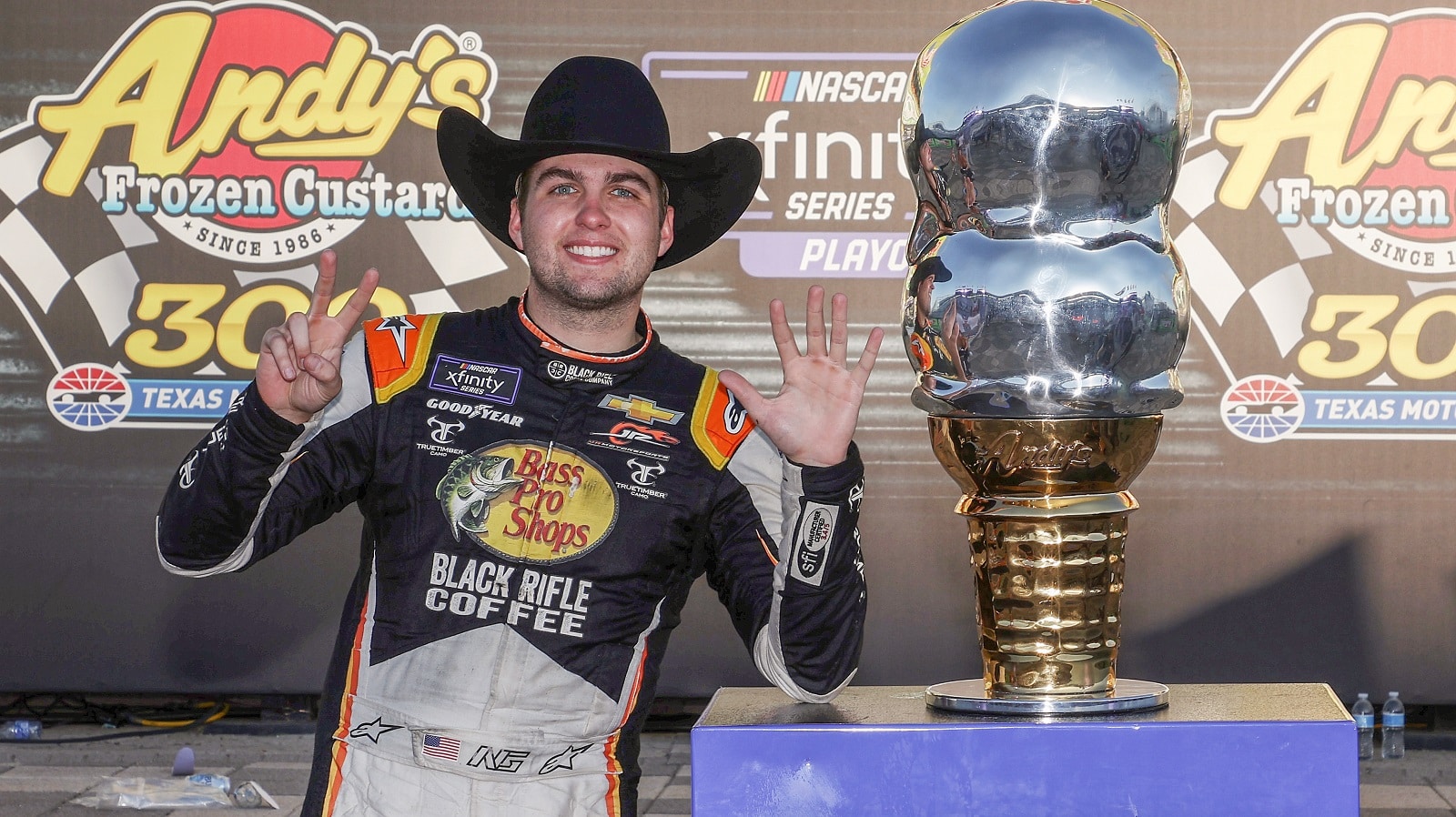 Noah Gragson's Xfinity Winning Streak Is Impressive, but Kyle Busch Has Done Better
Noah Gragson has won four straight races, but Kyle Busch one-upped him with his work in the 2021 Xfinity Series.
It was impressive, but Noah Gragson's victory Saturday was not record-setting or even record-tying for an Xfinity Series driver. What it was, however, was his ticket into the semifinal round of the NASCAR playoffs.
Gragson also padded his playoff points total, which will make it that much more difficult to find four drivers who'll be able to keep him from booking his reservation in the Championship 4.
In the big picture, that's what matters most.
Noah Gragson wins the Xfinity Series playoff opener at TMS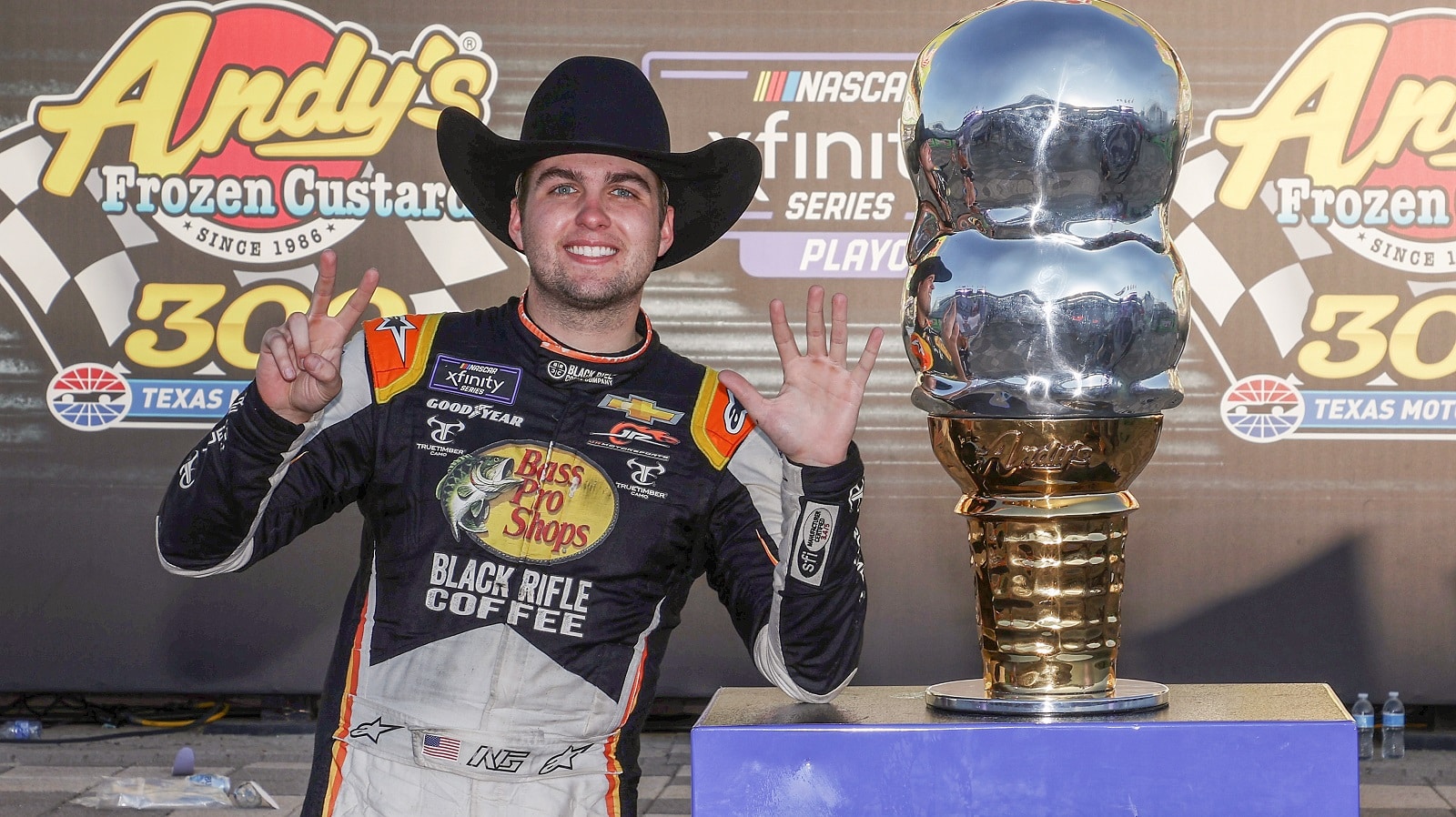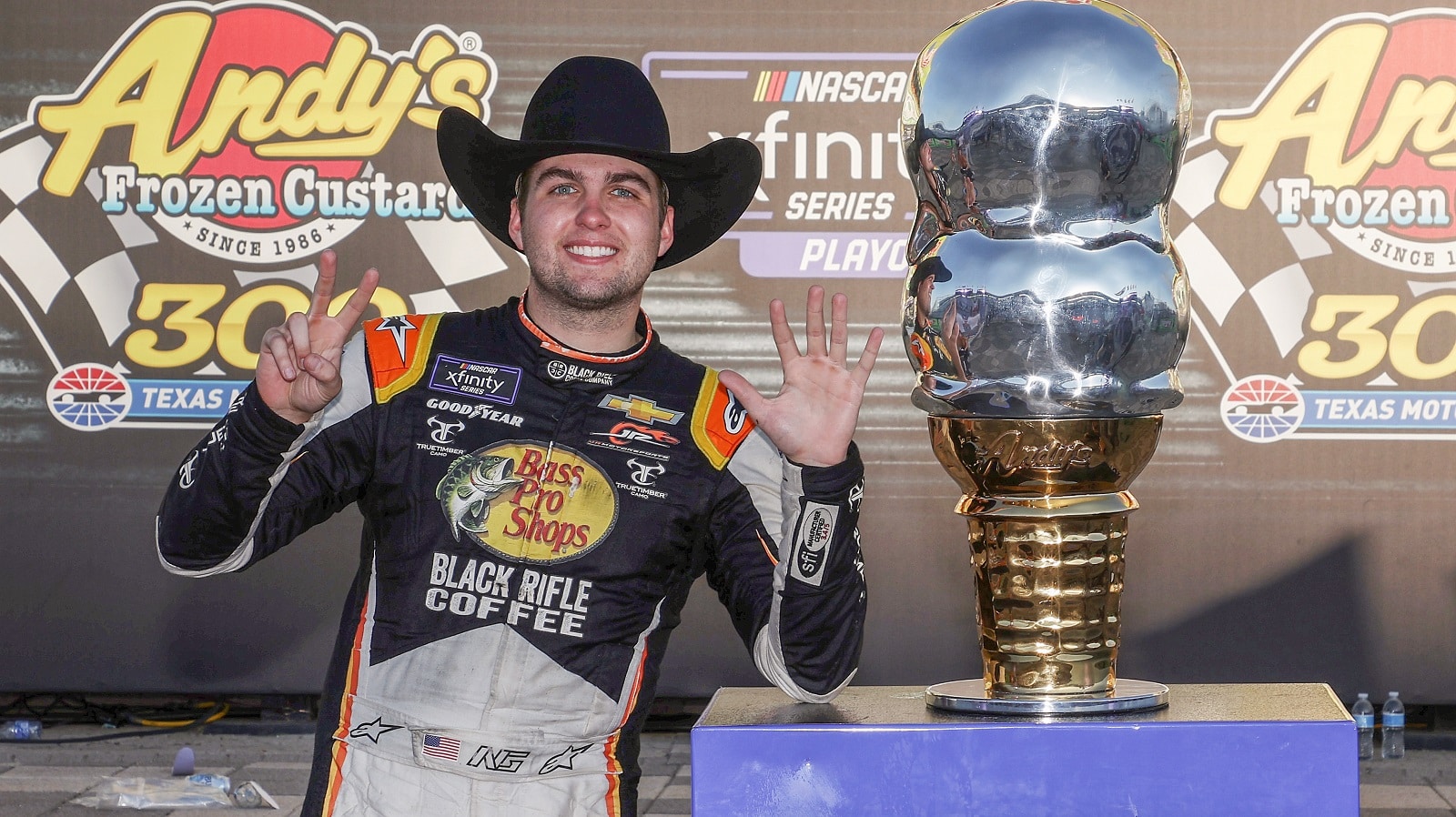 Noah Gragson didn't blow the field away in the Andy's Frozen Custard 300 at Texas Motor Speedway on Saturday, but he nevertheless scored a decisive victory. Gragson led 85 of the 200 laps, including the final 12 after then-leader Jeb Burton made a final pit stop.
As much as anything else, the opening race of the Xfinity Series playoffs was a battle of attrition. Only 21 of 38 cars made it to the finish, and just eight were on the lead lap at the end.
Winning gave Gragson guaranteed passage into the three-race semifinal round beginning Oct. 15 at Las Vegas Motor Speedway, his home track. In the interim, he gets the opportunity to pile up additional playoff points toward advancing to the Championship 4 in Phoenix.
Noah Gragson is enjoying a superb season
Noah Gragson, 24, has already made his 2023 plans, agreeing to drive for Petty GMS in the NASCAR Cup Series. Before that, however, he has unfinished business in the Xfinity Series.
Gragson won three races a season ago and finished third in the Xfinity Series. This season, he has already won seven times. Saturday's victory was his fourth in four weeks. The last driver to win four straight races in NASCAR's second-tier series was Sam Ard in 1983. A second-place finish in the season's next-to-last race was all that stood between Ard and six straight race wins.
"This No. 9 team, man, they're on fire and all you fans, you keep us motivated,'' Gragson said in a finish-line interview. "We're gonna come back and win more races for you."
Kyle Busch actually went one better a season ago
The two Cup Series season championships and 60 wins in NASCAR's top series are more than enough to assure Kyle Busch will go into the Hall of Fame after he retires. However, Busch also owns 102 wins in the Xfinity Series and 62 in the Camping World Truck Series.
Busch competed in the Xfinity Series for the first time in 2003, and this was the first season he has not participated. After what he accomplished last season, there really was no sense returning.
Cup Series veterans are allowed five appearances per year in the Xfinity Series, and Busch scored victories in all five of his appearances, beginning May 22 at Circuit of the Americas and concluding July 10 at Atlanta Motor Speedway.
Though the wins spanned eight races on the schedule, they were in consecutive starts for Busch. That gives him the leg up on Gragson – for now.
Gragson goes for his fifth in a row next week at Talladega.
All stats courtesy of Racing Reference.
Like Sportscasting on Facebook. Follow us on Twitter @sportscasting19 and subscribe to our YouTube channel.
Got a question or observation about racing? Sportscasting's John Moriello does a mailbag column each Friday. Write to him at [email protected].