Kyle Busch Rips Joey Logano for Being an 'Ass****' and 'Two-Faced,' and Suggests Payback Is Coming 
Kyle Busch isn't a fan of Joey Logano. He's made that clear for years. On Sunday before the Clash at the Coliseum, the pair played nice when they joined together up in the Fox broadcast booth and offered some driver analysis of the qualifying action. 
Hours later, during the race, the 2022 Cup Series champion drove hard into the back of the Richard Childress Racing car and sent him for a spin. Following the race, Busch visited with the media and didn't hold back what he thought about the Penske driver's moves.
Kyle Busch gets dumped by Joey Logano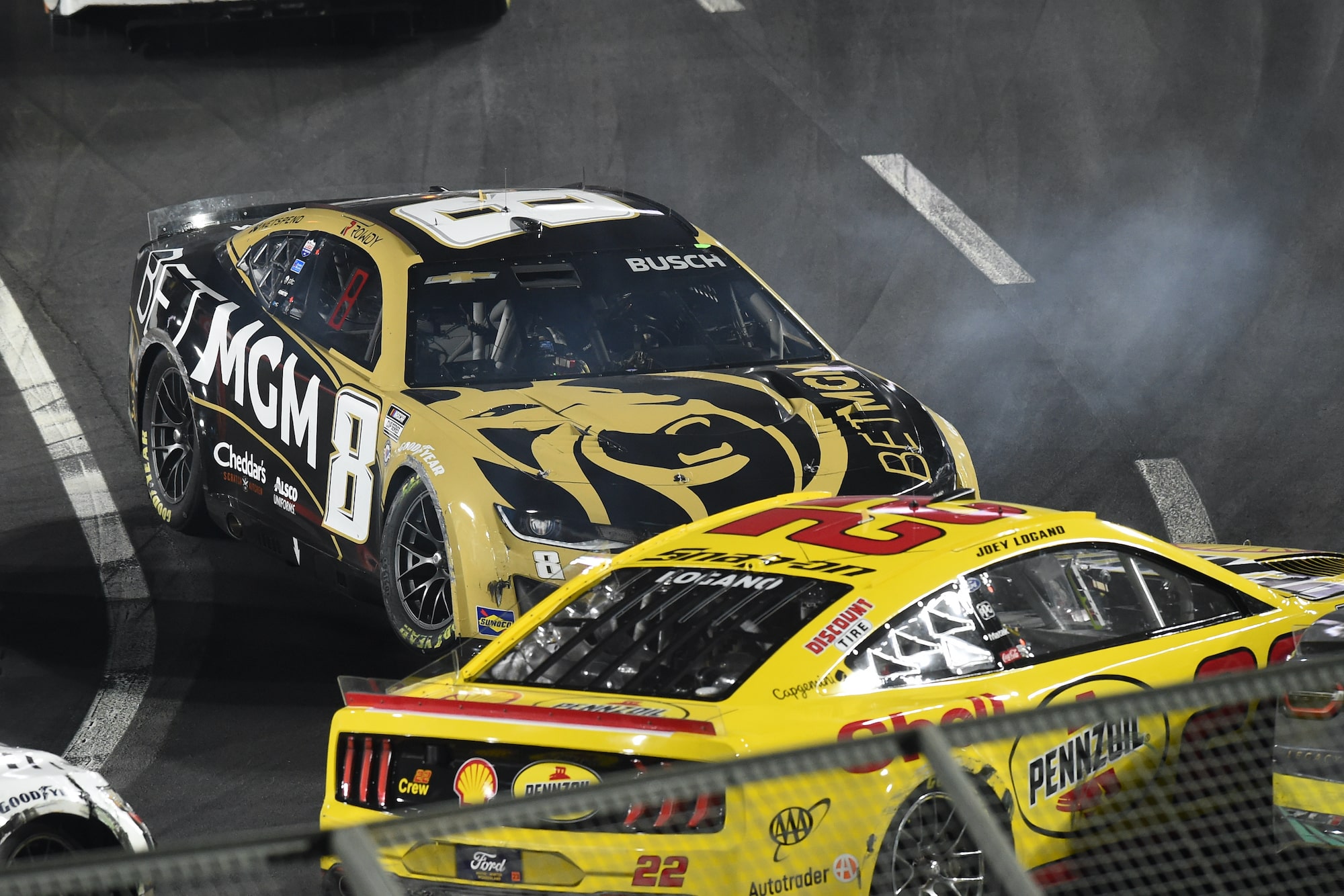 Kyle Busch said in December that he had high expectations for his new team at the Clash, suggesting his success and the early performance of the No. 8 car in last year's event should translate into a good run. 
Ultimately, it did, as Busch finished on the podium in third behind winner and former Joe Gibbs Racing teammate Martin Truex Jr. and new teammate Austin Dillon in second. However, just past the halfway point of the race, things didn't look promising when the two-time champion had an incident with the sport's newest two-time champion, Joey Logano.
With 65 laps to go and aggressive driving rapidly escalating, the No. 22 car drove it hard into the turn without concern for consequences, shooting through a narrow gap between Austin Dillon in front of him and William Byron to his outside and straight into the left-rear of the No. 8 car, which went for a spin.
"22 just dumped him on purpose," Richard Childress said over the team radio. 
Busch takes shots at Logano after race
While Richard Childress had some thoughts, unsurprisingly, so did Busch, who talked about it with the media following the race. 
"Logano didn't get hit by nobody," Busch pointed out. "He just flat out drove through me so he's got another one coming. I owe him a few."
Those remarks came at the official press conference. During an interview on SiriusXM NASCAR Radio, the RCR driver offered an unfiltered version of his thoughts about the current Cup champion.
"It's really unfortunate to be raced by guys that are so two-faced," he said. "We were in the TV booth earlier and nice together and when we're all done with that, he's like, 'Hey man, good luck tonight.' I'm like, 'OK. Great. Thanks. Yeah. Whatever.' And then, lo and behold, there you go, he wrecks me. Don't even talk to me if you're going to be that kind of an ass**** on the race track."
History together and said something similar in the past
Interestingly, this isn't the first time Busch has said those harsh words about Logano. In 2021, he said something very similar during an appearance on the I Am Athlete podcast when talking about their Las Vegas incident from 2017.
"The problem with Joey is he's two-faced," Busch said. "So people know I'm an ass****. So I might be an ass**** on the race track, which I'm really not, but Logano, he'll come in here and he's laughy and go lucky, go with the flow, like super-nice guy and all this stuff. 
"Does great for charity and all the stuff like that. When you put him on the race track, he flips the switch on the back of his head. To me, I hate two-faced guys. That drives me absolutely nuts. Like if you're going to be a nice guy, be a nice guy on the race track as well. That fries me."
At least Kyle Busch is consistent. So is Joey Logano with his aggressive driving. Now it'll be interesting to see when the RCR driver decides it's time for some payback.