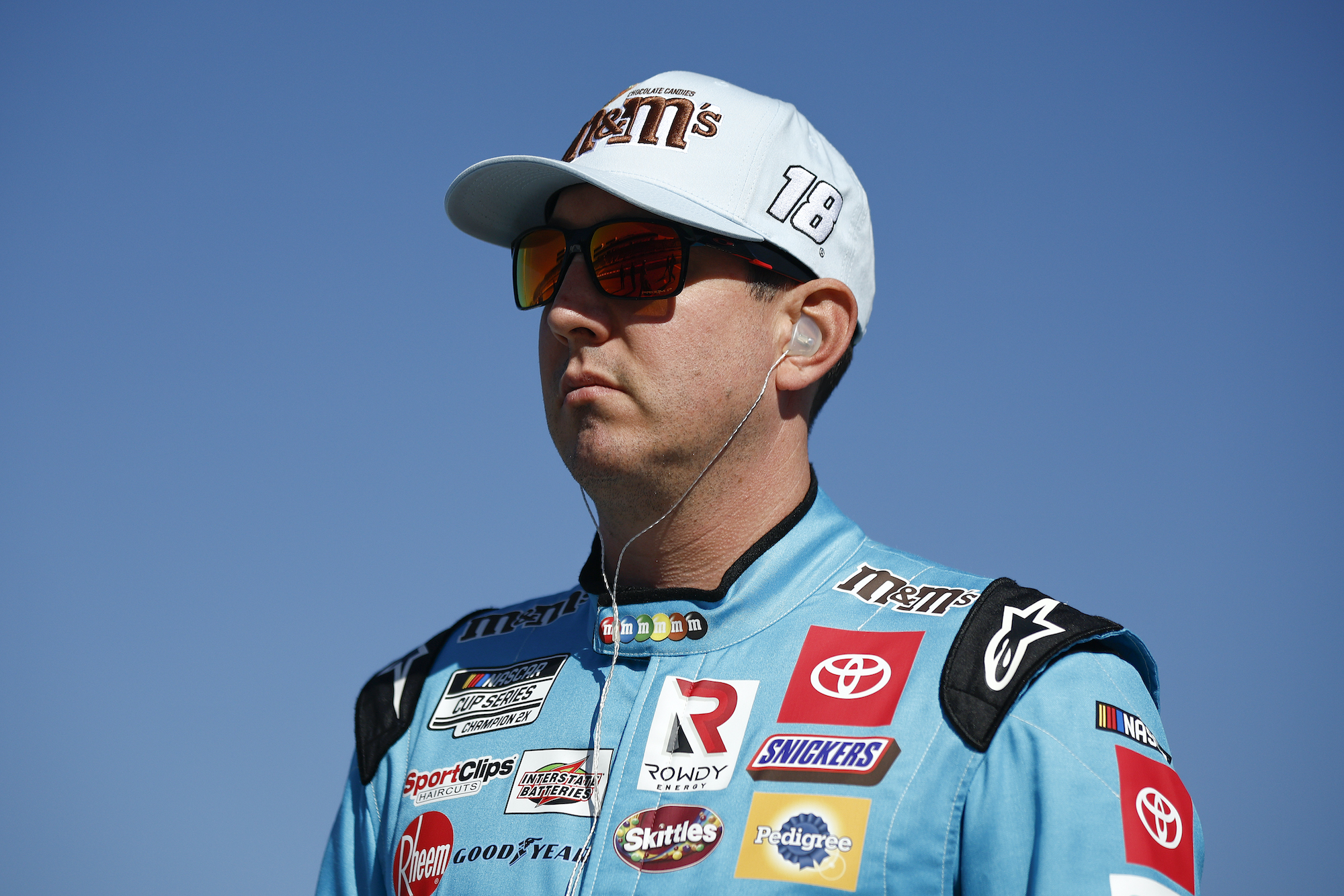 Kyle Busch Doesn't Sugarcoat What He Thinks About Racing on Dirt at Bristol
Kyle Busch didn't hide what he thinks about NASCAR making its return to race on the Bristol dirt this year.
Kyle Busch has not hesitated in the past to speak up when he's not happy with a particular track. Take last year, for example. When officials announced Atlanta Motor Speedway would be reconfigured following the second race of the season, the Joe Gibbs Racing driver didn't sugarcoat his thoughts on the change.
Interestingly, he didn't have anything to say about last year's first dirt race at Bristol. However, this year it's a different story as a reporter recently asked him about the upcoming race. Unsurprisingly, Busch didn't hold back.
Kyle Busch blasted Atlanta Motor Speedway last year
Kyle Busch went five for five with the Xfinity Series in 2021, winning each race he ran, including his final one at Atlanta Motor Speedway. While celebratory in victory, the winningest driver of the series with 102 trophies also took the opportunity to let everyone know how he was unhappy about the planned renovation of the track.
During the postrace ceremonies, Busch took a couple of shots at Speedway Motorsports Inc., which manages the track, for the reconfiguration. The first occurred when the driver asked an SMI executive for a chunk "of the real asphalt, so I can cherish what the real Atlanta is like."
In a meeting with reporters, the two-time Cup Series champion continued his assault. 
"Other than getting into my teammate Daniel Hemric and him crashing, I sure am glad to win the final Xfinity Series race on a real Atlanta racetrack," Busch said. "Because the next one is just going to be a showpiece, and it's going to be s***."
Busch not fan of racing dirt at Bristol or anywhere else
This week, all three NASCAR series head to Bristol for the second consecutive season of short-track racing on dirt. Last year's Cup race, which Joey Logano won, had its share of issues, including dusty conditions that made it tough for the drivers and fans to see the action.
According to new videos posted on social media, the track appears to be in better condition and should provide a better racing surface. 
This past week Busch was asked about the surface and if he wanted to try and race dirt on another track or if NASCAR should cut the cord altogether on the dirt-racing experiment. 
"Cut the cord," he said matter-of-factly. "As Richard Petty said, dirt takes our sport backwards."
Richard Petty opposes dirt racing
Kyle Busch is referencing remarks Richard Petty made before last year's race at Bristol. Petty, who won 30 times on dirt during his NASCAR career and is second all-time in victories behind his father Lee, didn't mince words about what he thought about a return to dirt.
"I have to be careful here, because there's some politics involved and I don't want to annihilate NASCAR on this," Petty told Autoweek. "I guess I'm looking at it from an old-time deal because we spent years and years and years trying to become a professional sport. Years and years to get away from that stigma (that racing wasn't professional). But dirt-track racing is not professional, so we're going backward. It would be like taking a professional football team and going back to play at a high school field."
Despite his remarks opposing the dirt race, The King admitted that he understood NASCAR's motivation.
"I think it'll be exciting at Bristol that day," he said. "It might be another gimmick. It might be what NASCAR needs to keep our base growing." 
Petty is exactly right. NASCAR is trying to appeal to a broader audience these days and is doing so by changing up the schedule to include dirt, more road courses, and events like the Clash at the Coliseum. It's something traditionalists might not like, but based on the turnout at these races thus far, it's working. 
Like Sportscasting on Facebook. Follow us on Twitter @sportscasting19.