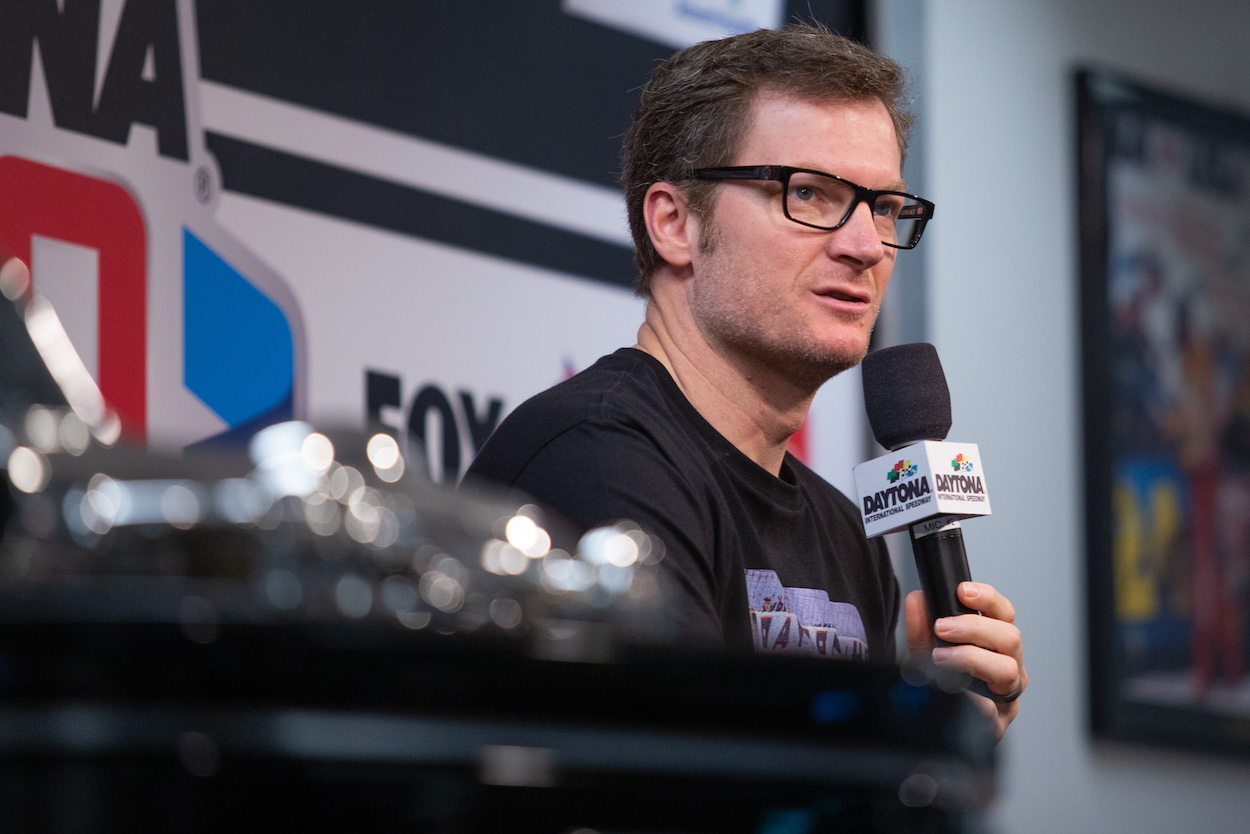 Dale Earnhardt Jr. Candidly Shares His Feelings About Racing Dirt at Bristol in the Future and Where He Thinks NASCAR Got It Wrong on the 2022 Schedule
Dale Earnhardt Jr. candidly discussed on his podcast what he thinks about racing dirt on Bristol in the future and the one part of the 2022 schedule that NASCAR got it wrong.
NASCAR announced the 2022 Cup Series schedule last week, which included the return to dirt at Bristol in the spring race. A few days later, the Truck Series started what turned out to be a memorable weekend of races at "The World's Fastest Half-Mile," concluding on Saturday night with an exciting finish and an even more entertaining dust-up between Kevin Harvick and Chase Elliott.
Dale Earnhardt Jr. talked about the new schedule and the weekend at Bristol on the latest episode of the Dale Jr. Download. And what he had to say won't make his friends at Speedway Motorsports Inc. or NASCAR happy.  
Dale Earnhardt Jr. doesn't hide his feelings about dirt at Bristol
After an exciting weekend of racing action that concluded with Kyle Larson winning the Cup Series race and Kevin Harvick and Chase Elliott getting into multiple postrace confrontations, Dale Earnhardt Jr. wrapped up the NBC broadcast sharing his thoughts about the race at Bristol.
"This used to be our best-selling ticket. Now we've come to the point to where they think they need to put dirt on top of it to put on a great show," Earnhardt bluntly pointed out. "But we're back to being able to show people what this racetrack can do and it's amazing to me that as much has happened here tonight and in the history of this racetrack, we've never replicated it anywhere else. You just can't. The place is just so unique. I think that's pretty amazing."
For anyone unclear about Earnhardt's position at Bristol, he provided some clarity on Instagram in response to a post by the NASCAR on NBC account, which featured a graphic of the race with his quote about showing what the racetrack can do.
"Dirt Wilkesboro," he wrote, followed by "Asphalt Bristol."  
Doesn't want dirt at Bristol but understands why it's done
During the latest episode of the Dale Jr. Download in the "Ask Jr." portion of the show, a listener voiced what many fans and drivers were thinking after the weekend's races and asked Dale Earnhardt Jr. if it was necessary to have a dirt race at Bristol. 
"Well, I'm great friends with Marcus Smith (of Speedway Motorsports), who owns that race track, and he's going to be disappointed in my opinion," Earnhardt opened. "But I don't think we do. I felt like it was a neat experience and fun to watch the guys race at Bristol. I enjoyed watching that race." 
While Earnhardt thinks it should have been a one-time deal, he understands why Speedway Motorsports plans to it again in 2022. 
"We've got to remember that when they put dirt on Bristol, there's more than just the Cup race," Earnhardt said. "They have the World of Outlaws, the dirt cars, the modifieds. They do this whole month, two-month long thing where that track's got all kinds of people coming to race on it. It affects more than just the Cup guys. If they don't put dirt on it, there's a lot more people affected by whether we dirt Bristol or not."
Disappointed NASCAR left out certain tracks in 2022 schedule
In addition to NASCAR announcing dirt would be returning to Bristol in 2022, the schedule also had some notable changes, including an exhibition race in the LA Coliseum and a race at Gateway in St. Louis, where the Truck Series ran earlier this year. Earnhardt said he'll be interested in seeing how the new races turn out. 
"I kind of like things changing up a little bit and it will be interesting to see how St. Louis does this time around. How that track races. I think we kind of know because they've been racing there a little bit lately. I'm alright with it," Earnhardt said. "I think this LA Coliseum, Clash thing, or whatever they're going to call it is worth a shot. Imagine what racing at Bowman-Gray might be like and that's kind of what you're going to have, I think. Should be some pretty good beating and banging. I don't think there's going to be anything else like it during the year. We don't run on a track that small. We haven't in forever. It's a good experiment I think to see how that works."
Earnhardt said while the LA Coliseum race is technically a short track, he wanted to see more incorporated into the schedule but wasn't surprised it didn't happen. 
"I don't think they made too many big changes. I was hoping for some more, I guess," he admitted. "More short tracks. I've been saying that for years. I'm kind of even tired of hearing myself say it. We need some more short tracks just cause they're fun."
And that's why he's all the more vocal about what's happening with a Bristol dirt race. 
"In a perfect world, I think that you could try to do something a little bit different. Leave Bristol alone," Earnhardt recommended. "We don't have any short tracks on the schedule. We got Martinsville, Bristol, and Richmond, and to lose a race to one of those weekends is just kind of tough, even if it is a dirt track. Just to lose a race from Bristol is difficult. And we saw this past weekend what that place can be like when you don't put dirt on it."
It's Bristol, baby!
Like Sportscasting on Facebook. Follow us on Twitter @sportscasting19.