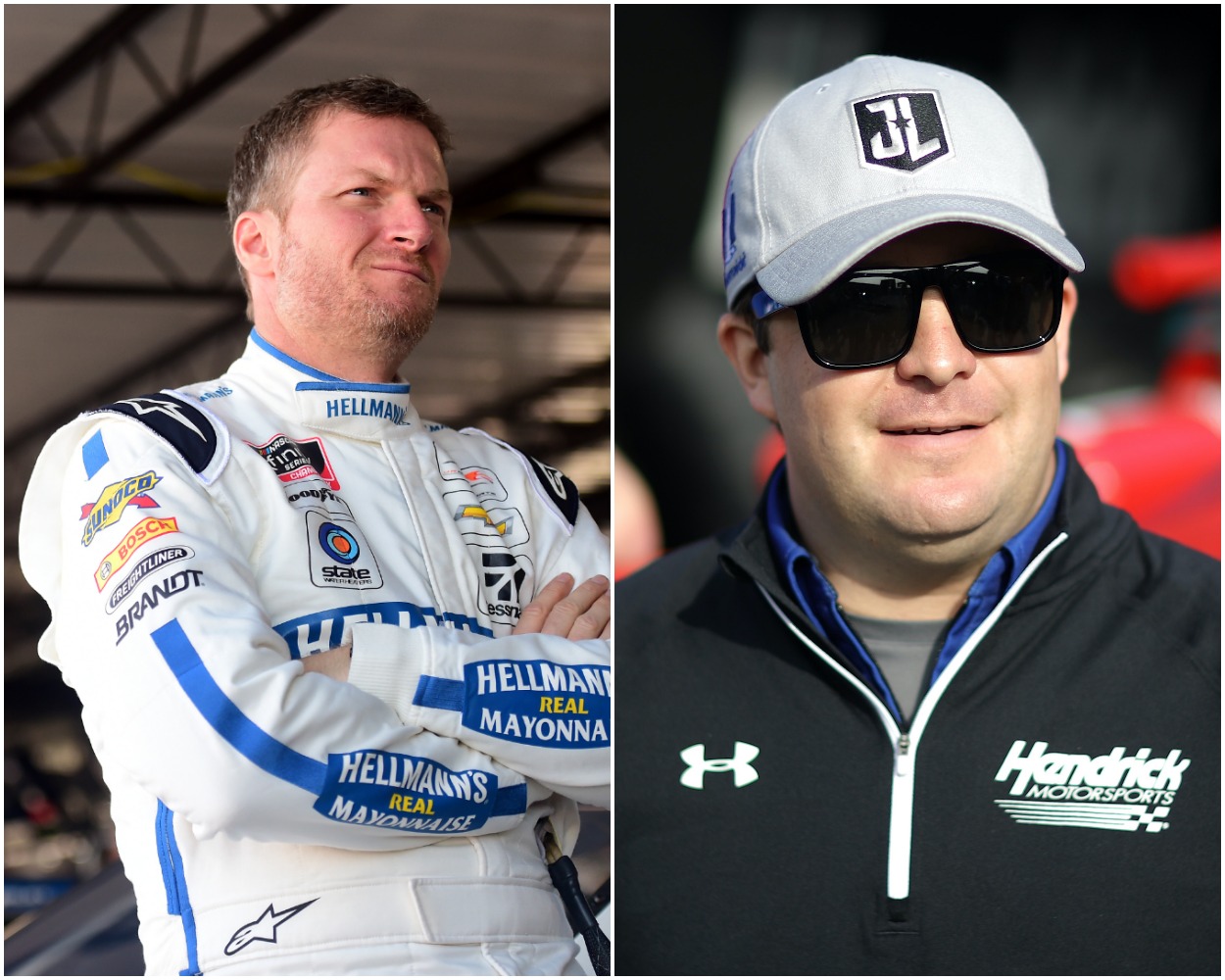 TJ Majors Returns Fire and Calls Dale Earnhardt Jr. an 'Idiot' After Being Mocked on Podcast and Cussed at During Xfinity Series Race
Dale Earnhardt Jr.'s longtime spotter TJ Majors didn't hold back after being mocked on Junior's podcast and cussed at during the Xfinity Series race: 'He's just an idiot this week.'
Dale Earnhardt Jr. and his longtime spotter TJ Majors reunited last weekend at Richmond for the two-time Daytona 500 winner's annual Xfinity Series race. After mocking Majors earlier in the week on his podcast, Earnhardt got upset and cussed at him during the race. On the Door Bumper Clear podcast, Majors responded to both incidents and didn't hold back, calling Earnhardt an idiot.  
TJ Majors sets record straight after Dale Earnhardt Jr. made fun of his spotting debut
Dale Earnhardt Jr. talked last week on his podcast about his annual one-off Xfinity Series race at Richmond and reuniting with former spotter TJ Majors. The NASCAR Hall of Famer recalled a story about the time Majors made his debut as a substitute for Matt Kenseth's regular spotter. 
Earnhardt said Majors had never worked as the main spotter for a team but had worked for him as a secondary spotter on road courses. 
"And so Matt Kenseth is going to get some spotting from TJ in the Xfinity race," Earnhardt said. "So TJ is on the radio. They're coming around Turn 4, getting ready to start the race. And TJ is like, 'Get ready, get ready, get ready.' And when the flagman waves the green TJ is like, 'Green, green, green, green.' And he kept saying the word green until Matt exited Turn 2," Earnhardt said as the crew broke out into laughter. "I've never let him forget it."
On the Door Bumper Clear podcast, which is produced by Earnhardt's Dirty Mo Media and hosted in the same studio as the Dale Jr. Download, Majors wanted to set the record straight. 
"He didn't even tell the story right. He screwed the story up," Majors said. "And it wasn't green. We were coming out of Turn 4 and the pace car is in, and you know where the pace car kind of pulls in at Dover, it's a little earlier than normal. So right when we come off 4 and get to the restart zone, I'm like, 'Ready.' And I said ready like six or seven times because they waited until late to go. I said ready about seven times. Not green. So, if you're going to tell the story, you've got to get it right first."
Majors addresses Earnhardt cussing at him during the race
After Dale Earnhardt Jr. started 30th and moved his way up through the field, he reached a point in the race at which there weren't any other cars around him. Based on his previous experience with other drivers, Majors opted to provide his driver with lap times to give him a sense of how he was doing.
"Last lap was 25:29," Majors told him over the radio. 
"I don't care. I don't know what the f*** the lap times mean," Earnhardt fired back.
"10-4," the spotter responded.
"I don't know what a good lap is. So what the f*** kind of information is that TJ?" the driver asked. "We talked about this for two decades."  
Majors addressed the outburst on the podcast and relayed what Earnhardt said to him a few laps later.
"Then five laps later he was like, 'You could tell me whether it's a good lap or not.' So I was, 'That was a good lap,' because it actually was a good lap. He slows down a half a tenth the next lap, and I'm like, 'That was an OK lap.' And then he fell off like two-tenths the next lap, and I didn't even say anything. I told Taylor (crew chief) on (channel) 2, 'You can tell him that lap if you want.' He's like, 'Nope, I'm not telling him. Not telling him at all.'"    
When his podcast co-hosts told the spotter he should have told Earnhardt not to speed on pit road later in the race, which incurred a penalty, Majors had more to say about his driver. 
"It's funny because we did our pit road run and everything was good, and then we speed on pit road and then all of a sudden, 'These lights are all over the place in here,'" he said. "Now they're all over the place. This was vintage, vintage Dale Jr. We were going to run top-5 probably."
Doesn't hold back and calls Earnhardt an idiot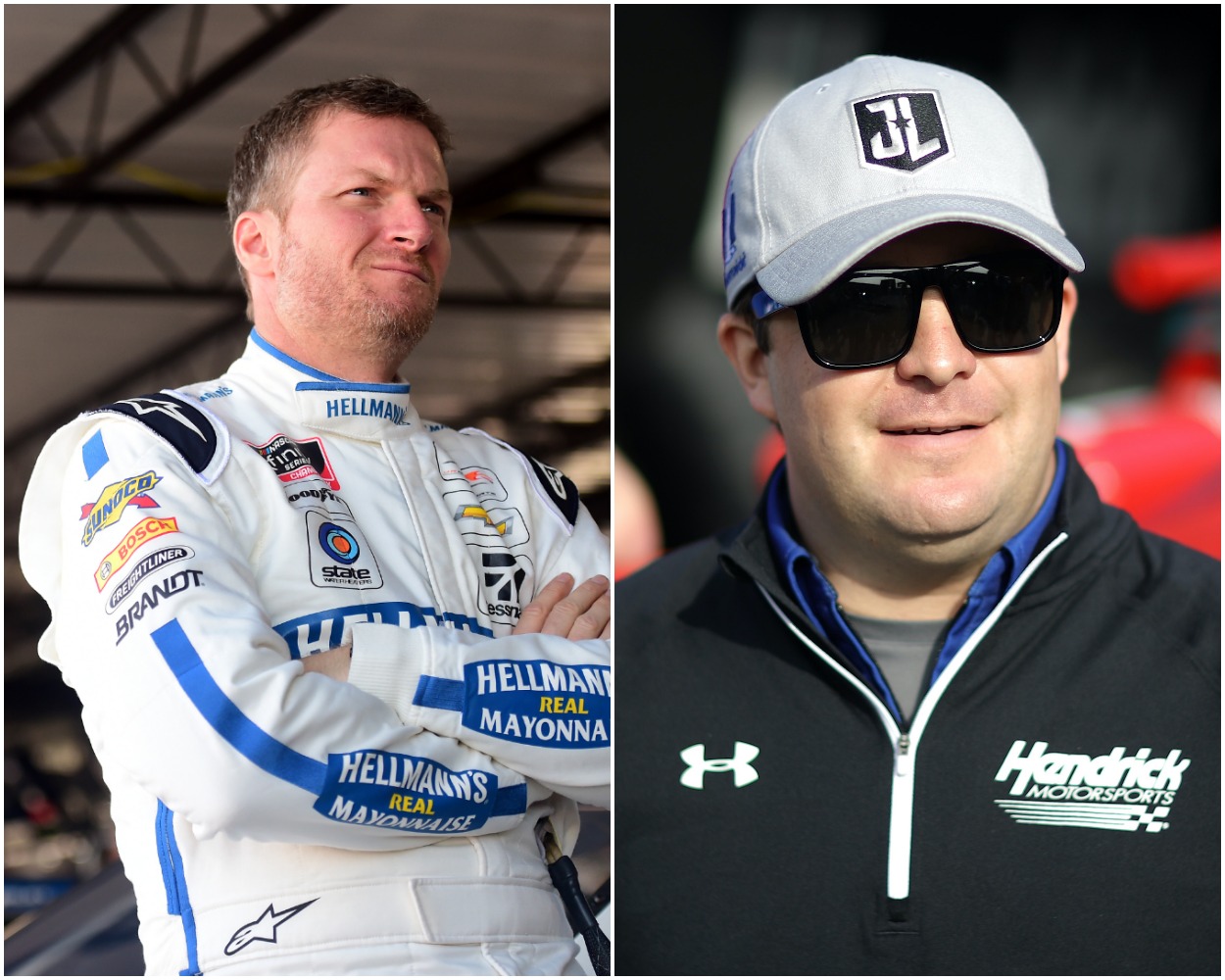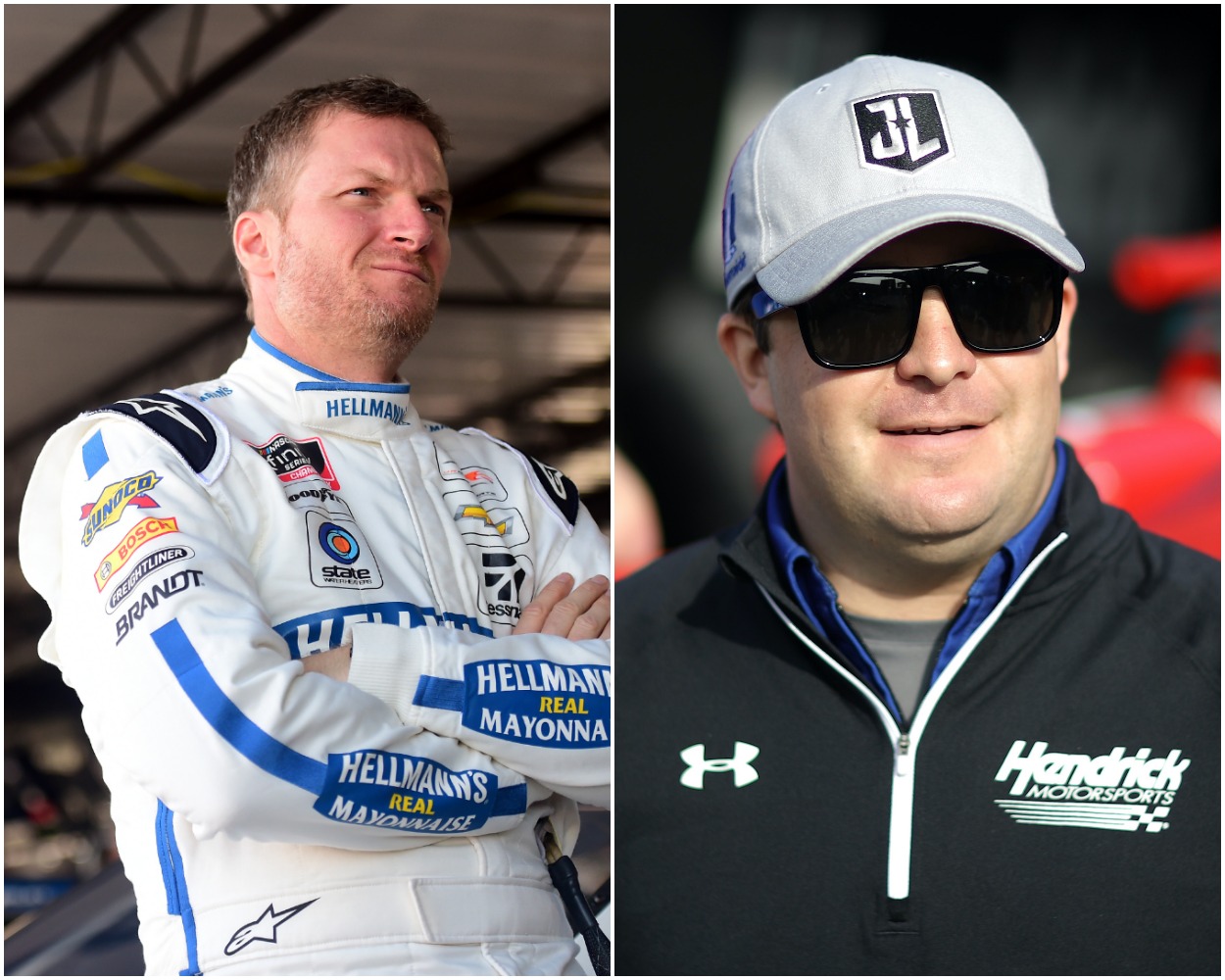 TJ Majors finished up the podcast by summing up the whole week working with Dale Earnhardt Jr. in the "What an Idiot" segment. 
"My one idiot is going to be," Majors paused. "I'm going to go with my Xfinity driver. Just because I can for the week," he said, which drew laughter from his show co-hosts.
"Dale Jr.?" Brett Griffin surprisingly asked. 
"Yeah, he's just an idiot this week," Majors responded.  
"TJ has officially grown a set of balls and called out Dale Jr. on the Door Bumper Clear podcast," Griffin said. "This is an epic moment, Freddie."
"It is epic. I'm proud of him. Finally. After all these years," Bubba Wallace's spotter and co-host Freddie Kraft replied. 
It's probably a good thing the two don't work together again for another year.
Like Sportscasting on Facebook. Follow us on Twitter @sportscasting19.