Dale Earnhardt Jr.'s Scheme to Start Beef With Fox's Larry McReynolds Spectacularly Backfires When NBC's Rick Allen Throws Junior Under the Bus
Dale Earnhardt Jr. has done such a good job with NBC and its NASCAR coverage that the network has expanded his role this season, designating him the lead broadcaster at several races, including this past weekend's Xfinity Series race at Michigan. Responsible for introducing the rest of the team to open the broadcast, Earnhardt has the opportunity to be creative and call the shots. 
During Saturday's coverage, he decided to have a little fun at the expense of Fox NASCAR analyst and "America's Crew Chief" Larry McReynolds. It backfired. On Earnhardt's latest podcast, he explained what prompted him to take a shot at McReynolds and how his NBC broadcast partner, Rick Allen, threw him under the bus, ultimately blowing his cover and killing the plan.
Dale Earnhardt Jr. and Larry McReynolds have a history together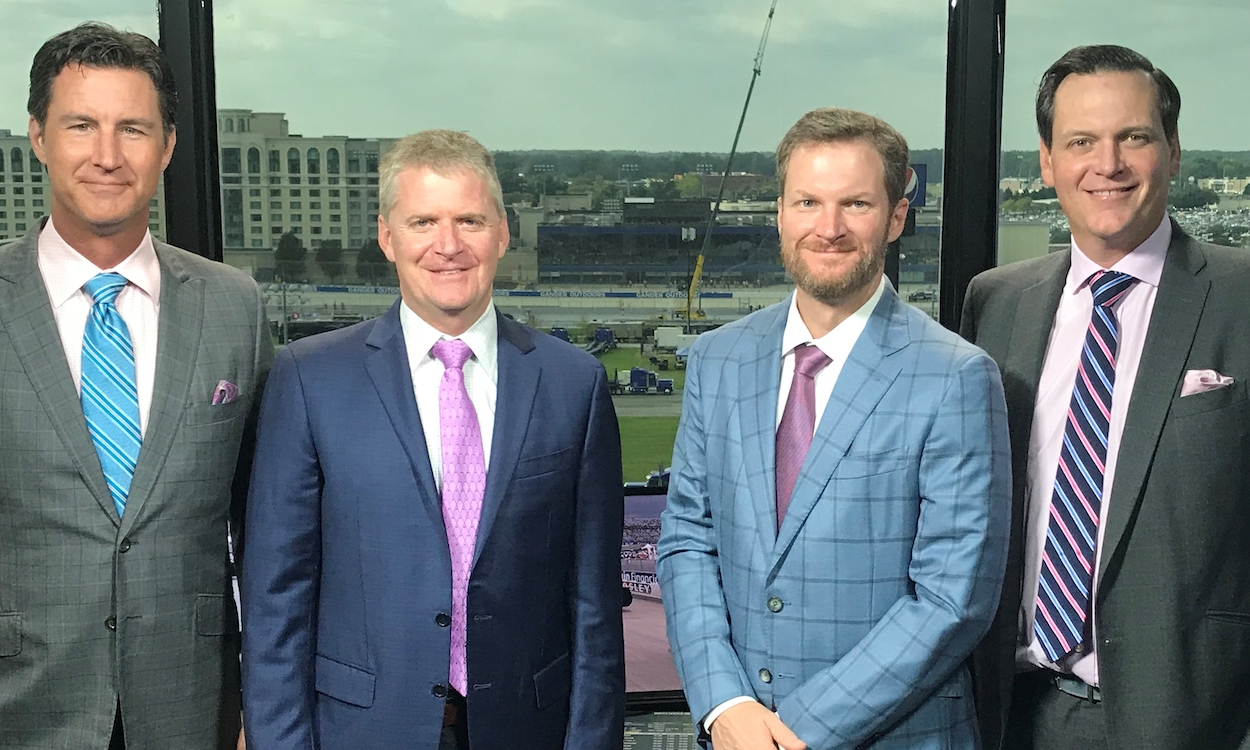 Dale Earnhardt Jr. and Larry McReynolds have a history. McReynolds served as crew chief for Dale Sr. when he won his one and only Daytona 500 in 1998. Larry Mac, as he's also called, also won the 1992 Daytona 500 as crew chief with Davey Allison.
In 2001, he joined the Fox NASCAR team, where he has served in a variety of capacities and has been dubbed "America's Crew Chief."
Aware of McReynolds' nickname, Earnhardt said when he opened the Saturday Xfinity Series broadcast, he planned on introducing Jeff Burton by his nickname, The Mayor, and then called an audible for Steve Letarte, who served as his crew chief for several years.
"When I got to Steve, I was like, well he's everybody's favorite crew chief so that's a great way to announce him," Earnhardt detailed on his podcast. "And what if I say he's America's favorite crew chief. I know that Larry Mac is America's crew chief. And that might be something that kind of triggers, maybe Larry or somebody at Fox." 
"So you did say it with the intent?" Earnhardt's podcast co-host Mike Davis asked. 
"Yeah," Earnhardt admitted.  
Rick Allen calls Steve Letarte 'America's Favorite Crew Chief' during Sunday's Cup Series race and people take notice
On Sunday, Earnhardt said he and NBC's Cup Series lead announcer Rick Allen had a brief discussion about how he had introduced Letarte the day before.
"Rick says, 'Hey, man, that was funny, you introducing him as America's favorite crew chief. I bet that really got somebody's attention,'" Earnhardt said on the podcast. "I said, 'Yeah, I did it on purpose.' I wanted to introduce him and then I thought, 'Well, I'll do it that way.' Rick also announced him as America's favorite crew chief." 
On Monday, Earnhardt received a response to what had been said over the weekend. It wasn't from McReynolds but his SiriusXM Radio show co-host Danielle Trotta. 
"Dale's gonna have to find another nickname for Steve. America's 'favorite' Crew Chief ain't gonna fly. My man Larry Mac has that covered,'" Trotta tweeted, with a GIF from Forrest Gump that said, "SEATS TAKEN." 
Earnhardt replied with a GIF of his own, featuring Matthew McConaughey saying, "GOTCHA."
Rick Allen throws Dale Earnhardt Jr. under the bus and all ends well
During the podcast, Dale Earnhardt Jr. admitted that he had told Allen over the weekend that he wanted to keep going with the nickname as long as possible. However, that all changed when he learned that Allen had blown up the whole plan when he went on SiriusXM with Trotta and "spilled the beans."
Earnhardt then called Allen while recording his podcast to find out what happened.
"Hey, I'm on my podcast and I got a tweet this morning that you were spilling the dirt on XM about our America's favorite crew chief," Earnhardt said.
"I want to back up just a second," Allen opened. "I will admit that I got called out on SiriusXM as Danielle Trotta said that I said Steve was America's favorite crew chief. And she was mad about it. So I called in, and I said, 'Danielle, it's a form of flattery. Anytime you recognize somebody or something that someone else is maybe known for, that's a form of flattery. Larry, he should be flattered by it.'"
Allen then casually explained how he threw Earnhardt under the bus, and Trotta somewhat changed her tune:
"And then I said, 'By the way, I'm guessing that you guys didn't watch the Xfinity race.' And they're kind of like, 'What do you mean?' I said, 'Well because it was actually Dale Jr. who said that during the Xfinity race. That's how he introduced him and we had a little bit of fun with it and so I did it during the Cup race.' And they started laughing and they're like, 'Oh, we didn't know that.' And then they backtracked. So they were upset with me but when it was you, all of a sudden it wasn't bad.'"
Earnhardt then mentioned Trotta's tweet and how he had told Allen the plan was to keep it going and see how long before it gets under everybody's skin. 
"I guess we're done," Earnhardt admitted, which drew a big laugh from everyone. "It was fun for a week."
Like Sportscasting on Facebook. Follow us on Twitter @sportscasting19.