Dale Earnhardt Jr. Calls Out Teresa Earnhardt in Latest Podcast for Denying Access to Many of His Dad's Prized Possessions 20 Years After His Tragic Death
Dale Earnhardt Jr. loves sharing stories about his father's legendary NASCAR career on his podcast. Whether that's through stories from those who competed against him or worked with him or stories of his own, Junior likes diving into the details and taking his listeners behind the scenes of what happened in a certain situation.  
During the latest episode of the Dale Jr. Download, Earnhardt took his audience on a tour of Dale Earnhardt Inc. and specifically one of the original buildings known as the Deer Head Shop. In that story, he described what it looked like, what was done inside, and how one of the rooms contains many prized possessions that Teresa Earnhardt has kept locked away since the day his father tragically died. 
Dale Earnhardt Jr. describes 'Deer Head Shop'
During the "Ask Jr." portion of the latest Dale Jr. Download, one fan asked Dale Earnhardt Jr. what exactly was the Deer Head Shop he's referred to in the past. 
He said before there were multiple large buildings on the DEI campus, as there are today, that there was one building. Inside was a shop with three garage bays and Dale Sr.'s office.
Earnhardt described a loft upstairs that included shelves that held a variety of parts and fluids. It also had a cedar closet. 
"Inside of that cedar closet were all of Dad's uniforms — every uniform he had from the '70s all the way up," Earnhardt said. "Mine and Kelley's military school uniforms are in there. Some other stuff that belongs to Kelley and I are in there. Gun safes. Just a bunch of stuff. That was Dad's little kind of room where he kept all of those things. It was full of jackets, clothes, stuff he had just accumulated over the year that was, for whatever reason, important." 
Earnhardt said the building was called the Deer Head Shop because, when standing inside the shop and looking up at the exterior wall of the enclosed loft, there were approximately 40-50 deer heads mounted on the wall. 
"All giants, monsters, 10-pointers, 12-pointers, big ones, 14," he said.
Earnhardt calls out Teresa for denying access to many prized possessions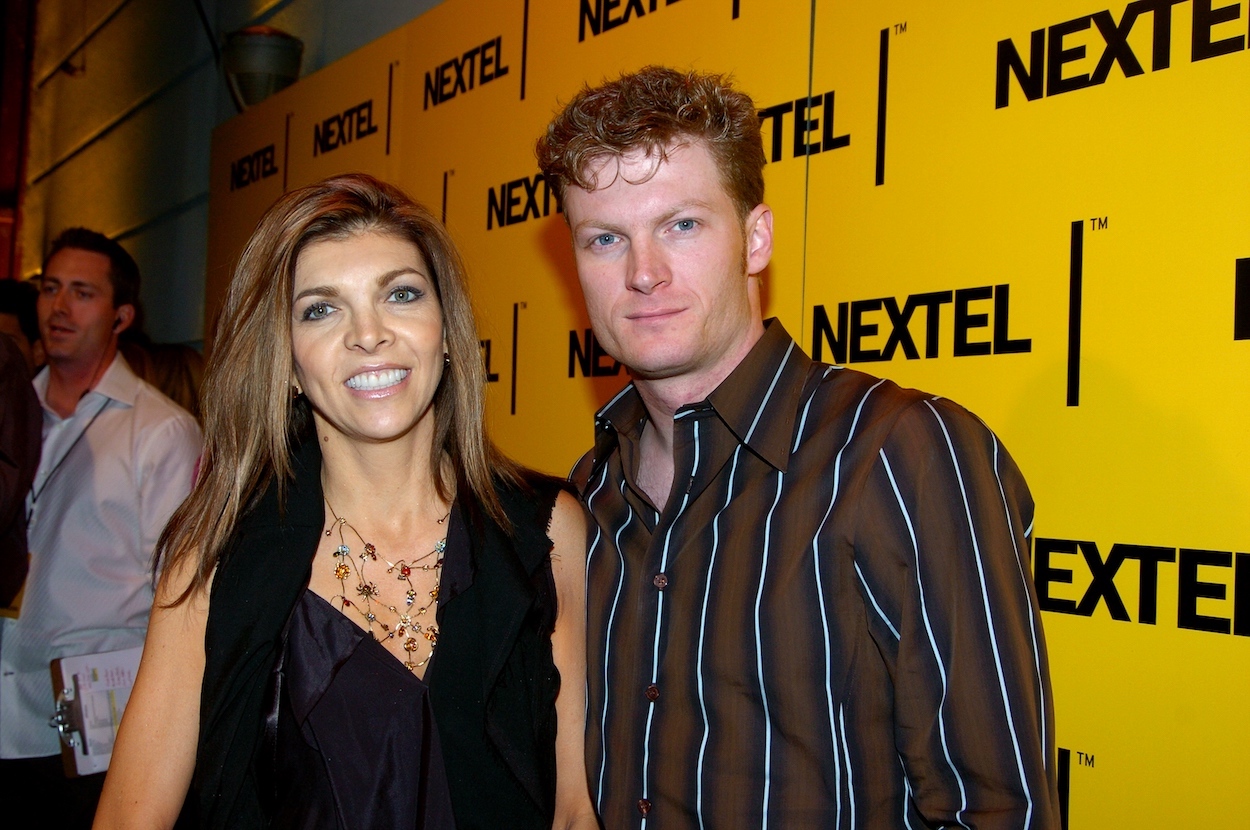 While Earnhardt provided great detail in describing the shop and did so with affection based on the many fond memories made in that building, including racing his Sikkens Busch Car out of there, his inability to access all of those prized personal possessions inside is a harsh and painful reminder of who's still in control of the building more than 20 years after his father's tragic death. 
"Apparently, the day Dad died, they locked the doors, and nobody has been in there since. And I believe that probably is true," Earnhardt said. "I believe that no one has probably set foot in there, and Teresa's made absolute sure that that's the case." 
Contentious relationship with Teresa for years
Dale Earnhardt Jr. and Teresa have had a contentious relationship for years. Not surprisingly, everything changed on that tragic day in February 2001 when Dale Sr. died on the last lap of the Daytona 500. 
Senior had always run DEI with a "common-sense approach." After his death, Teresa took over, and according to Junior in a previous episode of his podcast, "She was behind the curtain and quiet." 
The relationship between the two steadily declined through the years, and in 2007, Junior announced he was moving to Hendrick Motorsports for the 2008 season. 
While the two went their separate ways, they will always be linked by Dale Sr. And today, even 20 years after his death, they are still connected in a painful way that prevents Earnhardt and his sister from accessing some of their father's most prized possessions. 
Like Sportscasting on Facebook. Follow us on Twitter @sportscasting19.