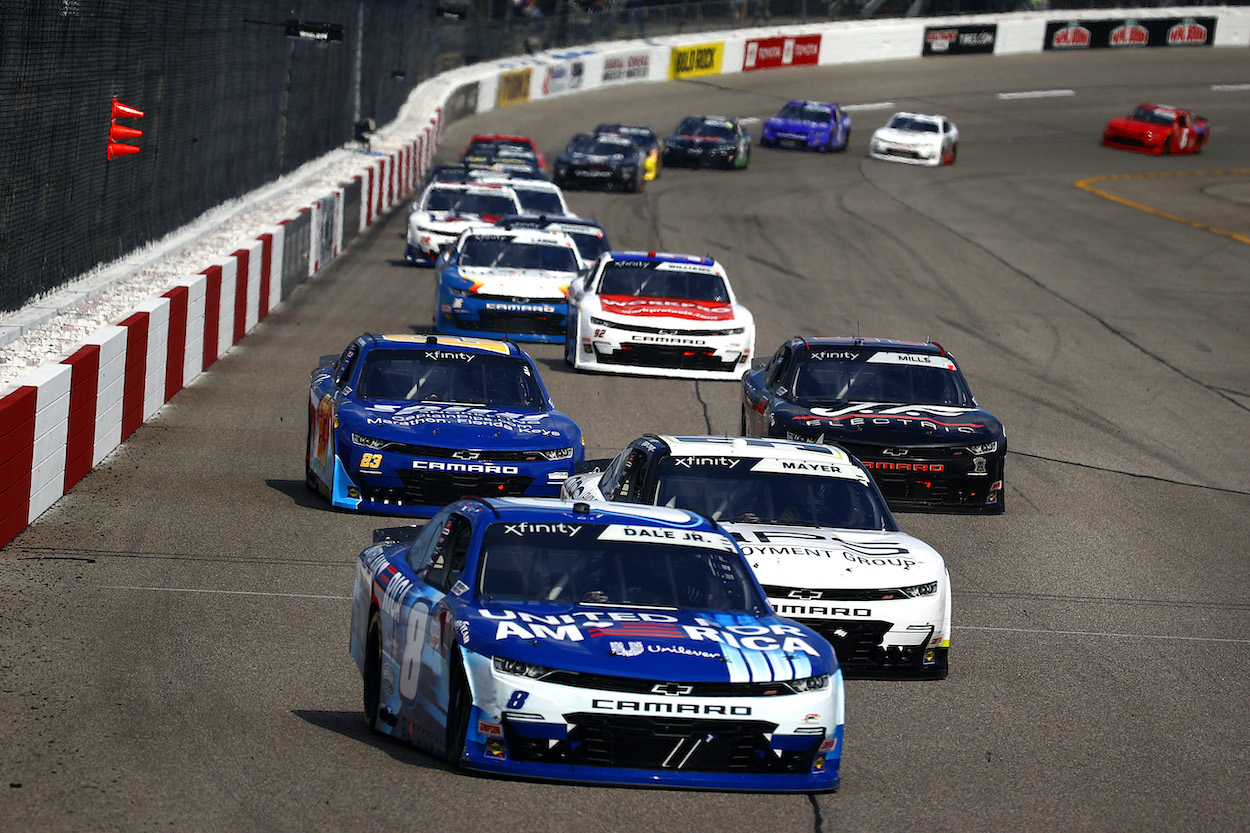 Dale Earnhardt Jr. Fan Gets Heated, Takes Fandom to Extreme Levels After Richmond Race, and Has His Behavior Called Out by Xfinity Series Driver Josh Williams
Dale Earnhardt Jr. and Josh Williams banged on each other during the Xfinity Series race at Richmond but laughed about it when it was over. One Junior fan took extreme measures to show he was not happy with Williams.
Dale Earnhardt Jr. won NASCAR's most popular driver award 15 years in a row during his career before retiring after 2017. This weekend, his many passionate fans got their annual treat as the two-time Daytona 500 winner made his return to the track in the Xfinity Series race at Richmond. 
Earnhardt's welcome, however, didn't extend to the drivers during the race. That became evident in the first stage when he and Josh Williams got together and both drivers offered differing perspectives of an incident over their radios. After the race, the two drivers visited and had a good laugh about it on pit road. One fan took the in-race conflict seriously and resorted to extreme measures to show his unhappiness with Williams and his role in the incident.   
Dale Earnhardt Jr. and Josh Williams race hard and bang against each other early in race
Dale Earnhardt Jr. started 30th at Richmond. Josh Williams started 14th. Less than halfway through the first stage, the drivers started racing each other for the 20th position. Earnhardt repeatedly tried to pass down low but never could pull it off with Williams holding the higher line. On several occasions, the No. 8 car bumped the left-rear of Williams' No. 92 car.
During the competition caution, both drivers talked about the racing. 
"I'm having fun," Earnhardt said over his radio. "He probably ain't liking it much." 
"I don't care if he's a hero or not, keep jacking me up dude," Williams said. "Like Jesus Christ. Like you've got plenty of room, use it." 
Earnhardt and Williams have laugh after race
Dale Earnhardt Jr. finished 14th and Williams finished 23rd. During the postrace interview, Junior talked about what it was like racing against Williams and the rest of the Xfinity Series field. 
"They race hard there in the middle of the pack, especially around me," Earnhardt admitted. "I was up for it. It was fun. We got to beating on some of those guys. They beat back on us. I love racing with the Xfinity Series. All these guys got so much heart and they just race so hard. You can tell they're trying to prove themselves. It's so fun to be out there with him and learn about those guys."
Following the interview, Earnhardt and Williams had a light-hearted discussion on pit road about their racing.
"I was like, I'm having fun," Williams said with a big smile.
"I told them I'm enjoying myself. I don't know if he is," Earnhardt responded. 
The pair visited for a few minutes and had several good laughs about the race. There was obviously no bad blood. 
Dale Earnhardt Jr. fan shows his displeasure with Williams
On Monday, Josh Williams talked more about his racing with Dale Earnhardt Jr. on Twitter. However, he didn't talk so much about the racing but the response of an Earnhardt fan, who was not happy with him for what had happened. 
"@NASCAR fans are the best sports fans lol. Some dude put a video on my Instagram of him burning my hero cards… I love it," Williams wrote.
The video showed the fan setting multiple Josh Williams hero cards on fire and then squirting lighter fluid to accelerate the flame. 
"Fire pit was a little overgrown but my man @josh6williams came through with some autographed kindling thanks," the fan wrote. He also suggested Williams should have enjoyed running around Earnhardt and getting TV time and not gotten mad about the contact. The fan obviously didn't see the two drivers laughing it up after the race — or if he did, he just didn't care.
There's a reason the word fan is short for fanatic.   
Like Sportscasting on Facebook. Follow us on Twitter @sportscasting19.