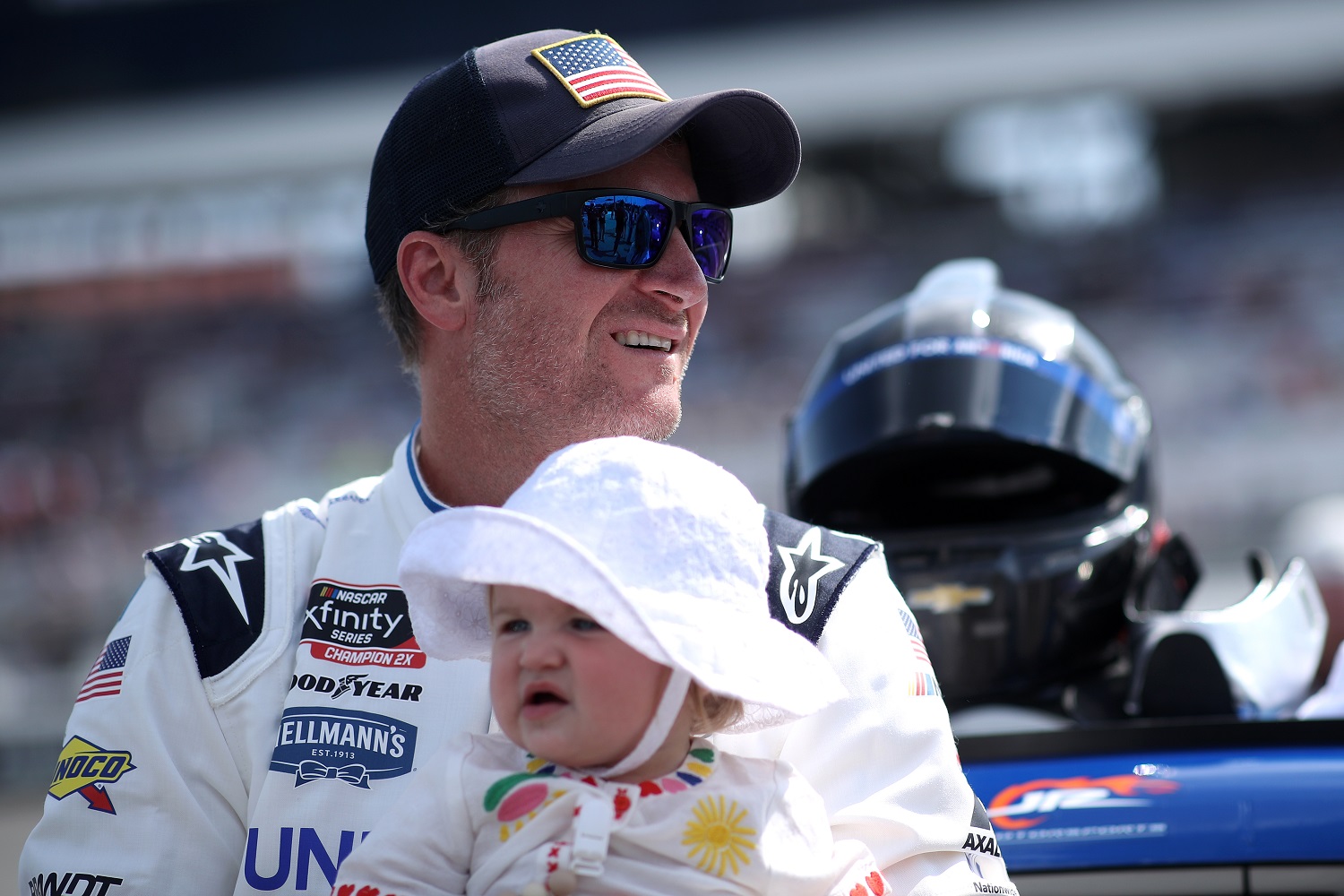 Dale Earnhardt Jr.'s Return to the NASCAR Xfinity Series Riled Josh Williams: 'I Don't Care if He's a Hero or Not'
Dale Earnhardt Jr. made his annual return to the NASCAR Xfinity Series and found himself engaged in some tough racing with Josh Williams, who wasn't amused by the fan favorite's antics.
Fan favorite Dale Earnhardt Jr. hadn't even rolled out onto the track at Richmond Raceway on Saturday when the speculation began about where in 2022 that he might make his next one-race return to the NASCAR Xfinity Series.
As far as veteran driver Josh Williams is concerned, Earnhardt can come back anywhere … as long as it isn't within 10 car lengths of him. Earnhardt and Williams got into it a bit late in the opening stage of the Go Bowling 250, and while one of the two was having fun, the other most definitely wasn't.
It made for interesting radio chatter.
"You got plenty of room," Williams told his crew, referring to Earnhardt. "Use it."
It was an amusing, albeit irrelevant, moment in the next-to-last race before the Xfinity playoffs begin on Sept. 25 at Las Vegas Motor Speedway.
First, the background:
Earnhardt retired from racing after the 2017 NASCAR Cup Series season to focus on operating JR Motorsports, continuing his popular podcast, and working as an analyst for NBC Sports on race days. However, that hasn't meant totally walking away from racing.
Earnhardt has picked one race a year to get back into the No. 8 Chevy on the Xfinity circuit. Last spring, he competed at Homestead-Miami, where Earnhardt led for four laps before finishing fifth. In 2019, he picked a late-season race at Darlington and also placed fifth. In 2018, Earnhardt ran strong at Richmond for much of the day, leading 96 laps and even winning a stage, before settling for fourth place.
Earnhardt is 46 and understandably a bit rusty now. But the return to Richmond sparked more than the usual interest because it's been a good track for him in both the Cup Series and Xfinity racing. He won three times there on the big circuit and four times in Xfinity cars, including in 2016 for the final checkered flag of his career. It's a career that includes 26 Cup Series triumphs and 24 in the Xfinity Series.
Now, juxtapose those numbers with those of Williams, who's in his fourth full-time Xfinity season and sixth overall. Williams has never finished in the top five in 117 career starts. His best result this season has been 10th at Mid-Ohio three months ago.
However, Williams has recently enjoyed his best stretch of the season with five straight showings in the top 20. Still, he's not going to make the playoffs unless he scores an improbable triumph next week at Bristol.
Williams started Saturday's race at Richmond in the 14th position, but it didn't take long before he was racing side by side in a battle for 20th with Earnhardt, who began the day 30th. They battled for position for multiple laps on the three-quarter-mile track, with Williams fighting hard to stay in front. They appeared to swap paint at least once.
"Won't give me a break," Earnhardt complained to his crew on the radio.
Shortly afterward, Dale Earnhardt Jr.'s Camaro tapped the rear quarter panel of Williams' No. 92 Chevy, though the 28-year-old driver from Port Charlotte, Florida, quickly squared up to avoid spinning out.
When the flag came down shortly afterward for a competition yellow, Earnhardt was in a jovial mood.
"I'm having fun," he blurted into his radio. "He probably ain't liking it much."
Williams' conversation with his own crew was not so flippant.
"I don't care if he's a hero or not. Like, he's jacking me up, dude."

Josh Williams
After taking the Lord's name in vain, he added. "Like, you got plenty of room. Use it."
Earnhardt and Williams finished the opening stage in 19th and 20th place, respectively. They spaced out shortly after racing resumed, and Earnhardt finished the second stage in 12th place, six spots ahead of Williams.
At the checkered flag, Earnhardt came across 14th and Williams 23rd, with Noah Gragson scoring his second consecutive victory and Justin Haley captured second.
Like Sportscasting on Facebook. Follow us on Twitter @sportscasting19.