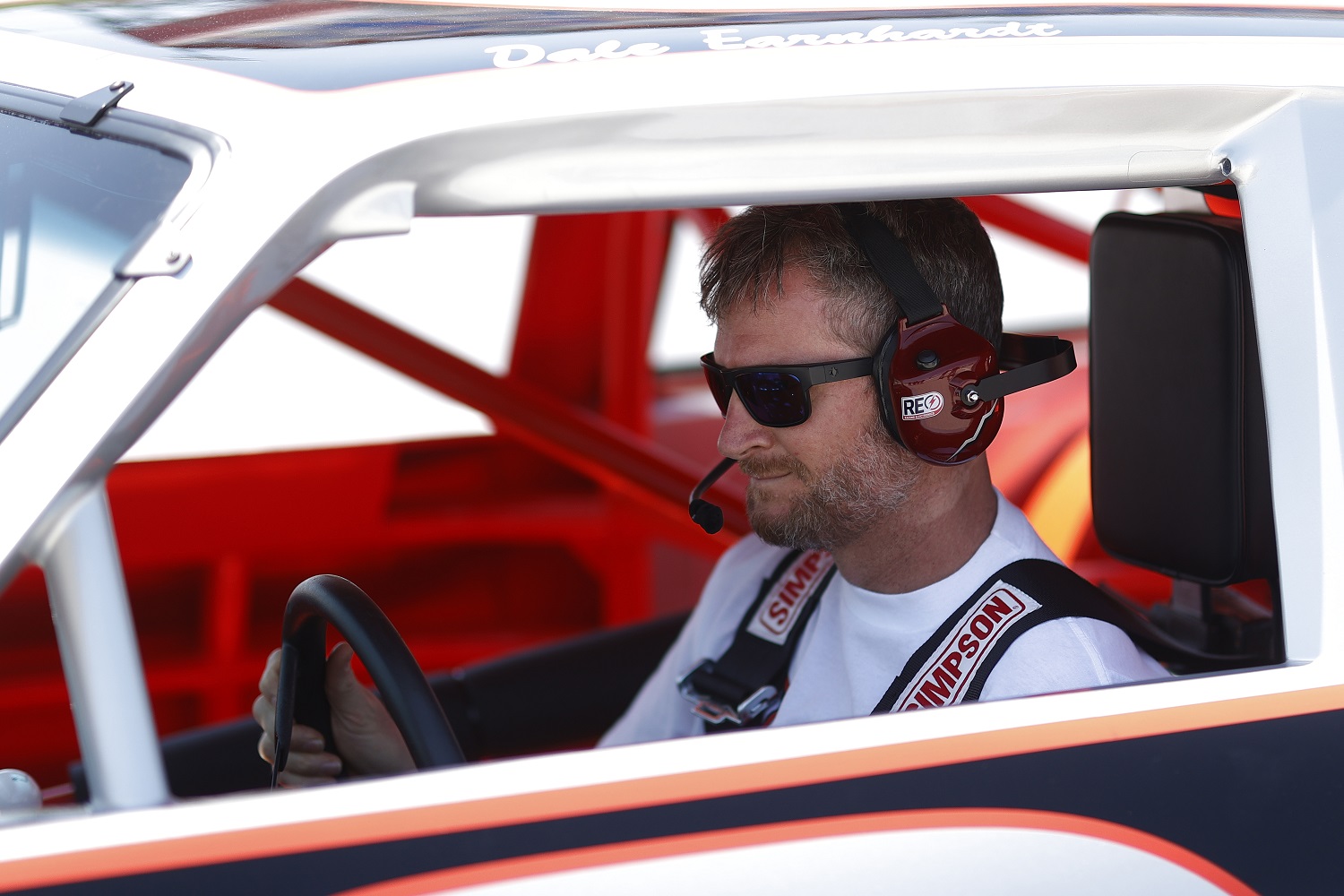 Dale Earnhardt Jr. Reveals the Promise That Led to His Career Change
NBC color commentator Dale Earnhardt Jr. is building an impressive media empire as a follow-up to his NASCAR Cup Series career.
Dale Earnhardt Jr. spent much of his NASCAR racing career working for other people, but he ran the show once he strapped himself into the No. 8 or 88 Chevy. His spotter and crew chief could bend his ear on the radio, but Earnhardt had the steering wheel and the final say.
That couldn't happen once Earnhardt made the decision to give TV a try. He was no longer the star of the show, and he would have to answer to people during the race.
Given how shy and reserved Earnhardt can be, that should scared him off. But NBC made Earnhardt a promise he couldn't ignore, and the rest is history.
Dale Earnhardt Jr. is turning into a one-man media empire
Earnhardt was too young to retire after walking away from racing in 2017 at the age of 43. He already had taken a dive into podcasts, and his Dale Jr. Download is quite possibly the best bit of NASCAR media content aside from Cup Series races on Sundays during the season.
Additionally, Earnhardt loved the sport too much to not to stay connected beyond the podcast, which he launched in 2013, when the medium barely mattered.
His most recent project is Lost Speedways, which begins its second season on Peacock on July 1. Produced by Earnhardt's Dirty Mo Media company, the series scours the country for abandoned racetracks and tells the story of what made each of them special. One of the upcoming episodes will take Earnhardt back to the Myrtle Beach, South Carolina, track when he did much of his earliest racing.
Dale Earnhardt Jr. reveals the promise that lured him the NBC's NASCAR coverage
Earnhardt was the most popular driver in NASCAR for nearly the entirety of his Cup Series career. He owed some of that to the family name, but his success (26 victories and 149 top-five showings) and his persona were also factors. Earnhardt has spoken in the past about the social anxiety that led him to eschew the spotlight any more than was absolutely necessary for chunks of his racing career. Fans considered that endearing rather than aloof.
It's why some longtime observers couldn't believe that Earnhardt agreed to work for NBC on race telecasts following his retirement. Heck, Earnhardt even surprised himself. But NBC Sports executive producer Sam Flood came up with the idea of pairing Earnhardt with Steve Letarte, his former crew chief.
More importantly, Earnhardt told the Associated Press that Flood made a promise.
"Sam told me when he hired me, he said, 'I'll never put you in a position to fail,'" Earnhardt said. "That was such a great thing to hear from somebody. I'm trusting somebody to not put me somewhere I'm not ready.
"I've been in some scary situations, but I have the support, and that gives you the confidence to get out there and do things, to put yourself out there, where probably 10 years ago I'd have turned and run away."
There's also JR Motorsports to look after
On top of everything else that Earnhardt does when he's not looking after his wife and two daughters, Earnhardt is still the co-owner of JR Motorsports, an Xfinity Series team with a strong stable of drivers. Justin Allgaier has won twice this season, and Noah Gragson and Michael Annett are in the top 10 in points. Josh Berry has also won, and rising star Sam Mayer, 18, made his debut at Pocono.
There's always speculation that Earnhardt will move his outfit into the Cup Series before long. Between the podcasts, the TV series, and full weekends of a racing presence, Earnhardt could be front and center in NASCAR 24/7 before too long without ever having to deal again with going three-wide into another narrow turn.
Like Sportscasting on Facebook. Follow us on Twitter @sportscasting19.