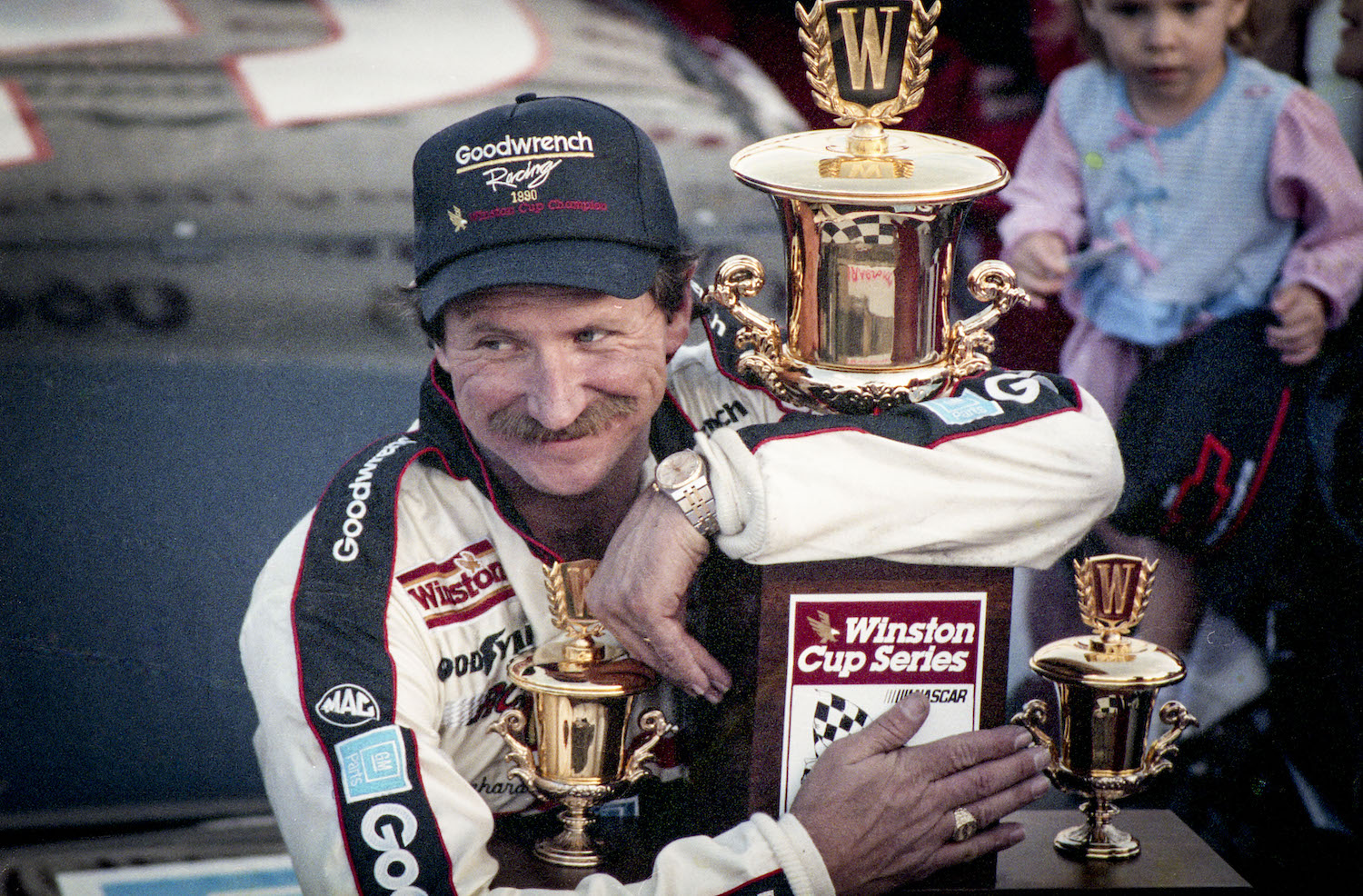 Dale Earnhardt Sr.'s NASCAR Success All Started With a Confident Pre-Race Mantra, According to Jimmy Spencer
During his time on the motorsports circuit, Dale Earnhardt Sr. proved to be one of the greatest drivers to ever climb behind the wheel of the stock car. The Intimidator, it seemed, possessed the perfect blend of talent, skill, and willingness to push the envelope. Unsurprisingly, he also had another weapon in his back pocket: …
During his time on the motorsports circuit, Dale Earnhardt Sr. proved to be one of the greatest drivers to ever climb behind the wheel of the stock car. The Intimidator, it seemed, possessed the perfect blend of talent, skill, and willingness to push the envelope. Unsurprisingly, he also had another weapon in his back pocket: some incredible confidence.
On one occasion, Jimmy Spencer asked Earnhardt why he was so good at racing. The Intimidator had the perfect, albeit slightly egotistical, response.
Dale Earnhardt once shared his confident key to success with Jimmy Spencer
Thanks to an infamous comment at the 2001 Pepsi 400, Jimmy Spencer didn't see eye-to-eye with Dale Earnhardt Jr. When it came to the Intimidator, though, Spencer had no problem talking shop and shooting the breeze.
During his long-awaited appearance on The Dale Jr. Download, Spencer shared some of those stories. On one occasion, he found himself enjoying a few drinks with the Intimidator and decided to try to get inside the legendary driver's head.
"Here we are, I come over to his garage, another thing that intrigued me about your old man," Spencer told the younger Earnhardt. "We were sitting there one night in the shop, we were all sitting on these five-gallon buckets. And I said to him, we're having a couple of cold beers, I says, 'Dale, why are you so good?'"
Based on what we know of the Intimidator, it's easy to see him brushing off that question with little more than a smirk. On that night, however, he had an answer ready to roll.
"Well, he says, 'Come Sunday, before I get in the car, I look, wherever I'm starting, I look up, and I look down, and I go, "Ain't nobody here could beat me today." And that was his theory. He had a mindset, and I never forgot that."
If anyone had the right to be confident, it was certainly Dale Earnhardt
For most drivers, looking at their competition and saying that no one else could beat them would probably be a recipe for disappointment, if not disaster. Dale Earnhardt Sr., however, wasn't an ordinary driver.
As long-time racing fans will surely remember, the Intimidator was more than just a commercial juggernaut, capable of selling branded merchandise with incredible ease. He was also a talented driver, possessing both the audacity to consider trading paint, squeezing through tight gaps, and 'passing in the grass,' and the skill to pull off those maneuvers.
By the time his career came to an untimely end, Earnhardt had won 76 Cup Series races and, even more impressively, claimed seven Cup Series Championships. While he wasn't 100% right about nobody being able to beat him, his assertion was still accurate a decent portion of the time.
Jimmy Spencer also saw a more human side of the Intimidator on a few other occasions
Even if he ended up sharing a pre-race routine that only he could pull off, Earnhardt came across as a regular guy, rather than the legendary Intimidator, in Spencer's anecdote. That wasn't the only human moment the two men shared, though.
During his appearance on The Dale Jr. Download, Spencer explained that Earnhardt connected with his father and consequently spent a decent amount of time at his family's property. That included plenty of junkyard races, some cook-outs, and, above all else, good times. On one occasion, Earnhardt even took a picture with Spencer's parents and quipped, "It's illegal to have this much fun."
On another occasion, Spencer visited the Intimidator's shop and found himself on the end of one of the racing legend's signature practical jokes. Earnhardt called his friend down to the barn and asked him to hop over a fence to grab something. While there was something waiting on the other side, it wasn't what the visitor expected to encounter.
"Needless to say, I jump over the fence' Spencer continued. "I run over there, and I look. I hear [some heavy breathing]. I went, 'What the f— is that?' 'Get out of there, Spencer! Get out of there!' I look, and here comes Winston the bull."
For most racing fans, Dale Earnhardt stood tall as the legendary Intimidator. For Jimmy Spencer, though, he was just another man, albeit one who was pretty good at racing.