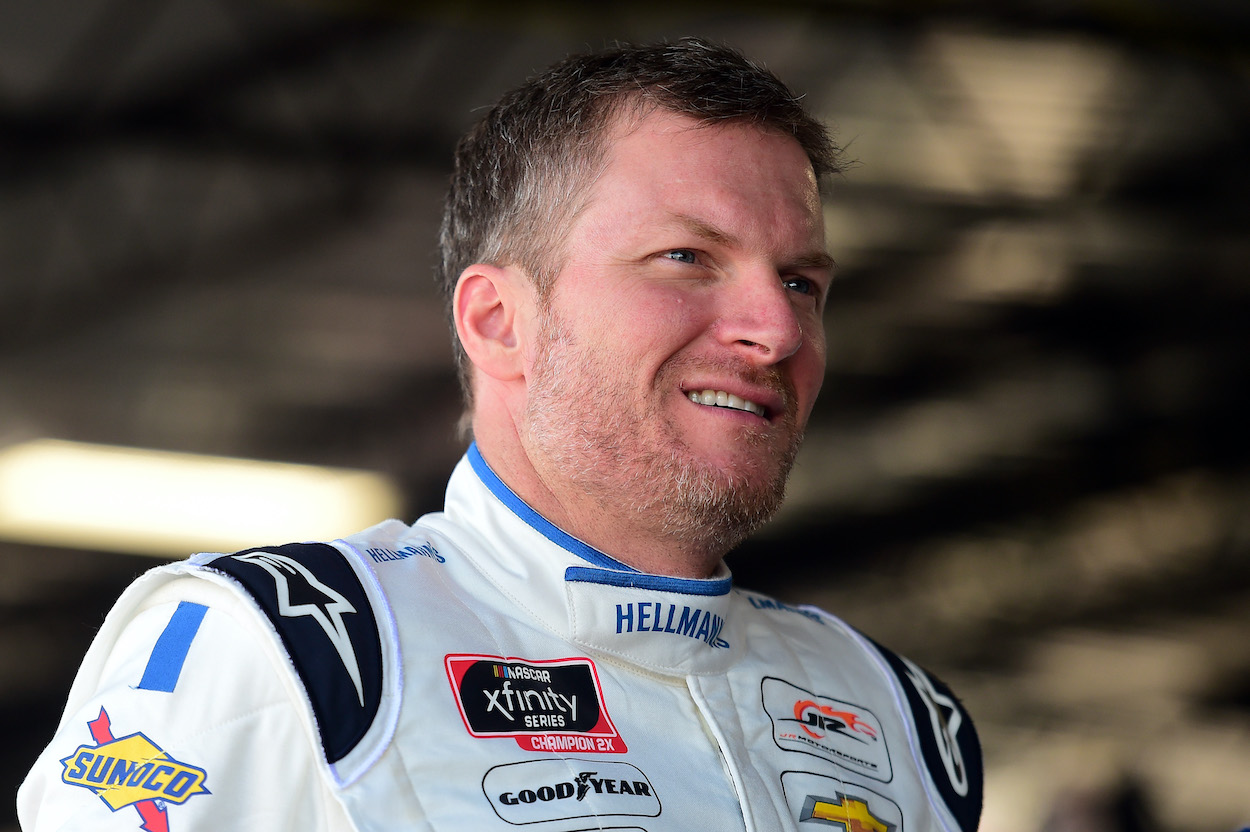 Dale Earnhardt Jr. Reveals Plans to Race Again in 2022 and Surprisingly Admits to Single Reason Preventing Him From Racing More Than Once a Year
Dale Earnhardt Jr. admitted this week to reporters that he would race more than once a year but there's one thing stopping him from doing it.
Since retiring from full-time racing with the NASCAR Cup Series after 2017, Dale Earnhardt Jr. started a tradition of racing once a year with the Xfinity Series. The two-time Daytona 500 winner makes his return this weekend at Richmond for his solo appearance in 2021. In a visit with reporters previewing the race, Earnhardt announced he already has plans for racing in 2022 and surprisingly admitted he would race more, but there's one thing that's stopping him from doing it. 
Dale Earnhardt Jr. racing with Xfinity Series since retiring
Dale Earnhardt Jr. raced to 26 Cup Series wins in 19 seasons. In 24 years on the Xfinity Series, he earned 24 wins. Despite fewer wins, Earnhardt was more successful overall in Xfinity racing, earning back-to-back championships in 1998 and 1999. 
In the three years since stepping away from Cup racing, Earnhardt has not earned any victories in his one-off Xfinity races, but there's no denying he's been successful. 
In 2018 at Richmond, where he's racing this weekend, Earnhardt earned a fourth-place finish. A year later at Darlington, he finished fifth. Last year at Homestead, the NASCAR Hall of Famer earned another fifth-place finish.  
Dale Earnhardt Jr. admits there's a single thing that prevents him from racing more
During a media session this week previewing the race at Richmond Raceway, Dale Earnhardt Jr. visited with reporters and announced the plan is for the one-off races to continue in 2022.
"Looking forward to it," an excited Earnhardt said. "We're going to do it again probably next year. Just keep on doing these one-offs as we go. I don't know if I'm going to do more than that. I do miss it. I miss driving. I daydream about driving full-time and what that would be like."
Later in the session, Earnhardt continued on the theme of driving more and even admitted that he's given serious consideration to racing more than once a year, but one thing has prevented it from happening. 
"It is a little nerve-wracking, and that's kind of probably why I don't try and go race late models with Josh or haven't done anything like that in the past is just you roll in there, and people go, 'Oh, you know, he's got this experience and he's got this car and this is how he should run,'" Earnhardt said. "I wish I was more like Chase Elliott. He just races. And if he wins, he wins. He don't care if he doesn't run good. He goes and runs Chili Bowl. Does all these other things. He knows in his mind what the reality of the situation is and if he gets outran by them guys, he knows why that happened and he's fine with that. I wish I was a little more like that where I could just go and do and not worry about getting beat and getting outran. I'd probably race a little bit more. I'd go have some fun in our late models or something at the local track or something because they'd definitely whip me if I went and did that." 
Racing once a year proves valuable for his job in booth 
Since Earnhardt doesn't race more than once a year and doesn't currently have any plans of changing that, he said even the limited time he gets behind the wheel in that single race proves to be quite valuable because it allows him to refresh his mind on the experience from a driver's perspective.
"When I get out of the car, I write a lot of notes down, and it ain't for the crew chief," Earnhardt admitted. "It's for me going back into that broadcast booth going forward. Trying to keep all of that stuff fresh on my mind of what the drivers are dealing with. That's my job as an analyst is to sort of explain where the driver's mind is at any given moment in a race. To be honest, getting inside this car for this one race is more about that for me. 
"It probably means something to a lot of different people who were supporters of ours through the years, but for me it's just a great refresher and it helps me so much as an analyst to be reminded about those things. And I can get a lot of information that will help me in the booth in this one little race."
It may just be one little race, but for Earnhardt's fans, it's the biggest one of the year.
Like Sportscasting on Facebook. Follow us on Twitter @sportscasting19.