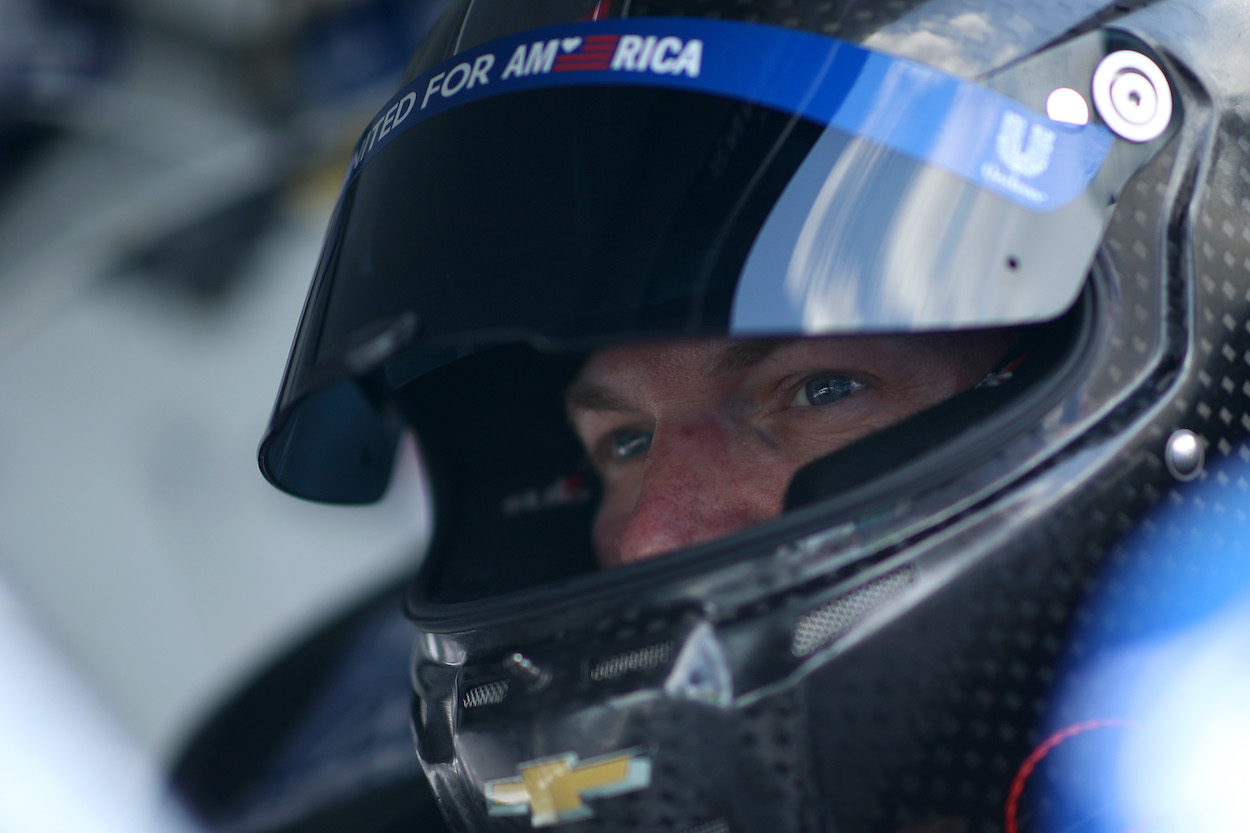 Dale Earnhardt Jr. Surprisingly Admits He's Had Other Opportunities to Race This Year and Now Regrets Not Taking Them
Dale Earnhardt Jr. recently admitted on his podcast that he now regrets passing up multiple opportunities to race this season.
Dale Earnhardt Jr. stepped away from full-time racing in 2018 after a successful 19-year career on the NASCAR Cup Series. Not surprisingly, like most athletes who retire after lengthy careers, the two-time Daytona 500 winner has persistently had a desire to return. He's scratched that itch the last four years by racing a single time each season with the Xfinity Series.
Interestingly, after last week's race at Richmond, where he finished 14th, Junior said on his podcast that he wished that he could immediately get back in the car and race to redeem himself for the lackluster performance. Surprisingly, he also admitted that he's had other opportunities to race this year and now regrets not taking them.
Dale Earnhardt Jr. had disappointing finish at Richmond
Dale Earnhardt Jr. made his much-anticipated return to the race track at Richmond. Unfortunately, his 14th-place finish wasn't nearly as successful as what he had achieved in years past. He finished fifth or better in his three previous Xfinity Series performances. 
Despite not running as well as he had hoped, Earnhardt said it was still an enjoyable experience. 
"We didn't have the car I think that I was looking for," Earnhardt said in the postrace interview. "Maybe I just couldn't figure out how to get it around the track. We tried hard and tried to make adjustments and couldn't really figure out how to get the left front to work. Car was real tight. 
"But it was fun. I love racing with the Xfinity Series. All these guys got so much heart and they just race so hard. You can tell they're trying to prove themselves. It's so fun to be out there with them and learn about those guys. That's how you learn who's who is to be out there on the race track with them. You get to see how they race. That's a firsthand experience today." 
Dale Earnhardt Jr. regrets passing up other opportunities to race this year
A few days after the race and with time to reflect on his sub-standard finish, Earnhardt acknowledged on the "Ask Jr." segment of the Dale Jr. Download that despite enjoying the experience, he didn't want to wait another year to get on the track. Instead, he wanted an opportunity to race again, get a better result, and get rid of the bad taste in his mouth. 
"I certainly would love to run sooner than that because I don't know like, you know, when we don't run good, you look to go redeem yourself. We didn't run good in the race," Earnhardt admitted. "In my career, I'm used to being able to go fix that the next weekend. Now I have to wait a while. Unless somebody were to need a relief driver. I had some opportunities this year I'm kind of regretting not taking."
Had more opportunities last year but wife nixed them
Dale Earnhardt Jr.'s admission that he's received opportunities to drive this year isn't all that surprising. Last year, there were even more requests with drivers out due to COVID-19. His wife, Amy, said as much during an interview in August 2020. 
"Knowing that one race is what he's going to do every year is exciting for him, so we look forward to it together," Amy told WCNC. "He has had a lot of requests this season, especially with drivers getting sick to fill in, and so he'll tell me, 'So and so asked me to drive their car.' I'm like, 'That's super cute. I love it,'" she said, laughing.
When the reporter asked if her answer meant she was opposed to her husband racing more frequently, she didn't sugarcoat her response.
"That's a hard no from me. If you're trying to get an answer or you're asking permission, my answer is no. We have enough going on," she said.
In other words, Earnhardt fans shouldn't expect to see him back on the track until 2022 no matter how much he wants to do it. 
Like Sportscasting on Facebook. Follow us on Twitter @sportscasting19.