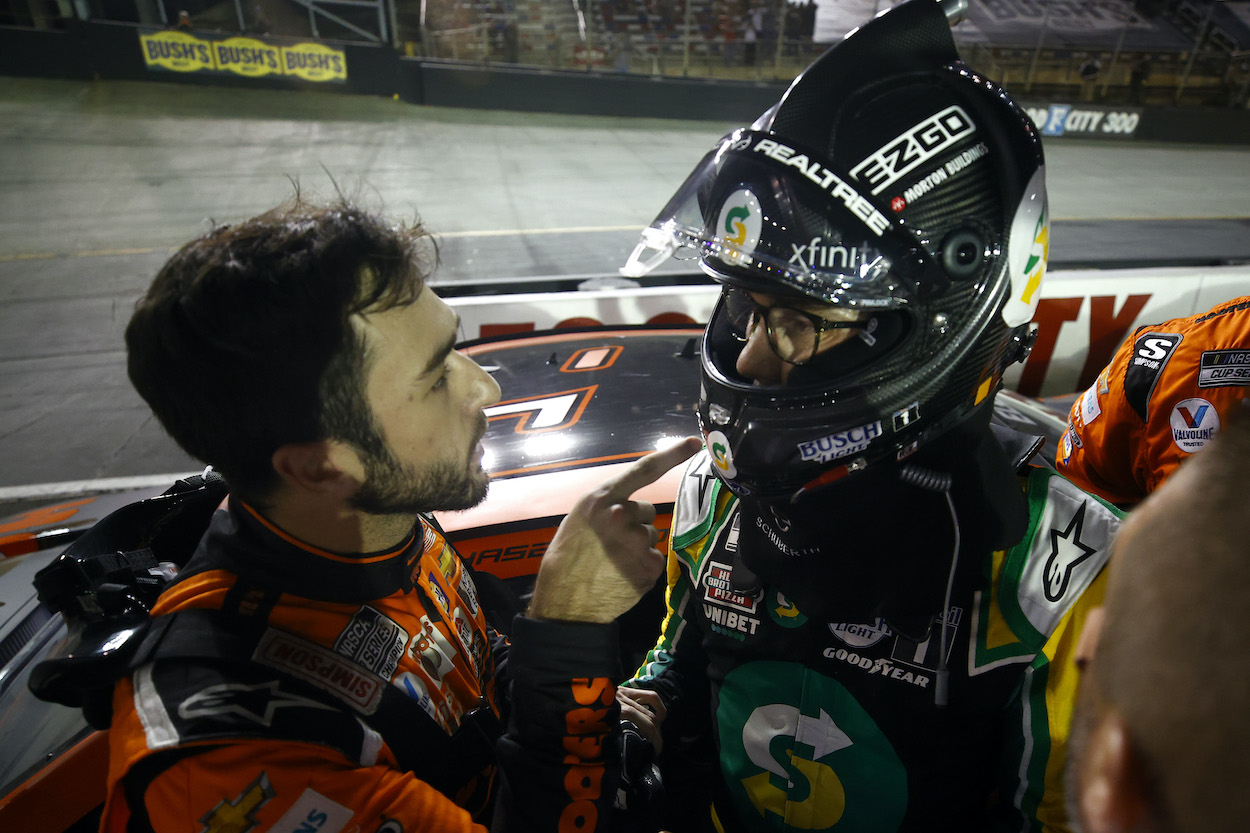 Furious Kevin Harvick Confronts and Cusses at Chase Elliott on National Television, Then Threatens Him Behind the Scenes: 'Now I'm Just Going to Run You the F*** Over'
Kevin Harvick and Chase Elliott had a heated conversation on pit road after the Bristol race that carried over into the garage area where the veteran driver threatened the 2020 champ with retaliation.
Kevin Harvick has undoubtedly had a frustrating 2021 season. After winning an impressive nine times in 2020, the 2014 NASCAR Cup Series champion hasn't made a trip to victory lane this year. During the Saturday night race at Bristol, the No. 4 Stewart-Haas Racing car appeared in prime position to earn that first win. However, Chase Elliott had something to say about it.
The defending champion took exception to a move by Harvick late in the race that resulted in a cut tire and effectively ended his chances at victory. Elliott returned the favor, hitting Harvick several laps later, and then strategically positioned himself in front of him, allowing his Hendrick Motorsports teammate Kyle Larson to catch up and pull off the victory.
After the race, a hot Harvick confronted Elliott on pit road for all to see. He then cussed about the incident on national television and then, a few minutes later, confronted Elliott again and threatened him with retaliation.
Kevin Harvick and Chase Elliott make contact late in race
Chase Elliott was dominant at Bristol and led a race-high 175 laps. With 65 laps to go, Kevin Harvick followed Elliott as the two cars navigated their way through sporadic lapped traffic, with Kyle Larson lurking a half-second behind.
With 36 laps remaining, the leaders found themselves behind a pack of lapped traffic. After clearing several cars, the two came upon the No. 52 car of Josh Bilicki, who was running the outside lane. Harvick stayed low while Elliott temporarily got behind Bilicki before diving underneath him and making it three-wide. 
Once both cars cleared Bilicki, Harvick slid up the track and made contact with Elliott on his outside. Within seconds, Elliott's left-front went flat and ended his chances of winning.
After the pit stop, Elliott returned to the track and, with 27 laps to go, sent a message to Harvick. The No. 9 car drove on Harvick's outside before dipping down low and then sliding up into the side of the No. 4 car — a move similar to what had cut his tire several laps earlier. 
Elliott stayed in front of Harvick and, with four to go, watched Larson drop down low and pass for the lead on his way to victory.
Two drivers have confrontation on pit road
Immediately after the race, Kevin Harvick and Chase Elliott stopped by each other at the entrance to pit road. Eventually, the two cars drove to the other end of pit road where both drivers promptly exited their vehicles, and Harvick hurried to Elliott's car.
After several minutes of animated conversation, including Elliott pointing his finger in Harvick's helmet-covered face, the pair went their separate ways. The 45-year-old driver was the first to be interviewed.
"I just told him it was kind of a chicken-s*** move he did there at the end," an upset Harvick said. "We're racing for the freakin' win at Bristol, three-wide, he throws a temper tantrum. I was just trying to get the lead and race him hard. Then he pulls up in front of me and sits there until I lose the whole lead." 
Unsurprisingly, Elliott had a different perspective. 
"Well, it's something he does all the time. He runs into your left side constantly at other tracks," Elliott said. "Sometimes it does cut down your left side; other times it doesn't. Did it to me in Darlington a few weeks ago because he was tired of racing me. Whether he did it on purpose doesn't matter. At some point, you have to draw a line. I don't care who he is or how long he's been doing it. I'm going to stand up for myself and my team, and we're going down the road."
Harvick threatens Elliott with retaliation
After the pit road confrontation, television cameras followed the pair and showed the two having another heated discussion near the haulers. Several reporters stood nearby, recording the action and the audio. Jordan Bianchi of The Athletic captured the conversation when Harvick threatened Elliott with retaliation.
"You don't race smart," Harvick told Elliott twice. "Now I'm just going to run you the f*** over."
Shortly after that exchange, the two drivers went inside Elliott's hauler for another conversation in private. The contents of that conversation have not been made known.
One thing that is abundantly clear — the upcoming round in the NASCAR playoffs just got a whole lot more interesting. 
Like Sportscasting on Facebook. Follow us on Twitter @sportscasting19.