Chase Elliott Previews New Documentary in Exclusive Interview and Reveals How His No-Nonsense Father Trained Him for Racing Greatness at an Early Age: We Were There to Race, Not to Chit-Chat or Gossip
Chase Elliott and Dale Earnhardt Jr. will forever be linked together. Elliott burst onto the NASCAR scene with JR Motorsports in 2014 when he won the Xfinity Series championship. In 2019, the driver appeared on Earnhardt's podcast, where the two-time Daytona 500 winner jokingly made fun of Elliott's hometown of Dawsonville, Georgia. It was during that interview that an idea was born.   
Two years later, Earnhardt finally visited Dawsonville and found out just what life is like for Elliott in the small north Georgia community and why he still calls it home. It's all captured in the documentary Chase that debuts today on the Peacock streaming service. Elliott sat down for an exclusive interview with Sportscasting and talked about the documentary and the players involved in it, including his no-nonsense father who trained him for racing greatness at a young age.
Dale Earnhardt Jr. takes shots at Chase Elliott's hometown
In July 2019, Chase Elliott appeared on the Dale Jr. Download and talked about his career and life with Dale Earnhardt Jr. During the conversation, Earnhardt brought up Elliott's living situation and how earlier, the young driver had moved into an apartment in North Carolina to be close to the racing community, but eventually returned home to Dawsonville, Georgia. Earnhardt wanted to know why.
"Home's home," Elliott told him. "I think that part for me is I've always taken a lot of pride in that. I always took a lot of pride in how we short-track raced and even going further back than that, how dad and his family went about racing. They always kind of did their own thing. I just take pride in that. I like living at home." 
Earnhardt pressed on and asked what Elliott's friend Ryan Blaney thought about his hometown during his first visit. Before allowing Elliott to answer, Earnhardt suggested the questions Blaney might have asked. 
"Why are you here? Why do you live here?" Earnhardt suggested. "Dawsonville is going to hate us."
"Dawsonville is going to hate you," Elliott jokingly agreed. "I'm upset that you're trashing on my hometown."  
"I just need to go down and see it," Earnhardt concluded.  
Chase Elliott and Dawsonville get visit from Dale Earnhardt Jr. for filming of 'Chase' documentary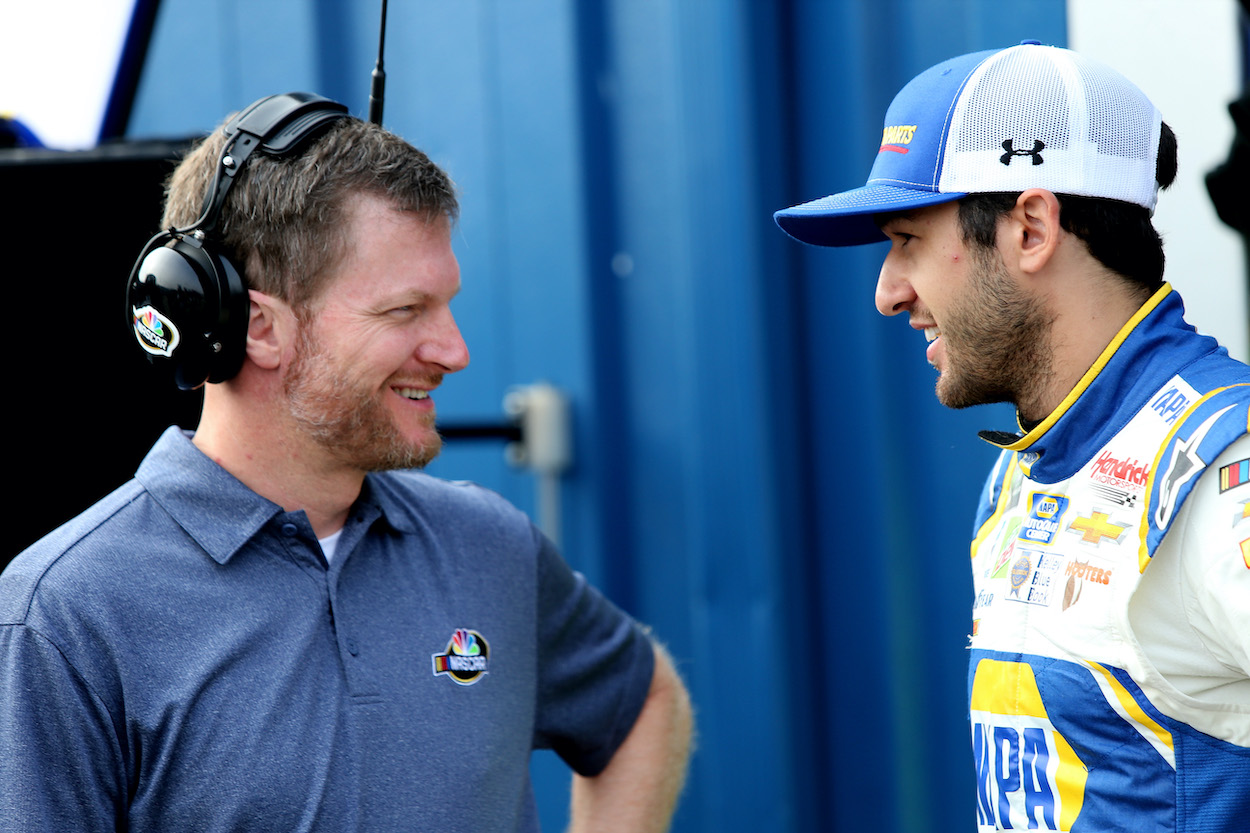 Fast-forward two years. Earlier in 2021, Elliott welcomed Earnhardt to his hometown as part of filming for the Chase documentary, which debuts today on Peacock. The two visited the popular pool room during the trip, which isn't a bar like Earnhardt had originally imagined, but a restaurant. Earnhardt detailed his visit to Dawsonville on his podcast.
"As soon as I walked in, everybody was nice, had a smile on their face," Earnhardt said. "They weren't, 'Oh, here comes Dale Jr.' I had a great experience. I shared on social media that I went there and a lot of people said, 'I'm surprised they let you in there. I'm surprised they didn't throw you out. Even after all of the digs that you gave them?' I'm thinking what did I say that left this impression."
In an exclusive interview with Sportscasting, Elliott said there were no animosity at all and it was good to finally have Earnhardt in his hometown. 
"For Dale, it was just a part of the southeast that he hasn't seen and a part of the country that he hadn't seen," Elliott said. "I think more than anything it was just a change of scenery, somewhere different, and a place that just happens to have a little racing history that comes along with it."   
Taught by father at early age to treat racing like a business
Elliott said the documentary is a glimpse into his life both on and off the track, including all the people who helped shape him into the person and race car driver he is today. Not surprisingly, he said his father Bill, who won the 1988 Cup Series championship, had considerable influence on his racing career from the very beginning.
"When I was growing up racing, he always made it very clear, there's a lot that goes into this," Elliott said. "He made me appreciate the larger picture of just how much goes into racing. It's not a cheap thing to go do. When you start racing cars, there are other people depending on these race shops and these race teams and that's their livelihood. They have families at home. There's a lot of people that are involved and I think more than anything just respecting the bigger picture. 
"Even as a kid, I feel like we always tried to go to the race track, it was very clear, if we were at a race track, we were there to race. We weren't there to chit-chat. We weren't there to be in the clique and go walk around with everybody and talk about everybody else and hang out and gossip. We were there to race. We always parked away from everybody else. Kind of came and did our thing and left. I have always appreciated that. I think it gave me a good perspective of things and kept my head in the game and helped me learn quicker."
Elliott certainly learned quicker than others. His 2020 Cup Series championship at just 24 years old is proof of that. He's looking to add a second title this season and is already locked into the playoffs with a pair of wins. He hopes to add to his win total in the Cup Series regular-season finale under the lights at Daytona International Speedway on Saturday night, airing on NBC. 
Like Sportscasting on Facebook. Follow us on Twitter @sportscasting19.