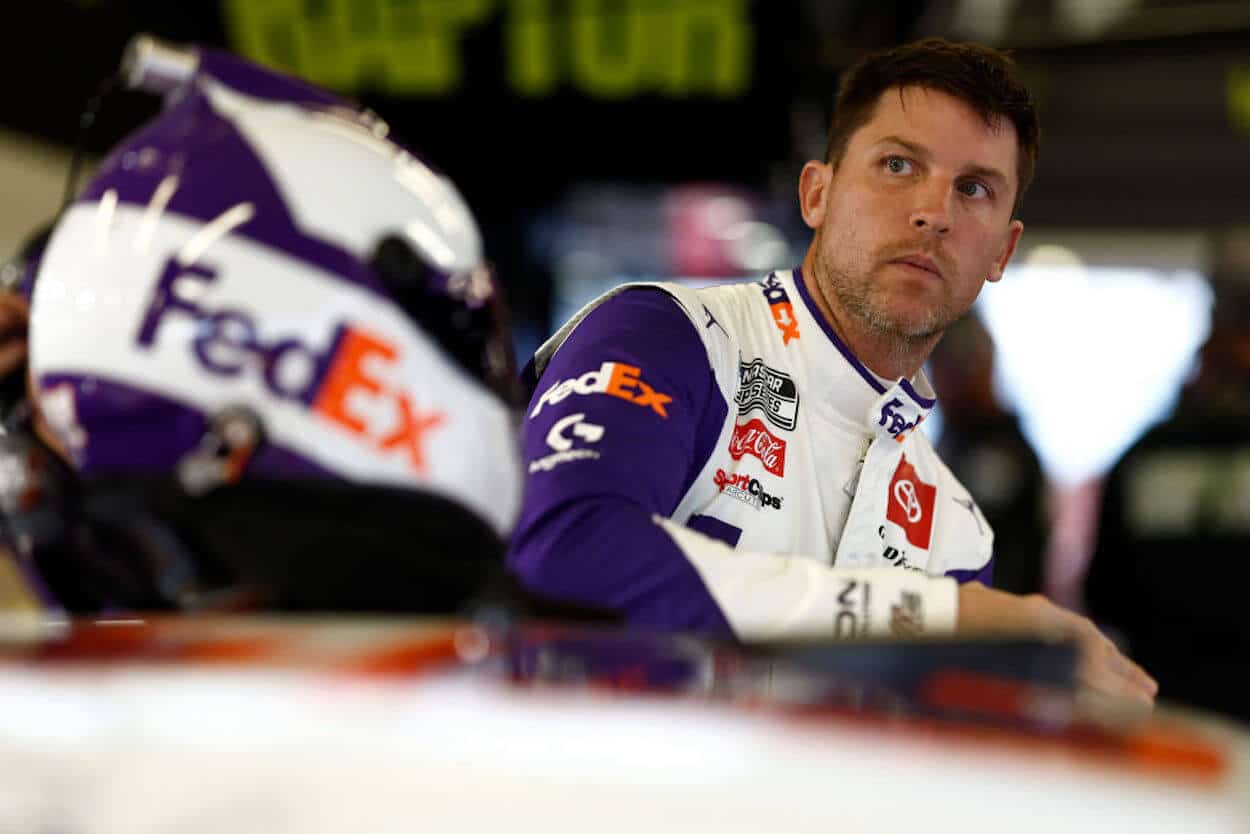 Penalizing Denny Hamlin for Speaking the Truth Is 1 of the Worst Things NASCAR Could Ever Do
If Denny Hamlin decides to censor himself after the National Motorsports Appeals Panel upheld his penalty, NASCAR will be the real loser.
Remember last season when two of the NASCAR Cup Series' top drivers — Kurt Busch and Alex Bowman — each suffered a concussion in a rather innocuous-looking crash at different tracks on different days?
NASCAR later admitted that modifications to the rear bumper design of the first-year Next Generation Cup Series car might be necessary to prevent future injuries, so the sanctioning body went to work over the offseason and produced a bumper that — at least so far — seems far more forgiving because it allows the cars rather than the drivers to absorb the brunt of the impact in a rear-end collision.
One of the loudest critics of the Next Gen car and, more specifically, its safety features before NASCAR took action was veteran Cup Series driver Denny Hamlin who, along with fellow veteran Kevin Harvick, led the charge in letting NASCAR know that the original version of the new-for-2022 vehicle was simply unacceptable.
Although it took NASCAR several weeks to finally step up to the plate and acknowledge that changes needed to be made, the sanctioning body finally did — and Hamlin is largely to thank for it. Had Hamlin not been so outspoken in his scrutiny of the Next Generation car, it's quite likely that the 2022 version of the Next Gen would still be around in 2023, and there's no telling how many other drivers may have suffered head injuries as a result.
So, why is NASCAR now basically attempting to muzzle Hamlin, all but daring him to say anything that might be overtly honest or the least bit self-incriminating?
Denny Hamlin knows being totally forthcoming won't earn him any favors with NASCAR
Last month at Phoenix Raceway, Denny Hamlin ran into nemesis Ross Chastain on the final lap, making what appeared to perhaps be non-intentional contact. But then, the following day, Hamlin admitted on his podcast, Actions Detrimental, that he deliberately took Chastain with him into the wall in an attempt to get even for multiple instances in the past year when Chastain has wrecked him.
NASCAR wasn't amused to learn that Hamlin intentionally took Chastain out and reacted by slapping the Joe Gibbs Racing driver with a penalty of 25 points and $50,000. 
After initially saying he wouldn't appeal the punishment, Hamlin changed his mind and took his case to the three-member National Motorsports Appeals Panel.
But the panel ruled Thursday afternoon to uphold NASCAR's penalty, which prompted Hamlin to record what he called an "emergency podcast" Thursday night to set the record straight and give his side of the story.
Although Hamlin has suggested he'll continue being himself and speaking his mind during his already enormously popular weekly podcast that debuted in February, it will undoubtedly be hard for Hamlin to be 100 percent truthful all the time. After all, why would he want to say anything that would risk a penalty that could ultimately cost him a long-awaited first Cup Series championship?
Hamlin can promise continued candor all he wants — and I commend him for trying — but when all the chips are on the table, racing is a business and a performance-based business. That means Hamlin, a three-time Daytona 500 champion and 48-time Cup race winner, would undoubtedly sacrifice just about anything to claim the sport's biggest prize — one he's been pursuing and narrowly missed on multiple occasions since his rookie Cup season of 2006.
NASCAR needs the uncensored version of Denny Hamlin, so let's hope he sticks around
OK, so maybe I've got it all wrong, and Denny Hamlin is willing to potentially sacrifice a Cup Series championship to speak freely, but I have serious doubts. You can rest assured that NASCAR is keeping close tabs on everything Hamlin says right now — whether it be on his podcast, via Twitter, or in a media interview. And if Hamlin is too transparent about anything, NASCAR is likely to respond with another penalty of perhaps even greater consequence than the one it handed down for Hamlin's actions at Phoenix.
Keep in mind, though: Hamlin didn't incur a penalty for intentionally wrecking Ross Chastain — he was penalized because he owned up to it and did so in rather bold fashion.
Never mind, of course, that NASCAR's TV ratings only skyrocket and people only buy more tickets when drivers are forthright about their thoughts and feelings toward the sanctioning body and each other. And never mind that, truth be told, intentional wrecking happens quite literally every weekend. The only difference between what Hamlin did at Phoenix and what others do with regularity is that Hamlin looked straight into a camera and told the world he meant to run a bitter rival into the fence.
Whether Hamlin will maintain this level of candor moving forward remains to be seen, but this much is certain: NASCAR and the hundreds of thousands of fans who support the sport don't need a watered-down version of Denny Hamlin. Had it not been for his openness and honesty last season when drivers were getting jerked around inside their race cars, someone might even be dead by now. So from me to you, Denny, here's my plea: Please don't change. Not now. Not ever. Even if it costs you the trophy you covet more than anything.