Denny Hamlin Doesn't Hesitate and Readily Admits He Intentionally Wrecked Ross Chastain at Phoenix as Payback, but Not for Reason Fans Think
Denny Hamlin and Ross Chastain were the main characters in the biggest conflict of the 2022 NASCAR Cup Series season. The Trackhouse Racing driver got into the three-time Daytona 500 winner on several occasions. Some thought the Joe Gibbs Racing driver delivered payback at Pocono. 
This week on his weekly podcast, the 42-year-old candidly admitted what happened in overtime at Phoenix was intentional. It was payback – plain and simple. What's most interesting, it wasn't for anything in 2022, but something that happened earlier this season. 
Denny Hamlin and Ross Chastain feud in 2022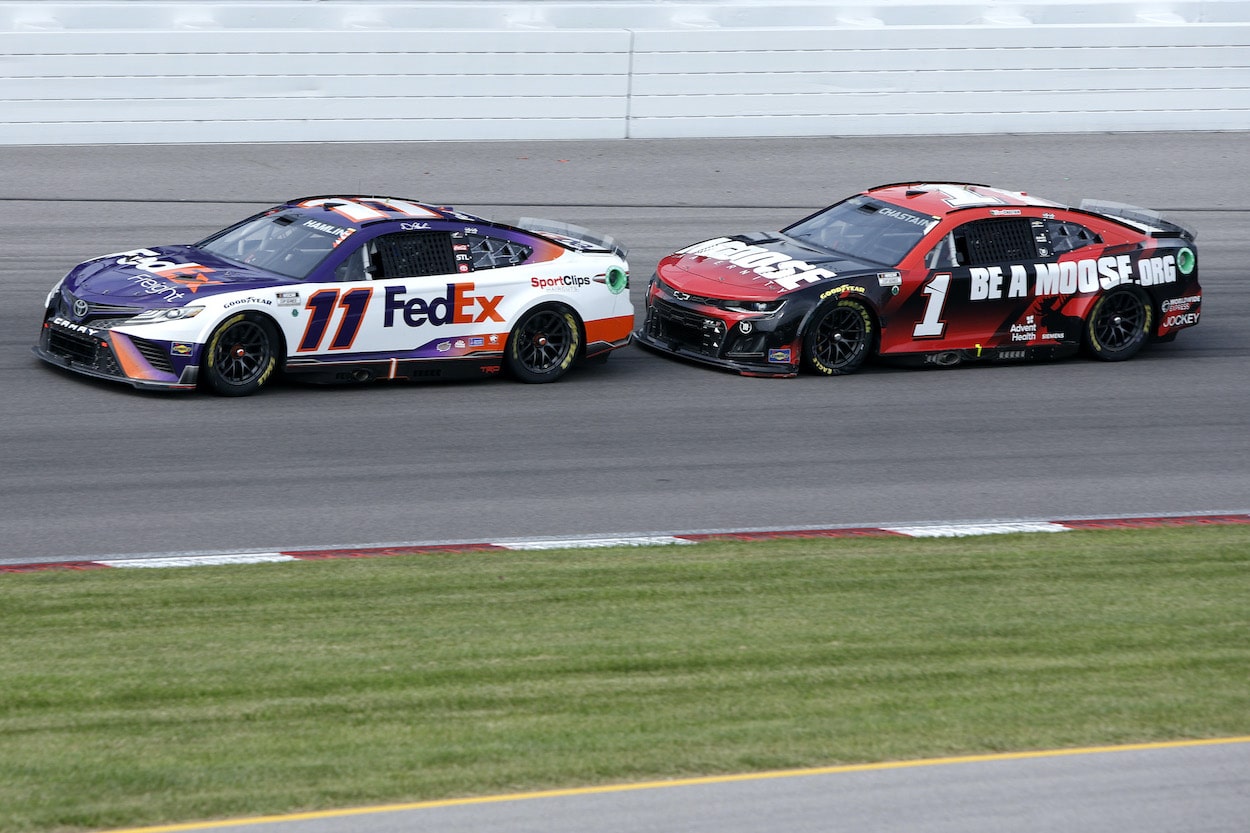 Ross Chastain started the feud with Denny Hamlin in early June last year at the inaugural Cup Series race at World Wide Technology Raceway. After getting frustrated due to being unable to pass the JGR car for multiple laps, the watermelon farmer drove into the back of the No. 11, and sent him into the wall. 
"We all have learned the hard way, and we've all had it come back around on us, and it will be no different," Hamlin said after the race, hinting at payback in the future. 
Chastain apologized after Gateway, but a month later at Atlanta, it happened again. Hamlin told reporters he had "reached his peak." 
In July at Pocono, the veteran driver responded, when he escorted the No. 1 car into the outside wall on Turn 1 on a restart late in the race. 
The Trackhouse driver told NBC he was "owed that one" while Hamlin said his competition "just ran out of race track."  
While there was debate on whether or not Hamlin was even, the pair stayed conflict-free for the remainder of the season.
Hamlin readily admits he intentionally wrecked Chastain at Phoenix
After Sunday's race at Phoenix, NASCAR fans were talking about William Byron's back-to-back wins and the overtime incident between Hamlin and Chastain. On Monday, during Hamlin's Actions Detrimental Podcast, he provided clarity on what happened, including admitting it was intentional payback, not for anything in 2022, but what happened earlier this year in LA. 
Hamlin set the stage in Phoenix by describing how his car was "plowing," or the front tires were going straight driving into Turn 1 on the final restart. With an ill-handling car and numerous cars on fresher tires behind him, the JGR driver recognized that he was dropping back into the field. 
"My crew chief told me there were 18 cars on the lead lap," Hamlin said. "At that point, I said I'm probably running sixth or seventh, I'm about to get passed by everybody behind me who's on fresh tires. I'm about to finish in the mid-teens. And I said, 'You're coming with me, buddy.'"
"Really?" podcast co-host Jared Allen asked.
"I did. It wasn't a mistake," the driver admitted. "No, it wasn't a mistake. I let the wheel go, and I said he's coming with me. It's been interesting because I hear people say this is for last year, this is for that. It's not. 
"I got wrecked at the Clash. I don't know that Ross sees it that way. I think he's still curious about what I thought about the Clash. I don't know why he would wonder what I thought about the Clash. I've said for a while you've got to do something to get these guys attention. 
"I think that Ross doesn't like it when I speak his name in the media and when I have this microphone. I told him well, I have a microphone, and I'm going to call it like I see it, and until you get a microphone, you can then say whatever you want about me. 
"But the fact is while I'm sitting here talking, I'm going to call things the way I see it, and sometimes I'm going to have to call myself out, which is, I'm the dumbass who lost just as many spots as he did. I said at the time, I'm going to finish s***** anyway, and I'm going to make sure he finishes s***** right here with me." 
Pair talked after the race and declared a truce
Chastain approached Hamlin after the race and the pair had a lengthy conversation. The JGR driver offered his side of the story on the podcast. 
"We talked," he said. "And I think that we're in a better place where I think we're willing to put the past behind us, and I think that we're going to judge each other from this point forward. I think that's the fairest way to do it. 
"As far as this season is concerned, he got me. While it didn't cost him, it did cost me at the Clash. It cost both of us here. But that's my s***** execution, right. That's not his fault. I just think we need to race each other with better respect from this point forward and that's what I hope to get out of this. He asked for a truce. I asked for a truce. Let's just see how it goes from here. There's no promises." 
No promises. That means there could be more where that came from. Stay tuned.
For the latest breaking news and information about NASCAR's three national series, check out @kdsportswriter on Twitter.