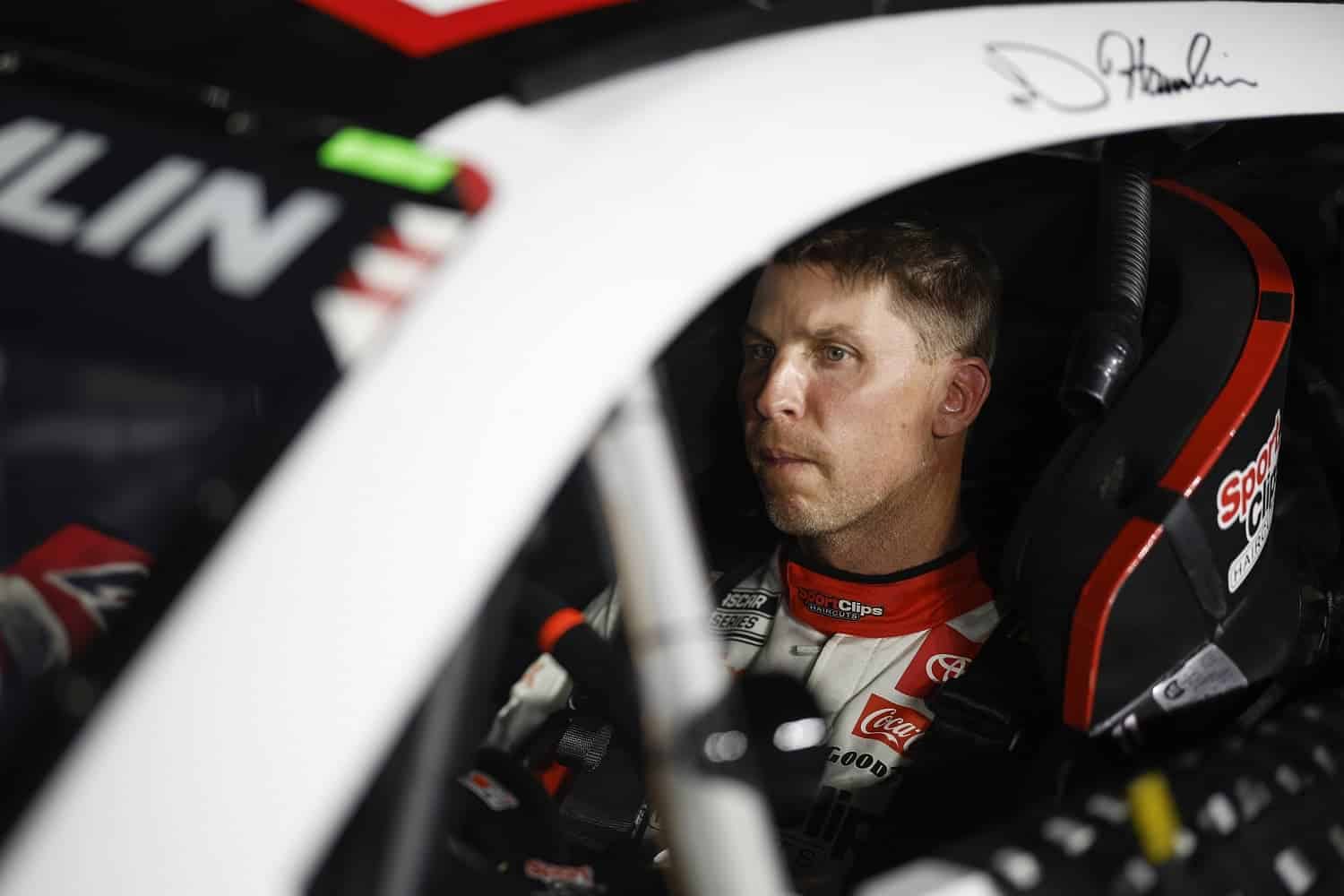 Quit Hating Denny Hamlin for a Minute and Bow to the Awesomeness of His 'Actions Detrimental' Career Bracket
Denny Hamlin did a brackets-style recap of some low points and controversial moments in his career, and it's great.
It's twisted that NASCAR fans who hate Denny Hamlin look forward to him capturing three more Cup Series races to displace Junior Johnson as the winningest driver without a season championship.
I've never hated Hamlin and wouldn't mind that 51st victory coming in the Championship 4. Hamlin being Hamlin, though, you just know he'd enjoy it more if it came against a title field of Alex Bowman, Brad Keselowski, and Chase Elliott.
And, Hamlin being Hamlin, he'd probably enjoy squeezing into the Championship 4 at the expense of Ross Chastain at Martinsville.
Denny Hamlin's 'Actions Detrimental' career bracket is a must-see
"Best driver to never win a f****** championship. Gosh. If I hear that one more time …"
Denny Hamlin said that near the end of his 10-minute, brackets-style review of the most detrimental moments of his NASCAR Cup Series career. It's an extension of his Actions Detrimental podcast, which is less than two months old and already a must-listen each week.
The weekly podcast is funny at times and consistently frank – so frank, in fact, that he got himself fined $50,000 and docked 25 points for admitting he put nemesis Ross Chastain into the wall at the end of the March 12 race at Phoenix. Hamlin's hearing on the penalties is coming up this week. Whether the appeal is successful or not, next week's podcast figures to be gold.
For now, however, racing fans can amuse themselves by watching his brackets rundown of detrimental moments in his career. There's a pretty good chance they'll find it at least as good a watch as whatever UConn and San Diego State can offer on Monday.
It all comes down to 2010 for Denny Hamlin
Though he's yet to win a NASCAR Cup Series championship, Denny Hamlin has finished second once and third three times. The runner-up showing came in 2010, when he won eight races. With just a modicum of luck, Hamlin would have won the title in his fifth full-time season.
"I think people pretty much define me by no championships," Hamlin said. "That's pretty much the only argument they have on my career at this point."
Hamlin left Texas Motor Speedway in 2010 with a 33-point lead over Jimmie Johnson and two races to go. The following week at Phoenix, Hamlin was forced to pit for fuel with 14 laps left after leading 190 laps. A 12th-place finish cut his lead to 15 points heading to Homestead-Miami. There, he lost the lead to Johnson after spinning out, finished 14th, and ended the year 39 points behind JJ.
"Had I finished ol' seven-time Jimmie off the week before had we not run out of gas unexpectedly, 2010 was my championship to be had. We were way faster than him."
Denny Hamlin named names in his brackets
Denny Hamlin said he could have filled a 16-line bracket with memorably forgettable moments in his career. In narrowing it to eight, he recited run-ins with the likes of Brad Keselowski, Ross Chastain, and Chase Elliott.
A few of his takes:
On Keselowski: "Brad actually had very similar traits to Ross Chastain. He was very, 'I'm here to prove myself. I'm not cutting you any slack. If (he's got) to wreck you to beat you, he'll do whatever."
Why his feuding with Chastain is more significant than one incident with Kyle Petty: "I'm going with Chastain. The reason for this is not only have I gotten the (worst) of the deal, it's also cost me money apparently."
On spinning Chase Elliott late in the 2017 Martinsville playoff race: "I feel like the crowd was pretty neutral toward me in the first 13-14 years of my career. All it took was to wreck the most popular driver. Boo!"
A title would heal many of the old wounds and silence the critics he most dislikes.
"If I were to win a championship, a lot of those keyboard warriors, as Mike Joy calls them, would have a tough time saying s*** about me. That would really make me happy. So, Homestead 2010 is your winner and the most detrimental thing to ever happen in my career."
Got a question or observation about racing? Sportscasting's John Moriello does a mailbag column each Friday. Write to him at [email protected]