Kurt Busch Leaves Door Open for NASCAR Return but at Peace With How His Career May Have Ended
Since announcing in October that his days as a full-time NASCAR Cup Series driver had come to an end, Kurt Busch has, on more than one occasion, said he's open to the possibility of future cameo appearances in NASCAR's premier division if the opportunity presents itself.
As of mid-February at Daytona International Speedway, Busch's stance on the matter hadn't changed. He'd still love to jump back in a Cup Series car at some point if all the stars align.
For now, though, the 2004 Cup Series champion seems at peace with the reality that he may never race again — or at least for the foreseeable future. 
Kurt Busch admits his concussion symptoms still persist seven months after his crash
When Kurt Busch backed his No. 45 Toyota into the wall during a qualifying session at Pocono Raceway in July, the veteran driver immediately felt that something was terribly amiss.
"I 1,000% knew that it was a different kind of hit," Busch said during a recorded video segment that aired four months ago on USA Network and that's now available to watch below via YouTube. "That's been the scary part and the tough part."
In the days and weeks that followed, the symptoms stemming from Busch's concussion — an injury that can affect balance, eyesight, and one's timing and ability to make fast decisions — refused to go away. As a result, he was forced to call it quits from full-time racing more than a year earlier than he'd planned.
But on the day Busch told the NASCAR world he wouldn't return as the full-time driver of 23XI Racing's No. 45 Toyota for team owners Michael Jordan and Denny Hamlin, he also left the door open to future starts — though on a limited basis.
And that remains the plan once his doctors have cleared him to return to competition, which Busch is hopeful will eventually happen.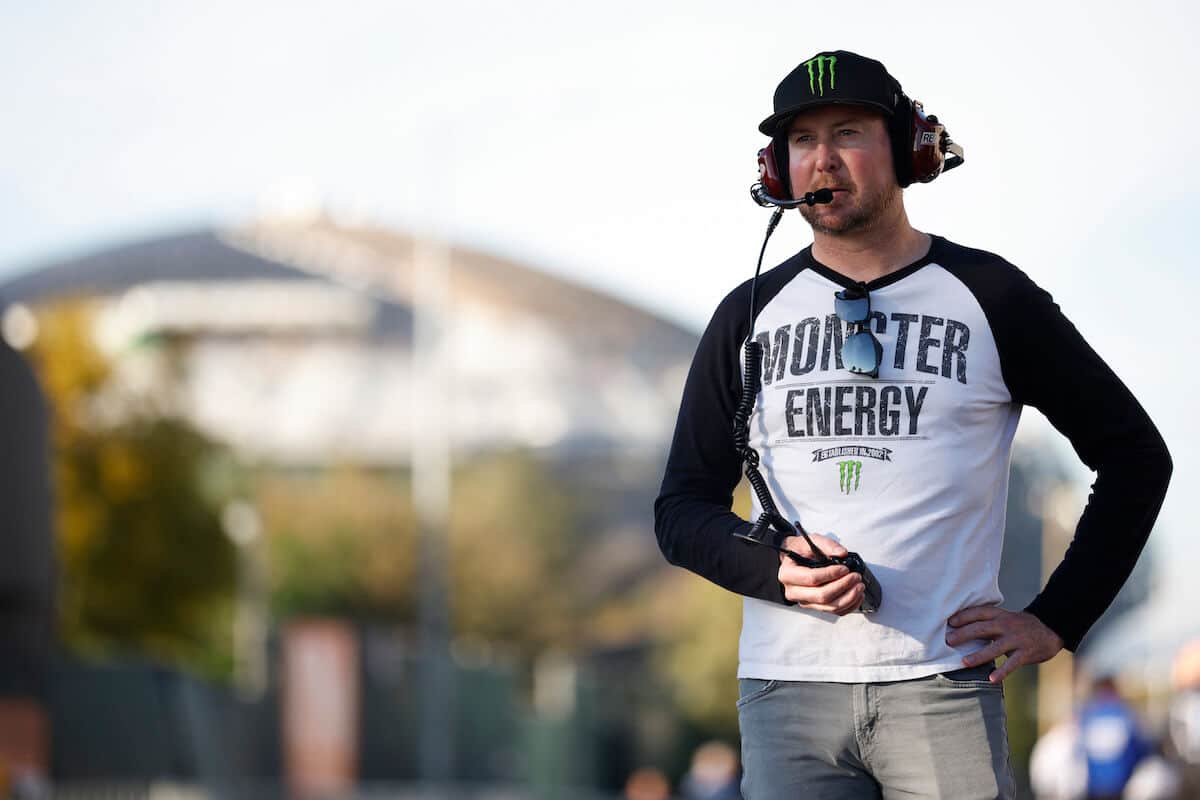 "They believe it. I believe it," Busch said during a Friday media availability at Daytona International Speedway, where he's carrying out his new duties as a consultant for 23XI Racing and helping promote the branding of his longtime primary sponsor, Monster Energy. "I just know that right here, I'm not 100% to race with these guys — the best of the best here at this level. Could I go do a SCCA Club race next week? It's probably not wise. Go-karting has been fine for me. The simulator has been fine. 
"It's just when I had my head in the headrest and there's that movement, that's what bothers me. With the progress that I've made, progress since August, yes, I do believe there will be a full recovery. The new physical therapy I'm on is another challenge, and a lot of it is with the balance and eye movement."
Kurt Busch calls Pocono crash 'a Hollywood ending' but hasn't ruled out part-time comeback
While Kurt Busch certainly would've preferred to retire from full-time racing on his own terms, he's come to grips with the fact that it wasn't in the cards.
As much as a qualifying crash at Pocono might seem like a less-than-ideal way to go out, the 34-time Cup Series race winner and 2017 Daytona 500 champion has managed to find a silver lining.
"Whether it was my decision or somebody from above, it doesn't matter to me," Busch, who made his first Cup Series start in 2000, said Friday at Daytona. "I'm very happy. I'm complacent. And to have had this opportunity to race in this sport for 23 years and to hit all of the high notes and the low notes, I wouldn't trade it for anything. It's a Hollywood ending going for pole on your last lap ever, right? I'm smiling about it, and I'm happy with it."
It helps Busch's outlook on life — and the possible end of his career — that his lingering concussion symptoms aren't having much impact on his day-to-day functioning.
"Everyday life is normal," the 44-year-old Las Vegas native said at Daytona International Speedway, where he'll be one of several past Cup Series champions to serve as a grand marshal for Sunday's Daytona 500. "When I do my workouts with the physical therapist, we switch them up a little bit now onto a balance type of pad, and it helps with creating core strength, and it helps with my movements that I have to do, and it's fatiguing.
"I notice things that bring me up and then break me down when I have to do a day on and a day off now. I'd been pushing seven days a week to try to get back to the car [last season], and then, in all honesty, I took December off. It was an emotional time, and that was part of this process as well. But I'm doing well."
And the future NASCAR Hall of Famer still hasn't given up on a return to the seat of a NASCAR Cup Series stock car. He just doesn't know when — or if — it will happen. 
"Once there's that green light, then there's the chance to open the door for discussions, so it's a process," he said. "Can't push one before the other."