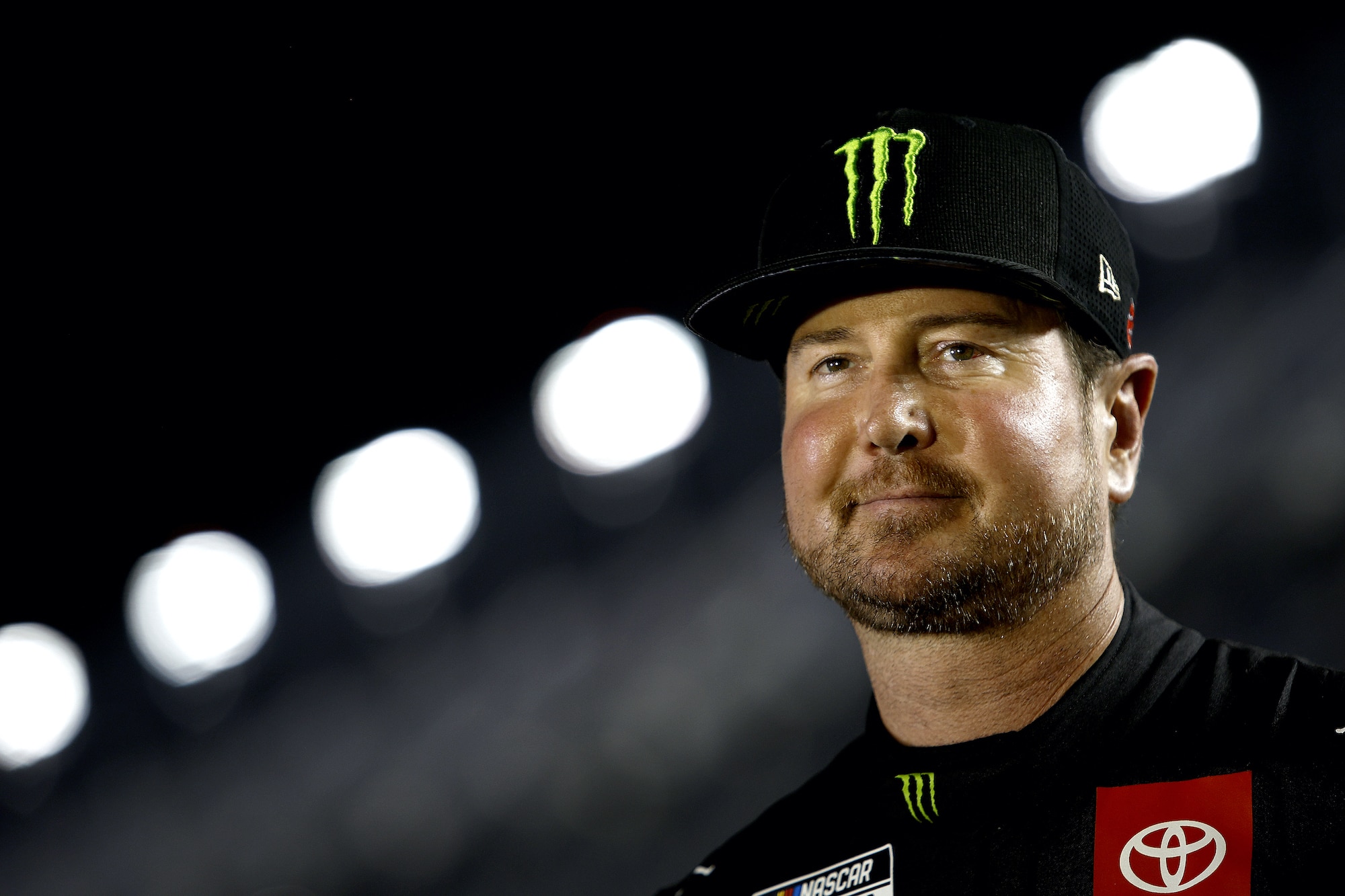 Kurt Busch Addresses His Potential Return to Racing and Has Specific Tracks in Mind If It Happens
Kurt Busch offered a health status update this weekend and said a return to Cup Series racing is possible in 2023. He also mentioned a couple specific tracks he had in mind if it were to happen.
Kurt Busch got emotional last year in Las Vegas when he met with reporters and revealed that he was stepping away from full-time Cup Series racing. But he was very clear in his wording — he was stepping away, not retiring. 
Last week, 23XI Racing team co-owner Denny Hamlin hinted at the 2004 champion's possible return in 2023. Over the weekend, at an awards ceremony, the 44-year-old was asked about a potential return. He first provided an update on his health status and then interestingly identified a couple of tracks he'd like to race at this upcoming season if a return happens.
Denny Hamlin talks about Kurt Busch potential return
When drivers met with reporters last week as part of media production days, Denny Hamlin talked about Travis Pastrana running a third car for 23XI Racing and attempting to qualify for the Daytona 500. Unsurprisingly, the Joe Gibbs Racing driver was asked if that car could provide Kurt Busch with a clearer path to return in some capacity in 2023.
"Yeah, that's kind of the gameplan for us with our 23XI team is that if Kurt decides that he wants to run races, we have to be prepared for that, and we have to be prepared to field a very competitive race car," Hamlin told Fox's Bob Pockrass. "By us doing this with Travis, it allows us as a race team to build that depth. We've been very lean on our personnel for the first two or three years of our inception.
"Now we're starting to build some depth. You always have crew members who are out for family reasons or health reasons. This allows us to build and I feel like the depth that we have within our team we're able to field a car that's going to be very competitive when that time comes for us to run a part-time entry."
Busch updates health status and offers thoughts on return, including where he'd like to race
Over the weekend, Busch attended the annual awards ceremony for the National Motorsports Press Association, where he was the recipient of the Pocono Spirit Award winner for 2022. Claire B. Lang of SiriusXM NASCAR Radio caught up with the driver and asked about Hamlin's comments from earlier in the week and a possible return to racing.  
"I'm hopeful to get cleared but I'm still not cleared to race," Busch said. "I feel it at the same level. I'm still missing that last little bit to compete at 100 percent with the best of the best in this sport. Continuing therapy, the physical side of it, the mental side of it, and with 23XI, my family there with Michael Jordan and Denny Hamlin, we're working on that third car, and it's there. There's that easy opportunity. 
"Just a matter of all of it plugging back in the right way. If I can't drive, I'll still be at track helping our team, our engineers, consulting, and being around Bubba, and being around Tyler Reddick and making 23XI a more competitive place, and can win more races and compete for championships."
Lang followed up, suggesting if he were to return, it would be on a part-time basis.
"Yeah, it would be dabbling here or there," he said. "It wouldn't be any kind of full-time. Whether it's the Chicago street race, which looks fun, or North Wilkesboro, and then some of my favorite places like Watkins Glen or Homestead. Still got to get cleared. Let's get the season underway, and things will sort out." 
Raved about Chicago last year
For Busch fans, there's hope. If the driver gets cleared and things "sort out," he's going to return for select races. Based on the tracks he mentioned, there's one more likely than the others that fans can expect to see the veteran driver — Chicago. 
Kurt Busch is known for being a huge fan of the Chicago Cubs. He's led the fans at Wrigley in "Take Me Out to the Ballgame" and he's thrown out a first pitch. While his love of the baseball club is one thing, the driver made it known last year just how much he wants to race through the streets of Chicago during an appearance on CBS to promote the then-just-announced event.
"It's to create the buzz for not just the city, but for our sport," Busch said of the race. "It creates this ticket that people want to come and be part of and just be part of this. I've been in this sport 23 years, and this, to me, is like one of those kid-in-the-candy-store moments of, I want to be part of this. And I'm glad that I'm having the chance to drive next year for the team and then I might be done driving after that."
At the time, Busch's last words were eyebrow-raising because he appeared to be hinting at retirement. Unbelievably, it was just a couple of days later he would be injured during qualifying at Pocono, which would set off a sequence of events that would lead to today. With all of that known, it seems like it would only be fitting for him to return and race in the Windy City this summer.