All Eyes on Denny Hamlin as He Tries to Match a Daytona 500 Feat That Hasn't Been Replicated In Nearly 4 Decades
Denny Hamlin's lack of a Cup Series championship has often kept him a step below other current or future Hall of Famers in discussions about his place in NASCAR history. But the 42-year-old has another chance on Sunday to work himself into one of the other most exclusive fraternities.
Hamlin has had a remarkable career since he debuted in the No. 11 car for Joe Gibbs Racing late in the 2005 season. He has compiled 48 wins, which ranks 17th all-time and third among active full-time drivers (behind only Kyle Busch and Kevin Harvick, who both have 60).
Hamlin also has the second-most wins of any driver who does not have a championship on their resume. Junior Johnson never won a title despite his 50 wins, but he also never ran an entire full schedule.
Denny Hamlin has been a top performer in NASCAR's biggest races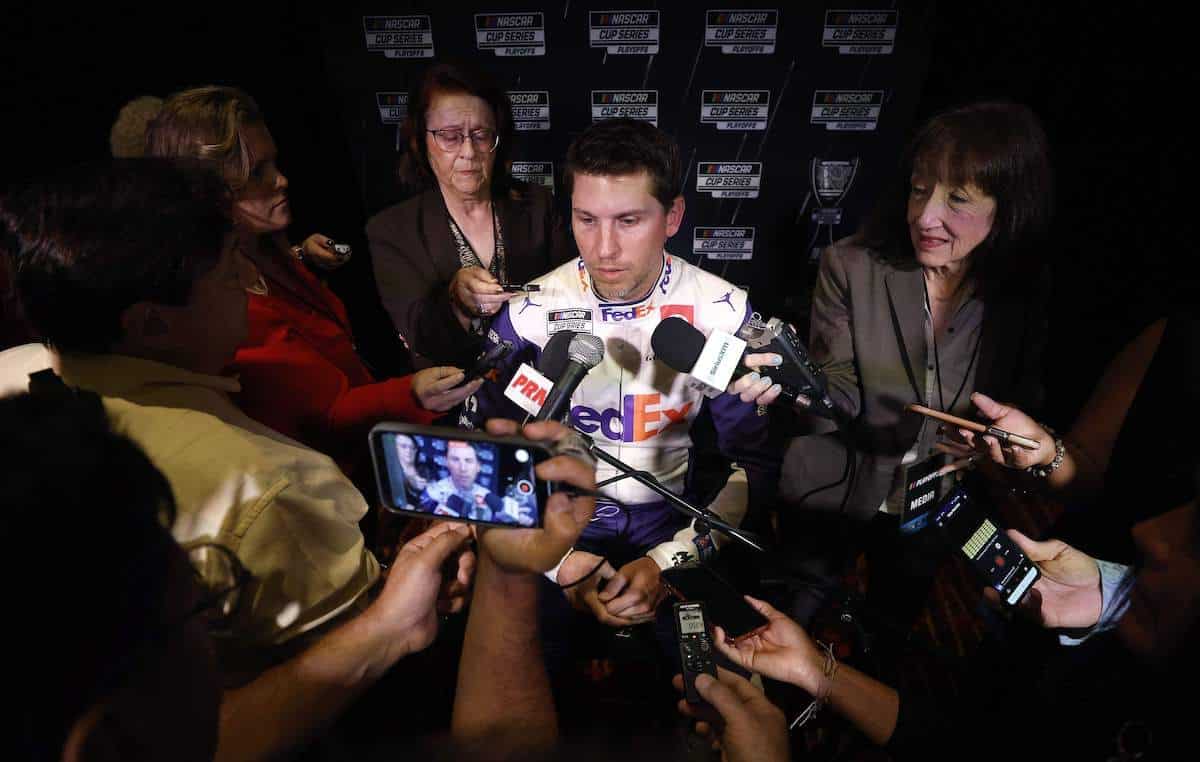 Hamlin has performed well in big races even without a championship to his name. The Tampa, Florida, native won all of the crown jewel events aside from the Brickyard 400 on the oval at Indianapolis Motor Speedway, which hasn't been on the schedule since 2020.
Hamlin has triumphed in three Southern 500s among his four wins at Darlington Raceway. He has two wins in the night race at Bristol Motor Speedway. And he won his first Coca-Cola 600 last season at Charlotte Motor Speedway. Plus, and most importantly for this discussion, he has three Daytona 500 victories.
Those three wins place him in a group of six drivers who have won at least three Daytona 500s: Richard Petty, Cale Yarborough, Bobby Allison, Jeff Gordon, and Dale Jarrett.
Petty and Yarborough, however, are the only drivers in the 75-year history of the sport to visit Victory Lane more than three times in The Great American Race at Daytona International Speedway. Petty won a record seven Daytona 500s from 1964-81, while Yarborough captured four from 1968-84.
This also means no driver has broken into the four-or-more Daytona 500 winners club in nearly 40 years, making it one of the most exclusive clubs in the sport. 
The Daytona 500 list is similar to the group of Super Bowl-winning quarterbacks with four wins apiece. Terry Bradshaw and Joe Montana sat atop that list with Montana's last win in 1990. Then, Tom Brady came along and surpassed them in the 2000s with his now seven Super Bowl victories.
The Daytona 500 mark also sits parallel to the other largest race in America: the Indianapolis 500. A.J. Foyt, Rick Mears, and Al Unser all tied for the most victories in the open-wheel spectacle after Mears won his fourth in 1991. Another driver did not break into that group until Helio Castroneves won his fourth Indy 500 in 2021.
Hamlin has had the chance to join Petty and Yarborough. In the last two seasons, he won back-to-back Daytona 500s in 2019-20 the way Petty did in 1973-74 and Yarborough did in 1983-84. In 2021, Hamlin came close with a fifth-place finish. But he crashed out of last year's event just 63 laps into the race, ending the day 37th.
Denny Hamlin could grab his fourth Daytona 500 win in NASCAR's 75th anniversary season
At 42 years old, Hamlin still has several opportunities to grab his fourth Daytona 500 trophy. This assumes he either stays with JGR after the 2023 season or moves to another opportunity in a car capable of competing for victories, like his own 23XI Racing organization, which he co-owns with NBA Hall of Famer Michael Jordan.
This would be a particularly fitting year to accomplish the feat, however. NASCAR will celebrate its history all season long with its 75th-anniversary campaign. So it would be a natural storyline to remember the accomplishments of Petty and Yarborough if Hamlin can join them with four wins in the sport's biggest race.
It still won't be easy by any means. Although Allison won his third Daytona 500 in his final season, Gordon raced in 10 more Daytona 500s after his third win in 2005, and Jarrett competed in an additional eight Daytona 500s after he captured his third in 2000.
Hamlin will likely have several more opportunities to join the best from the sport's most significant annual event. But, those opportunities might not be as substantial if his contract or that of primary sponsor FedEx is not renewed with JGR beyond this season. Then he'd have to find another landing spot or create his own at 23XI.
Either way, a win by Hamlin this Sunday would potentially be the most significant of any driver in the field, even with seven-time Cup Series champion Jimmie Johnson returning to compete in the same race.
All stats courtesy of Racing Reference.