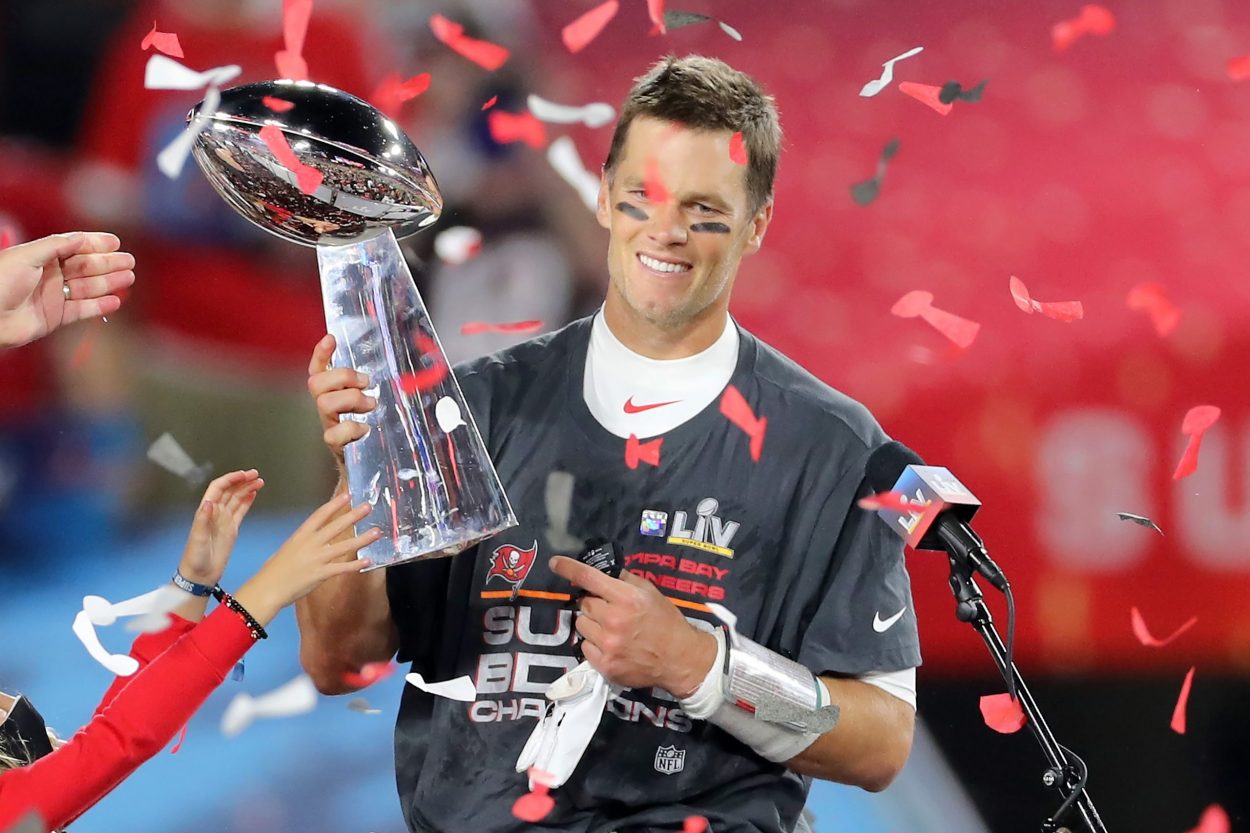 Tom Brady's 10 Super Bowls Ranked: What the Numbers Say
Ranking Tom Brady's 10 Super Bowl performances with the New England Patriots and Tampa Bay Buccaneers by the numbers.
If the reports that emerged on Saturday afternoon prove true, and Tom Brady has decided to call it a career at age 44 after 22 seasons, the first 20 with the New England Patriots, then two with the Tampa Bay Buccaneers, his legacy as the GOAT of NFL quarterbacks is likely never to be matched.
Brady started in a record 10 Super Bowls and won a record seven of them. There are many ways to dissect those Super performances, but in this list, we break Brady down purely by the numbers. The results may surprise, but no matter how you slice it, there was never anyone better.
10. Super Bowl 53, 2018: Patriots 13, Los Angeles Rams 3
The only one of his 10 Super Bowls where Brady did not throw a single touchdown pass, it is also his lowest passer rating of the 10 at 71.4, having completed 21-of-35 passes for 262 yards and an interception. But Brady did hit Rob Gronkowski with a 29-yard pass to the Rams' 2-yard line, setting up the only touchdown of the game and a 10-3 lead with seven minutes left that proved the winning score.
9. Super Bowl 36, 2001: Patriots 20, St. Louis Rams 17
From a drama standpoint, it might be No. 1. But we're looking at the numbers, and this was a true monument to game management. This was Brady's fewest completions (16) and yards (145) in any of his Super Bowls. But he had a big touchdown pass to David Patton, and of course, the drive that led to Adam Vinatieri's walk-off that launched the Patriots' dynasty.
8. Super Bowl 42, 2007: New York Giants 17, Patriots 14
One thing was always true with Brady: If you could get to him with constant pressure, you could crack the code. Unlike the 18 opponents before them, the Giants were in Brady's grill all game long, and it revealed itself in the numbers. Brady's 82.5 passer rating was the second-lowest of his Super Bowls and it was one of just three Super Bowls with one touchdown pass or fewer. He nearly erased an entire night of frustration by just missing a deep connection with Randy Moss on the final, frantic drive, but like the undefeated season itself, it was not meant to be.
7. Super Bowl 46, 2011: New York Giants 21, Patriots 17
Once again, it was Eli Manning, not Brady, making the big pass completion, this time to Mario Manningham to set up the winning score. Brady completed 27-of-41 passes for 276 yards, two touchdowns, and a pick. But it was the one pass that wasn't caught, a potential first-down completion late in the game that Wes Welker flat-out dropped, that haunts the Patriots to this day.
6. Super Bowl 49, 2014: Patriots 28, Seattle Seahawks 24
The Malcolm Butler Game. Or, the "Why Are You Not Running It Again With Marshawn Lynch? Game" But also a solid game for TB12, who completed 37 passes, his second-highest Super Bowl total, for 328 yards, his fourth-highest, and a personal-best four touchdowns. But he also had a Super Bowl-high two interceptions, which knocks this game down a couple of pegs.
5. Super Bowl 38, 2003: Patriots 32, Carolina Panthers 29
This was one of just three Super Bowls where Brady threw for three touchdowns, but it was the only one of the three to include a pick, so it rates the lowest of those three. But still a solid, winning performance, with the third-most yards in a Super Bowl with 354 and third-most completions with 32.
4. Super Bowl 39, 2004: Patriots 24, Philadelphia Eagles 21
A super-efficient Super Bowl. With Corey Dillon and Kevin Faulk combining for 26 rushing attempts, Brady's 23 completions were his fourth-fewest and his 236 yards the third-fewest. But he threw two touchdowns without an interception and submitted a passer rating of 110.2, his third-highest among his Super Bowls.
3. Super Bowl 51, 2016: Patriots 34, Atlanta Falcons 28
This is the one Super Bowl where we bend the narrative just a bit to account for the game circumstances. Brady's passer rating of 95.2 is the sixth-highest of the 10 games. He threw just two touchdowns and had a pick-six. But he also completed 43-of-62 passes, both Super Bowl highs, for a Super Bowl record 466 yards, a mark he would break a year later. And he did most of it starting with 2:12 left in the third quarter and the Patriots trailing 28-3. When you engineer the greatest comeback in Super Bowl history, you get to be high on the list.
2. Super Bowl 55, 2020: Buccaneers 31, Kansas City Chiefs 9
His lone championship with the Buccaneers, Brady turned in his highest passer rating in a Super Bowl with a mark of 125.8. One of two games with three touchdown passes and no interceptions, Brady was again deadly efficient, completing 21-of-29 passes for 201 yards.
1. Super Bowl 52, 2017: Eagles 41, Patriots 33
Yes, the Patriots lost this game. And, yes, in small part they lost because Brady dropped a pass on a trick play. But this was Brady's best Super Bowl as a passer, throwing for a Super Bowl-record 505 yards, surpassing his own mark of 466 from the year before. It was Brady's first of two Super Bowls with three touchdown passes without an interception, and his passer rating of 115.4 was his second-best of his 10 Super Bowls.
Stats courtesy of Pro Football Reference