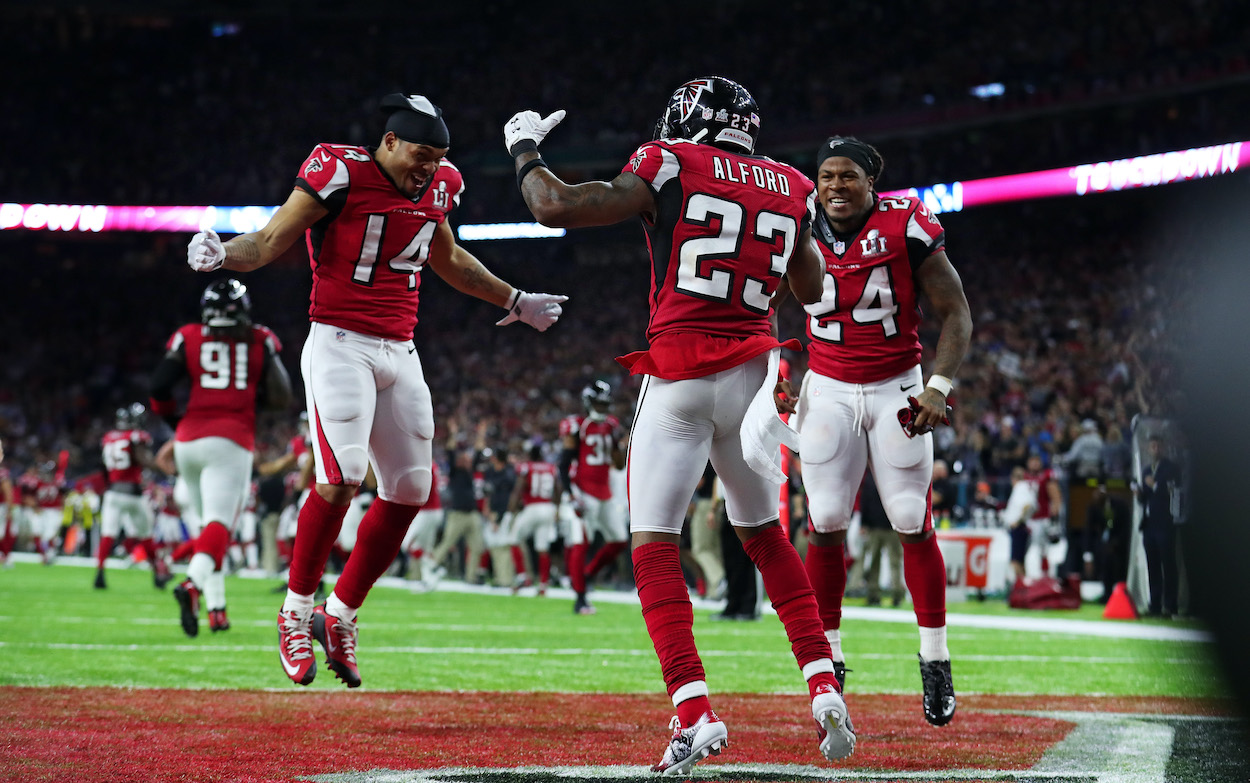 The Patriots Just Received Another Shipment of Joke Ammo From the Falcons About Their Super Bowl 51 Collapse: 'At Halftime They Were in There Dancing and Hooraying'
The Atlanta Falcons should be embarrassed about the latest revelation about Super Bowl 51.
Atlanta Falcons fans don't ever want to be reminded of Feb. 5, 2017.
It should live in infamy as the day the Falcons secured their first Super Bowl title in franchise history. The day they did the impossible by slaying mighty Tom Brady and the New England Patriots. Feb. 5 should be an honorary holiday in the city of Atlanta today, but instead — it's a painful reminder of the most embarrassing loss in Super Bowl history.
And somehow, it just became an even bigger joke after Robert Alford admitted the Falcons were already celebrating and ready to pop bottles in the halftime locker room.
The Falcons thought they had the Patriots beat in Super Bowl 51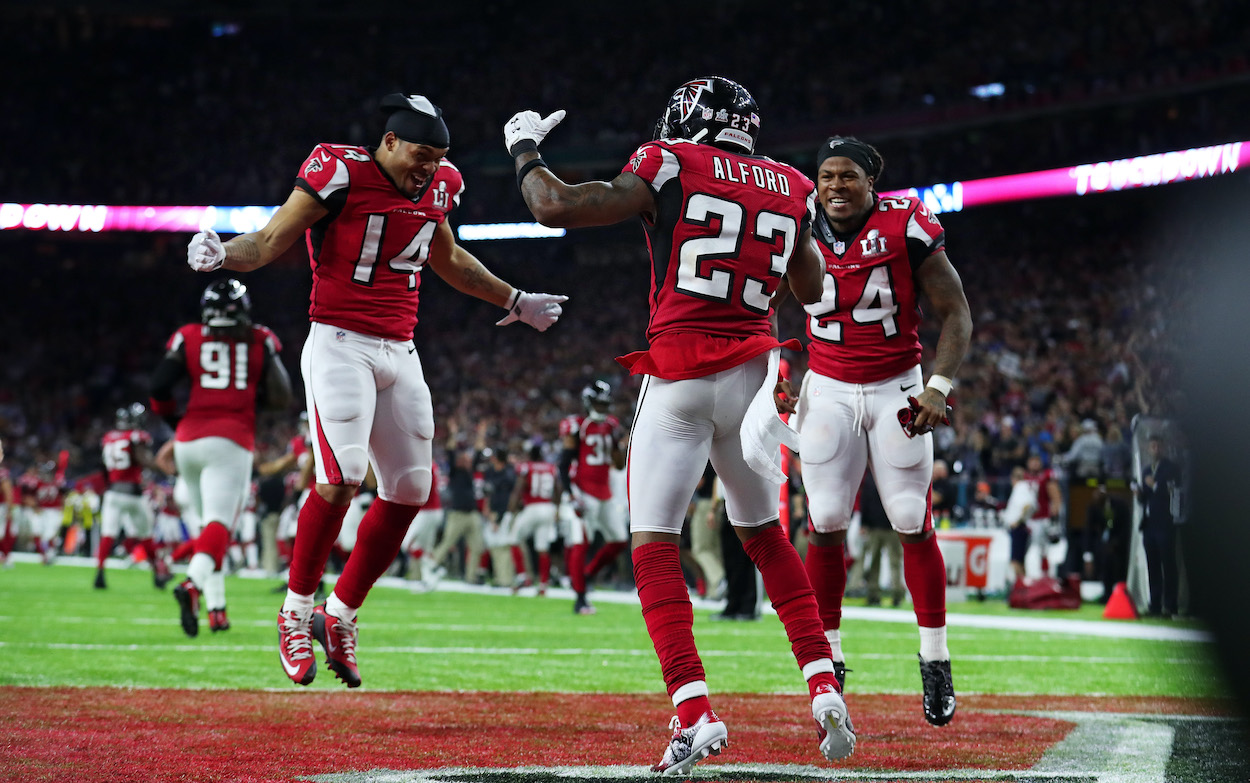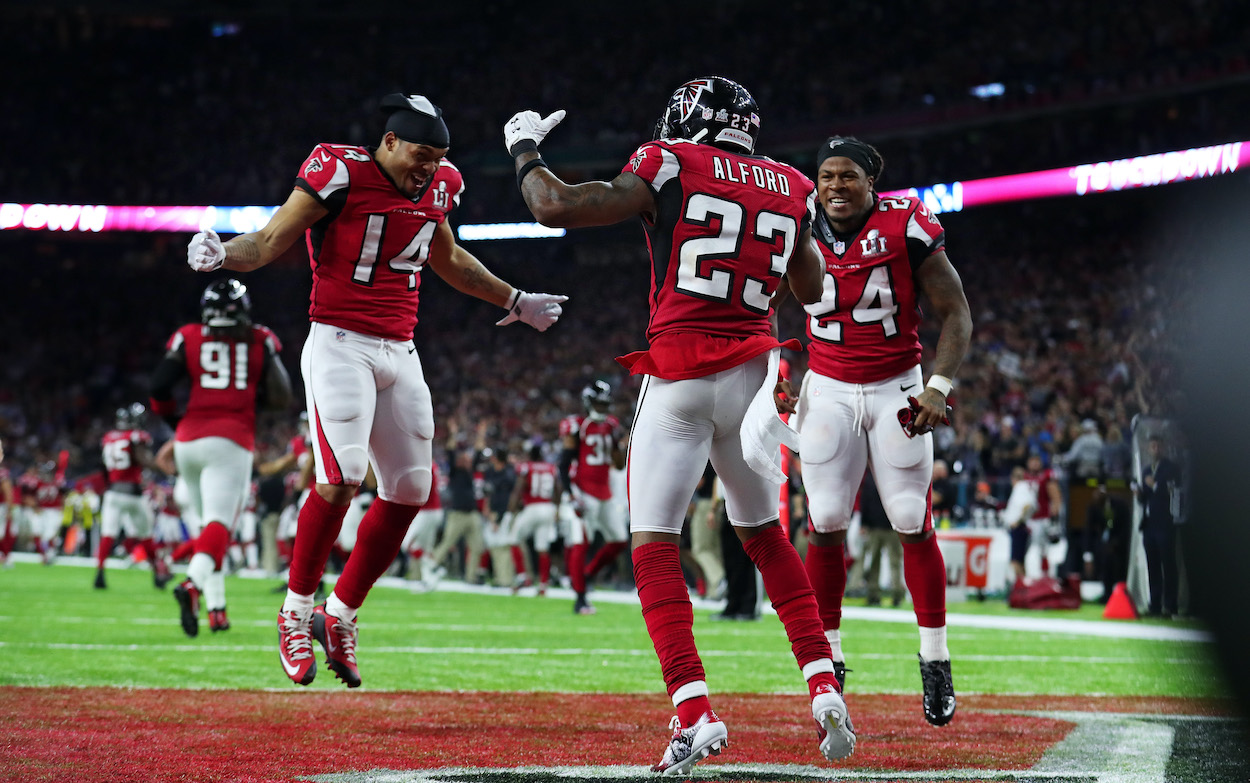 Super Bowl 51 should've been a blowout.
After a scoreless first quarter, the Falcons ripped off 21 straight points in the second frame and took a 21-3 halftime lead over Bill Belichick, Brady, and the Patriots. When Matt Ryan hit Tevin Coleman for a six-yard touchdown pass in the third quarter to stretch the lead to 28-3, the game seemed all but over.
Little did the Falcons know at the time, that 28-3 score would turn out to become the most used NFL meme of the last decade. And after Alford's latest revelation, the joke is about to make a comeback as heroic as the one the Patriots completed that day.
Falcons players were "dancing" and "hooraying" in the halftime locker room
In professional sports, everyone knows a game is never over until the final whistle blows.
Well, everyone except the 2016-17 Falcons, apparently.
Malcolm Butler, who was a part of that Patriots Super Bowl squad, recently teamed up with Alford on the Arizona Cardinals. When he first went to grill the former Falcon about the game, Alford revealed an embarrassing story that Atlanta fans won't be thrilled to hear.
"I talked to him about it. I asked him if he wanted his ring back," Butler said in a recent interview with Ryan Cody of 12 News in Phoenix. "He told me a story. He said he was in the locker room at halftime, he told me he was about to pop a bottle and things like that. It was so funny. And then we came back and beat them."
Oh no.
"I'm just imagining him at halftime," Butler continued. "Robert, he's a funny guy, got a lot of energy, tells a lot of jokes, and he told me at halftime they were in there dancing and hooraying. And then we came back and beat them, so I think that was pretty fun."
Yeah, fun for Butler and the Pats maybe. Not so fun for the 53 guys in the other locker room who were calling dibs on which champagne bottle they were going to open after the game.
Lesson No. 1 in sports: It's never over until it's over.
Even more joke ammo for the Patriots and their fans
Falcons fans have just been hoping no NFL games ever get to 28-3 and set off a chain reaction of Super Bowl 51 jokes over the past few years. But with new details emerging about the team celebrating in the halftime locker room, those jokes are only going to get funnier and funnier.
The only way the Falcons can escape endless 28-3 jabs is to get the monkey off their back and win a championship. With Matt Ryan staring out the downside of his NFL career and a roster devoid of young talent across the board, that won't be happening anytime soon.