Bill Belichick and Josh McDaniels Continue to Ignore Pleas From Patriots Fans in Their Latest Comments on the QB Situation
All the talk from New England Patriots training camp is focused on who will be named the starting quarterback for Week 1. Both Cam Newton and Mac Jones have looked impressive in two preseason games, so Bill Belichick has one of the toughest decisions of his NFL coaching career on his hands.
Although many Patriots fans want to see Jones under center to start the season, Belichick and offensive coordinator Josh McDaniels both just revealed Newton is still the leader in the clubhouse to win the job.
The Patriots are still deciding between Cam Newton and Mac Jones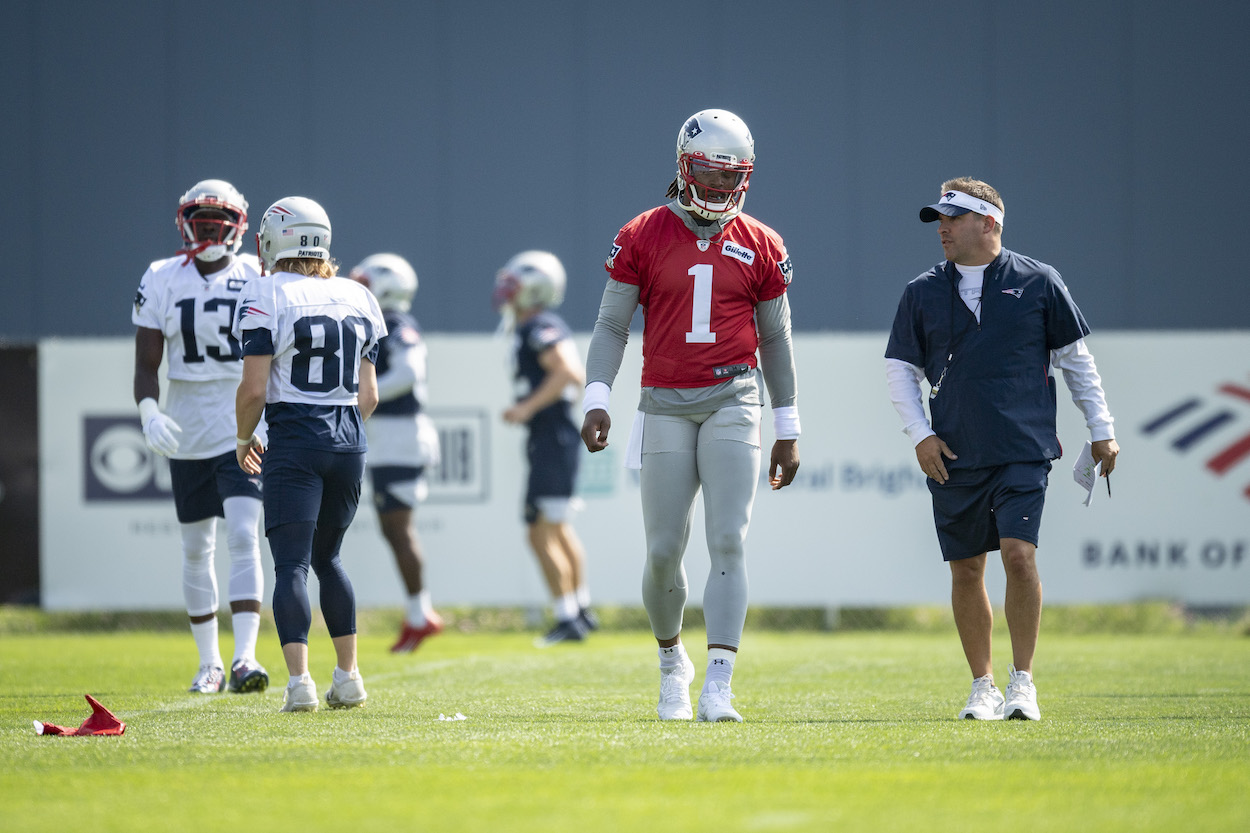 For nearly two decades, Belichick hasn't even had to worry about the most important position in football. Tom Brady held the starting job in New England for 19 straight seasons, and Newton took over for him last year. Ahead of the 2021 season, though, Belichick is being forced to choose between two quarterbacks for the first time since he chose Brady over Drew Bledsoe in 2001.
The decision won't be an easy one for the legendary head coach, as both signal-callers have looked crisp in training camp. Through two preseason games, Newton has gone 12/16 for 152 yards and a touchdown, while Jones has completed 26 of his 38 passes for 233 yards. Neither QB has thrown an interception.
It'll be tough for the Patriots to rob Newton of a second chance after a season greatly impacted by COVID-19, and it sounds as if that's the way they're leaning with three weeks left until Week 1.
Bill Belichick and Josh McDaniels admit the job is Newton's to lose
Many Patriots fans saw enough inaccuracy and poor decision-making from Newton last season, and they're ready to move on to the next chapter authored by Jones. But, unfortunately for New Englanders, they don't make the final decisions in Foxboro.
Belichick does, and he's still leaning toward starting Newton in Week 1.
"The fact that Cam started last year, and he's here, somebody would have to play better than him," Belichick said Monday on The Greg Hill Show. "We're not just gonna take a job and say OK, here, this is gift-wrapped for somebody."
Belichick's comments also echo what McDaniels had to say the night before.
"Cam [Newton] certainly is the starter now, and he has done a good job." "McDaniels said Sunday, via Ryan Hannable of WEEI. "He has gone in there, he played well the other night. He's practiced well. But, I know those guys are really competing hard and we're giving them an opportunity to compete and play a lot of football."
Newton entered the offseason as the favorite to win back his starting job, and he evidently hasn't moved out of that position.
McDaniels' ideal starting QB for the Patriots sure sounds a lot like Jones
After confirming Newton as the current starter, McDaniels went on to describe which attributes the team is prioritizing in their upcoming decision.
"We need to be able to play consistently well," he said. "We need to communicate well. We need to make good decisions. We need to throw the ball accurately. We need to protect the football and not give it away. To me, I look at those guys in the same light in regards to what we're trying to accomplish."
Hmm. Which QB does that sound more like? The guy who completed better than 77% of his pass attempts and threw 41 touchdowns to just four interceptions last season? Or the guy with a career 60.1% completion percentage who threw more interceptions than touchdowns in 2020?
Sure, Jones put up those gaudy numbers in college and hasn't proven anything in the NFL just yet, but he's clearly the right fit for this offense. He's more comfortable in the pocket, extremely accurate as a passer, and a proven winner.
What's not to like?
The Patriots will most likely go with Newton to start the season, but don't be surprised if Jones eventually steals the job and runs away with it.