Bill Belichick Can Solve His Biggest Remaining Problem by Stealing a Page From an Old Friend's Playbook
Bill Belichick took care of a bunch of problems this offseason. He spent an unprecedented amount of Robert Kraft's money to upgrade a New England Patriots passing game that looked severely undermanned during the 2020 season. He also used free agency and the draft to transform the front seven from a weakness into a clear-cut strength. Plus, he may have found a true successor to Tom Brady in the form of promising rookie Mac Jones.
However, that doesn't necessarily mean Belichick's work is finished. And if he wants to solve his biggest remaining problem, he simply needs to steal a page from an old friend's playbook.
New England still needs to figure out what to do with Stephon Gilmore
The Patriots still have one major issue to address before the 2021 season begins: Stephon Gilmore's contract.
The 2019 NFL Defensive Player of the Year only has one year left on the $65 million deal he signed in 2017. Despite coming off a season-ending quad injury, Gilmore has made it clear that he wants a raise. Considering he's set to make only $7.5 million in cash this season, it's entirely fair for the four-time Pro Bowler to ask for more money.
However, Belichick typically doesn't let players leverage him at the negotiating table. Over the years, the Patriots have parted ways with a number of high-profile stars due to contractual issues. New England traded major contributors like Richard Seymour, Logan Mankins, Chandler Jones, and Jamie Collins largely because of money-related disputes.
Will Gilmore get the same treatment? Or will Belichick give in and make sure his best corner feels properly appreciated?
So far, the Patriots have yet to do anything about Gilmore's contract. But if Belichick wants to take care of a critical piece of business, all he has to do is take a page out of a former employee's playbook.
Bill Belichick can take care of his biggest remaining problem by following in an old friend's footsteps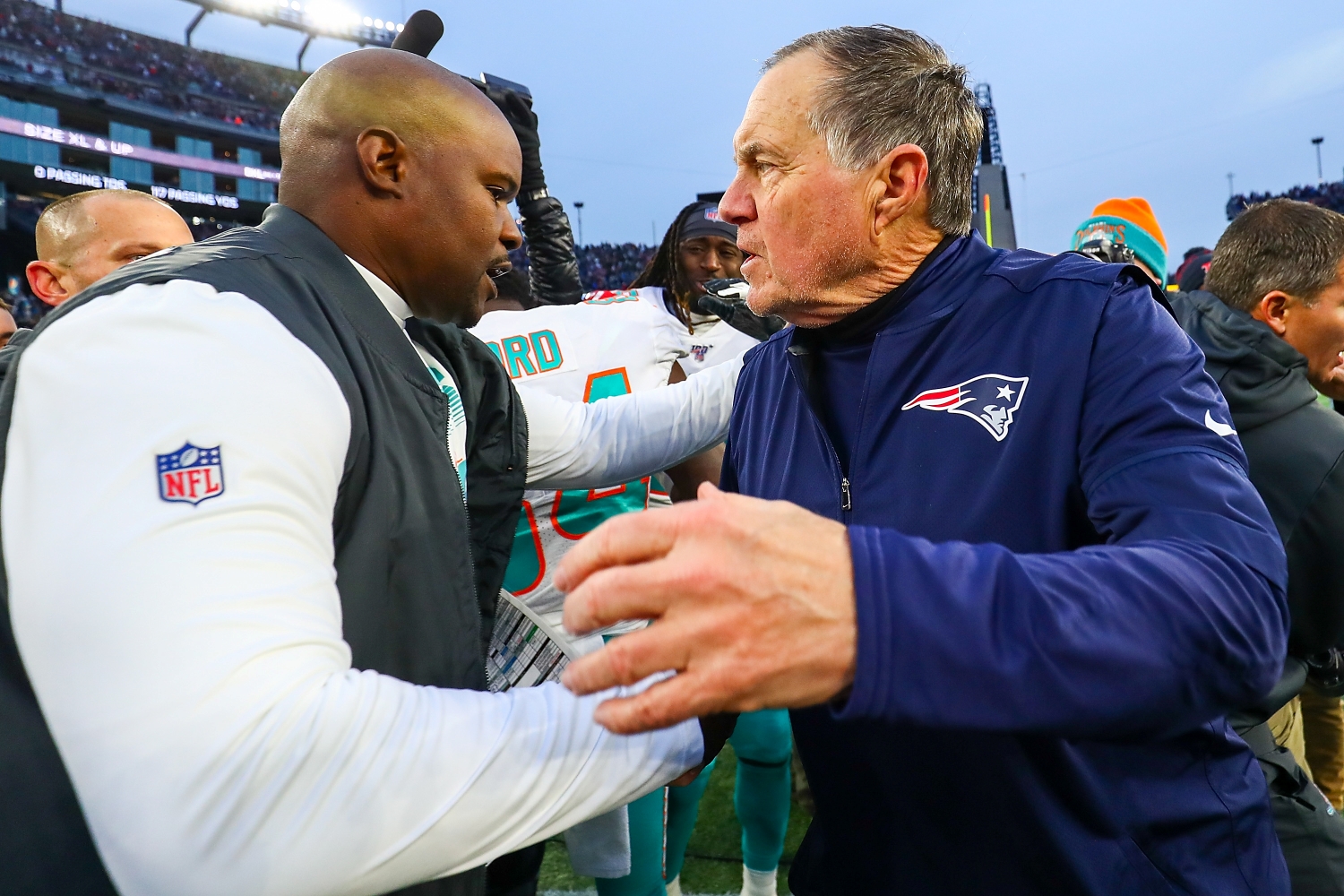 Imitation is the sincerest form of flattery, right?
In that case, Belichick can make one of his old friends look good by taking the same route with his own unhappy defensive back.
On Sunday, longtime Patriots assistant and current Miami Dolphins head coach Brian Flores officially got Xavien Howard back on board for the 2021 season. According to ESPN, the All-Pro corner got his 2021 base salary of $12.785 million fully guaranteed. The Dolphins added a maximum of $3.5 million in incentives, and they agreed to rescind $93,000 in fines Howard accrued by skipping mandatory minicamp. Plus, the 28-year-old reportedly received assurances that Miami will renegotiate a new deal in the offseason "in line with the market based on his health and his performance in the 2021 season."
By taking care of Howard, Flores ensured that his defense will continue to feature one of the league's premier cover corners.
Belichick needs to do the same thing with Gilmore.
Like his AFC East peer, the soon-to-be 31-year-old deserves a merit-based raise. And there's no doubt the Patriots need a healthy version of Gilmore in the lineup to contend with the likes of Patrick Mahomes, Lamar Jackson, and Josh Allen. Belichick doesn't have a long history of re-doing deals, but he needs to follow Flores' approach and make sure one of his most valuable players gets a well-deserved bump in pay.
If the Patriots take care of business with Gilmore in the form of an extension or restructured deal, they should feel confident about their chances of fielding a top-five defense. Ironically, though, despite having a two-time first-team All-Pro atop their depth chart, they might not have the best cornerback tandem in the division.
Does Brian Flores have a better pair of starting corners than his former boss?
The Dolphins tied their Super Bowl hopes to a head coach who spent more than a decade working under Belichick. To little surprise, Flores took a New England-like stance to building his roster.
Like his mentor, the Dolphins head coach made sure to shore up the cornerback position with proven playmakers. Three months after Flores took over, Miami gave Howard a five-year, $76.5 million extension. Following a 5-11 season, the Dolphins signed marquee free agent Byron Jones to a five-year, $82 million deal. By investing heavily on top-flight corners, they set themselves up to have an excellent passing defense.
In fact, an argument can be made that the Howard-Jones tandem surpasses New England's duo of Gilmore and J.C. Jackson. While the latter has Pro Bowl upside and a chance to cash in as a free agent next offseason, the former enters his age-31 season coming of a partially torn quad. So, even though the Patriots should feel confident about their cornerback situation relative to most teams, they might be a notch below the Dolphins.
However, given the strength of the front seven, New England projects to have a dominant defense.
Unfortunately for Miami, that group looks far less intimidating.
All statistics courtesy of Pro Football Reference. All contract data courtesy of Spotrac.