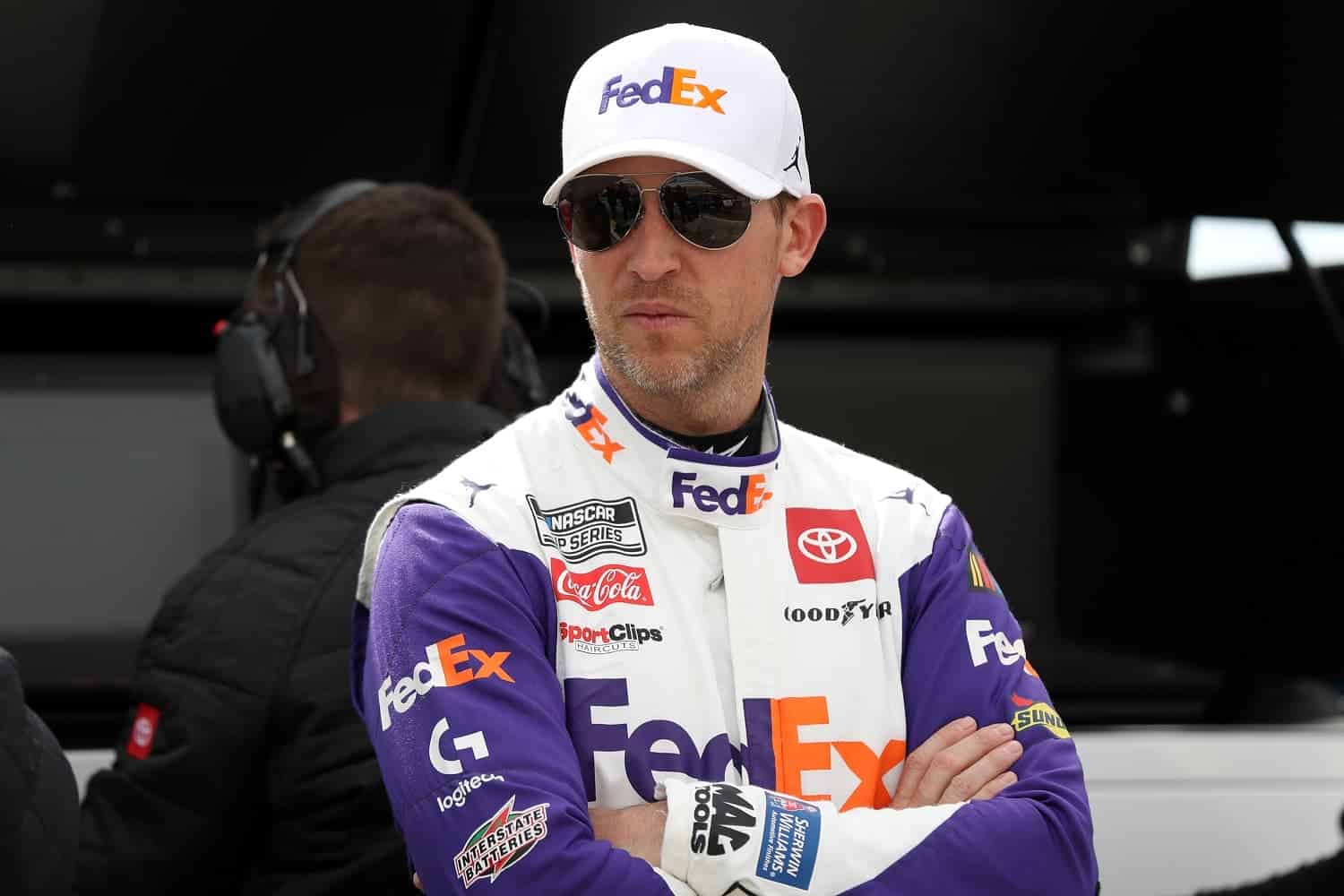 Denny Hamlin Was Caught Off Guard by the Behavior of Top NASCAR Executives at His Failed Appeal Hearing
Denny Hamlin lost the appeal of his penalty for putting Ross Chastain in the wall but learned he has friends in high places.
NASCAR needs a lot of good to happen in the coming months to overcome the past 10 days. Fans aren't wondering whether Denny Hamlin or William Byron will be dueling in the dirt on Sunday night for the victory on the Bristol dirt. Instead, they're talking about fines, suspensions, appeals, and policies changing in midstream.
That's on top of week after week of declining TV ratings as well as Cup Series team owners pulling a no-show while NASCAR is immersed in important negotiations with networks.
On the plus side – and this is no small matter considering the source just wrote NASCAR a $50,000 check – two of the sport's top executives provided Hamlin a pleasant surprise.
Distractions have taken the focus off racing ahead of Bristol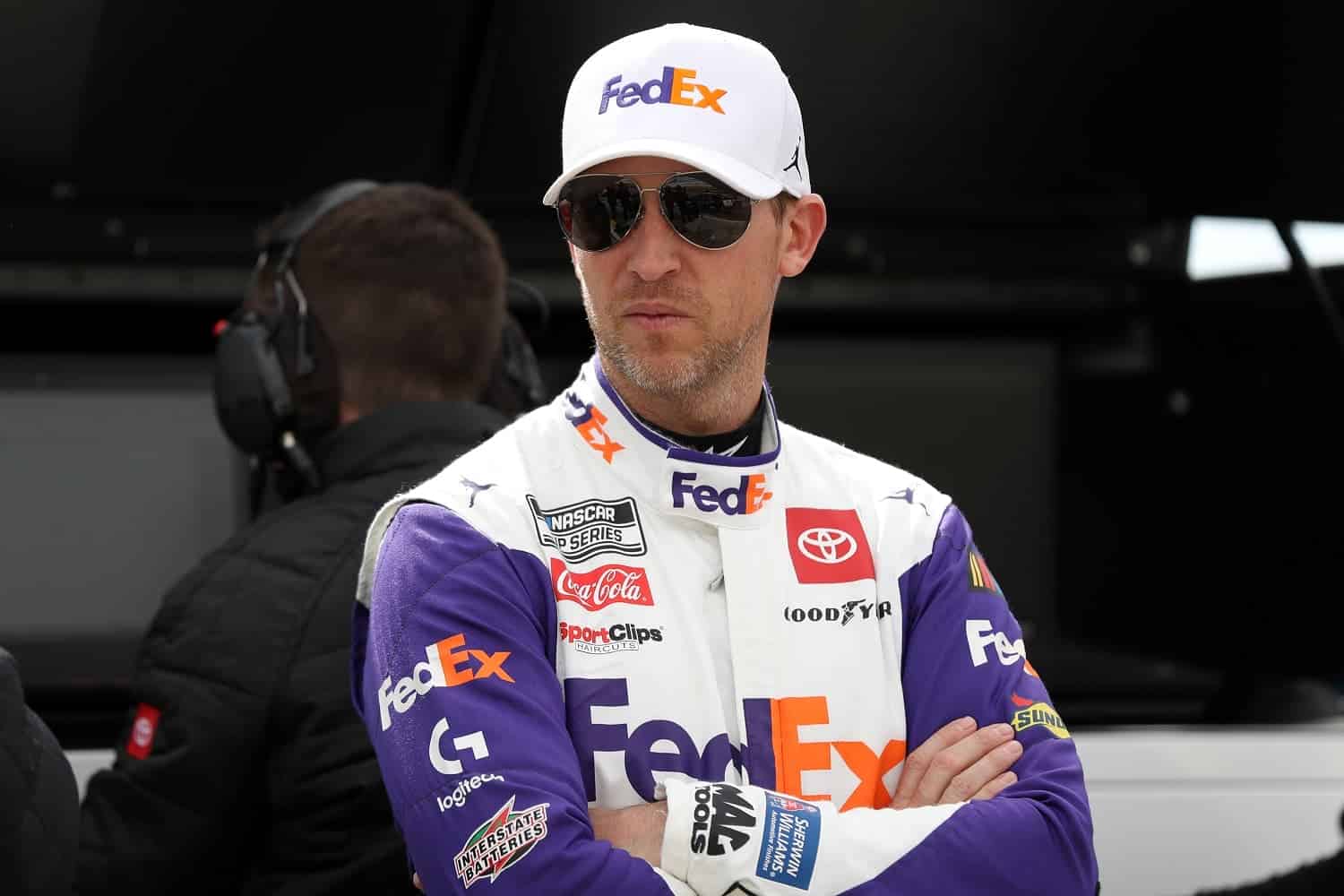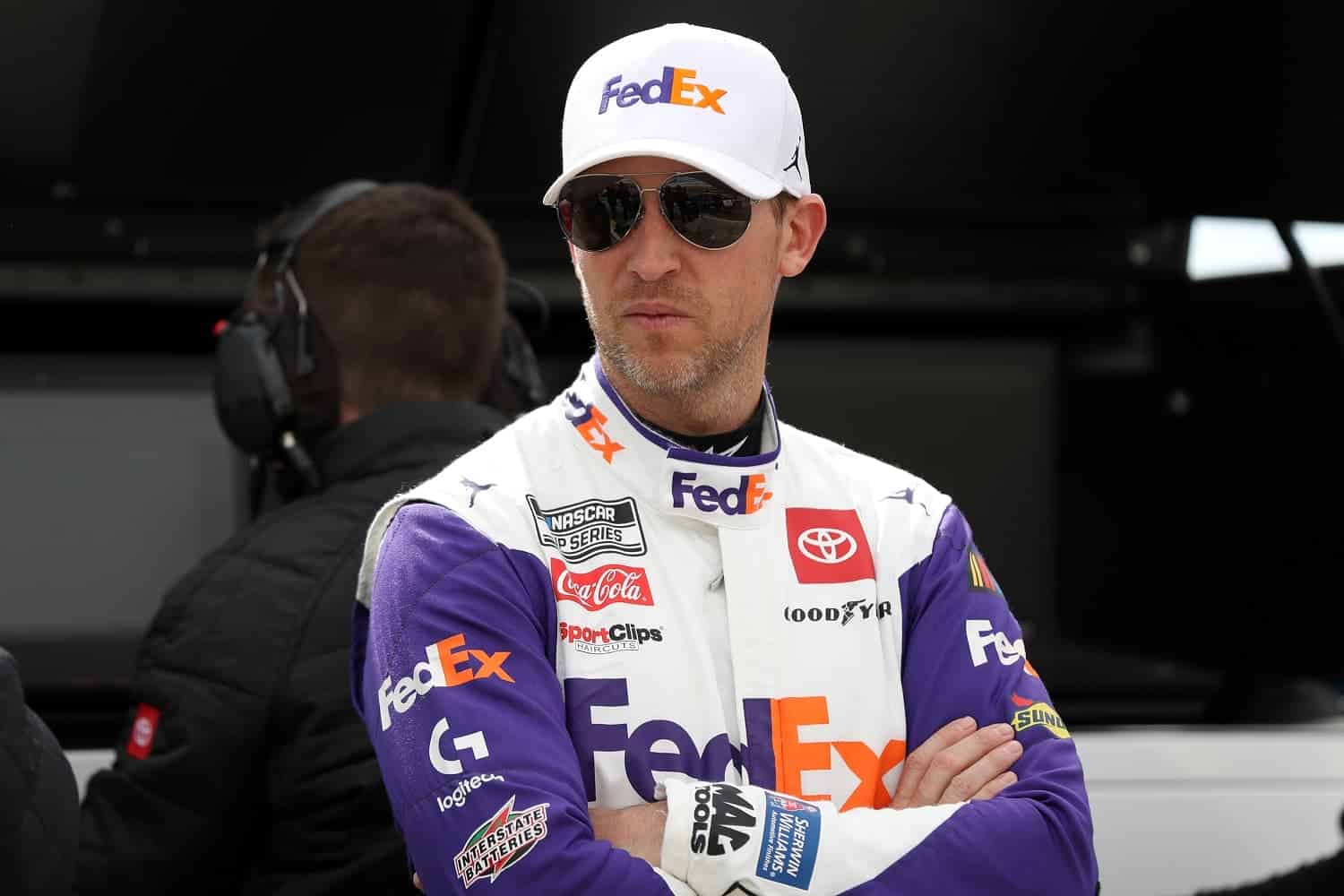 Quick: Who won last weekend's Cup Series race at Richmond? You had to stop and think for a second, didn't you? That's because a lot has happened since Kyle Larson scored his first victory of the season.
On Wednesday, Kaulig Racing derived virtually no satisfaction from its appeals hearing a week after big and powerful Hendrick Motorsports saw huge points penalties wiped out by a different panel. People pointing out the results for Hendrick Motorsports in its appeal were nit happy. The two sets of penalties stemmed from the same parts on the same model cars on the same race weekend.
By Thursday afternoon, NASCAR was announcing changes that will limit future appeals panels' ability to reduce penalties. So far, it's mostly aggravated fans because Hendrick Motorsports got in under the wire. That came after NASCAR and Denny Hamlin went before a three-person battle handling the last in the backlog of appeals.
The rest of the week's news has included yet another set of mediocre-at-best weekly TV ratings and the revelation that team owners were a no-show for a meeting with NASCAR executives as the sides struggle with determining how money from the next TV contract will be split.
NASCAR beat Denny Hamlin and announced more news on Thursday
After the big loss to Hendrick Motorsports in which an appeals panel upheld the other sanctions but not the points penalties, NASCAR mostly beat Kaulig Racing in another appeal as Justin Haley and the No. 31 Chevy team clawed back just 25 of the 100 points in the penalty.
Thursday was Denny Hamlin's turn. The driver of the No. 11 Toyota admitted on his podcast that he put Ross Chastain into the wall on the final lap at Phoenix. NASCAR regarded it as a racing incident until hearing Hamlin's Actions Detrimental podcast. Officials penalized Hamlin 25 points and fined him $50,000 on the basis of three rules infractions:
Attempting to manipulate the outcome of a race.
Wrecking or spinning another vehicle.
Actions detrimental to stock car racing or NASCAR.
After both sides made their case, NASCAR came away with a complete victory. The panel upheld the penalties.
That was followed quickly by the NASCAR announcement that it was changing the appeals procedure so that future panels cannot wipe out an entire component of the penalty while still ruling the charges to be valid.
And then NASCAR capped its day by announcing new penalties against Hendrick Motorsports drivers William Byron and Alex Bowman. NASCAR impounded their cars after the Richmond race and found issues.
Denny Hamlin says 2 NASCAR officials surprised him at the hearing
The panel hearing Denny Hamlin's appeal on Thursday consisted of television executive Hunter Nickell, Bowman Gray track operator Dale Pinilis, and former driver Lyn St. James. Hamlin said on his Actions Detrimental podcast that he saw having a former driver and an executive from a track at which rough-and-tumble driving is common as a potential plus.
Interestingly, Nickell and Pinilis were part of the panel that doubled William Byron's $50,000 fine but restored his 25 points over the bumping incident with Hamlin last year at Texas Motor Speedway. Earlier last season, Nickell helped reverse Matt Crafton's disqualification in the truck race at Darlington.
On the other hand, Hamlin knew NASCAR would be bringing its experts to the appeal, and the governing body didn't disappoint. Vice chairman Mike Helton and NASCAR competition strategist Scott Miller, the former senior VP of competition, were there as rules experts.

"Interestingly enough, I thought both of those guys were super fair to me. I thought Mike Hilton was like, 'Man,' talking about how great of a guy I am and how much I do for the sport. I thought he was super fair. … So, I was like, 'Wow,  that's very straightforward, political, and great of Mike.' I thought Mike was super fair, and everything and really everyone was fair.
"I've got no issues with anyone on the other side of that table. They had a case to present. I did as well."
Hamlin came out on the losing end, but at least he had his day in court.
Got a question or observation about racing? Sportscasting's John Moriello does a mailbag column each Friday. Write to him at [email protected]