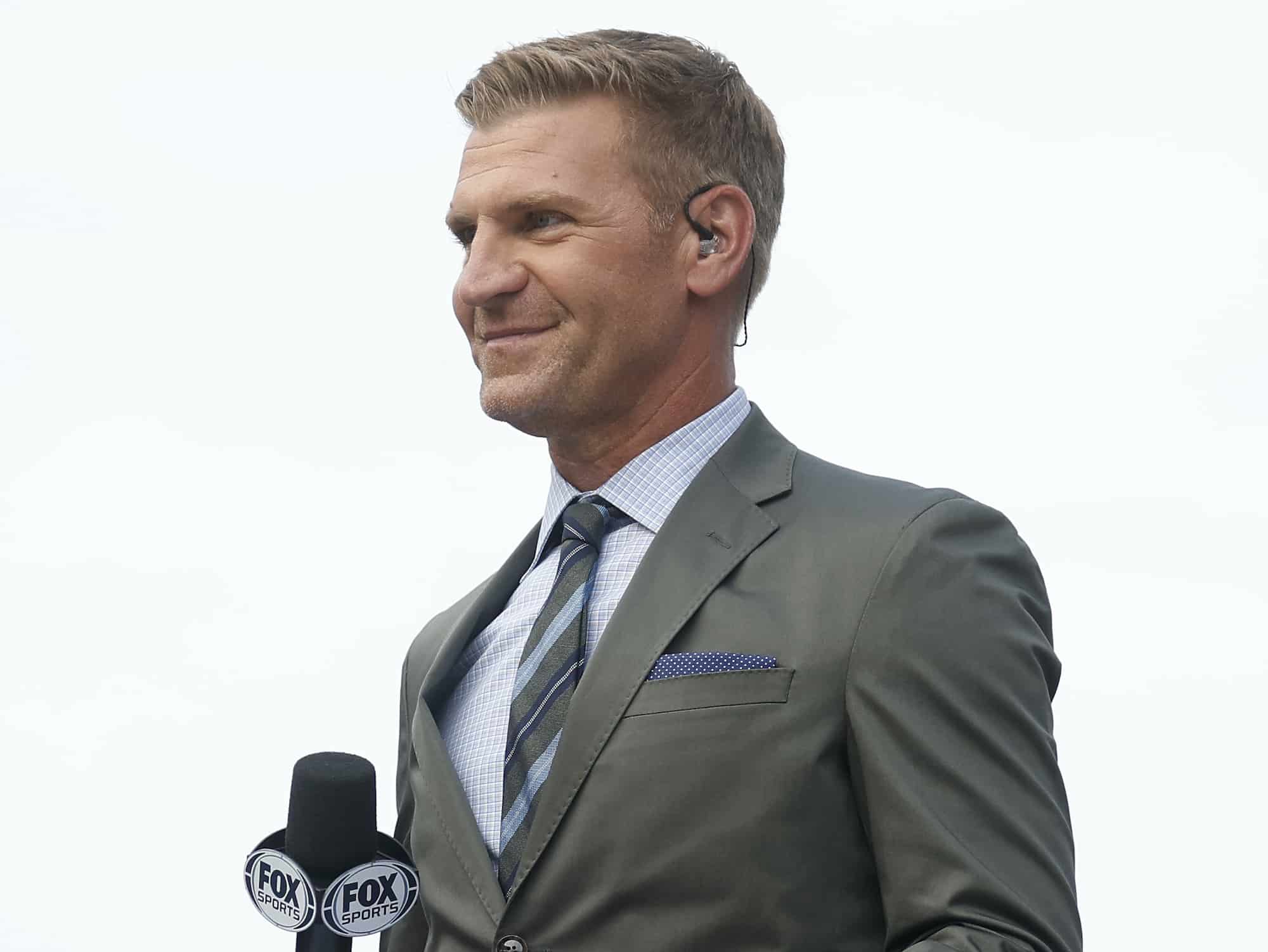 Clint Bowyer Moves Past Fatal Accident and Returns to Fox Where Teammates Welcome Him Back the Only Way They Know How — Mocking Him
Clint Bowyer returned to the NASCAR on Fox airwaves this week for the first time since his unexpected absence ended last season following his involvement in a fatal automobile-pedestrian accident.
Clint Bowyer is heading into his third season up in the Fox NASCAR broadcast booth. The second year ended on a tragically sour note when he missed the network's final race on the broadcast schedule due to his involvement in a fatal accident. 
This past week the former Stewart-Haas Racing driver made his return to the Fox airwaves for the first time since that tragic day last summer. And he felt right at home from the start because his in-studio teammates treated him like they always have by mercilessly teasing him. 
Clint Bowyer teased since joining Fox
When Clint Bowyer retired from competition after the 2020 season and transitioned to the Fox NASCAR broadcast to join Mike Joy and Jeff Gordon, he understood his role. In the first two years, he has played it well. 
In the first year with Gordon, he and the four-time Cup champion bantered back and forth effortlessly. During their only season together, it became evident that Bowyer would more often than not serve as the butt of jokes due to his dramatically lower level of success on the track. And he willingly embraced it. 
Bowyer was forced to act in a similar but oddly different role in the booth this past season as the network opted to go with a rotational lineup of guest analysts, including Matt Kenseth, Tony Stewart, and Danica Patrick. Despite that mix, the 43-year-old consistently found himself on the receiving end of barbs, including a zinger from Bill Elliott at Darlington. 
Involved in fatal accident and misses final race of 2022 season
Clint Bowyer worked alongside Mike Joy and the collection of guest analysts for the first 15 races of the 2022 NASCAR Cup Series season. The former driver was mysteriously missing for the 16th and final race on the network's broadcast calendar from Sonoma. 
At the time, Fox officials said Bowyer was dealing with a personal matter. A police report several days later revealed that following the race at World Wide Technology Raceway, the broadcaster was driving near Lake Ozark, Missouri, when his vehicle struck a woman unexpectedly walking on a highway ramp.
The 2008 Xfinity Series champ called 911 and then helped first responders locate the 47-year-old woman, Mary Jane Simmons, who died on the scene. He was not impaired and provided a clean roadside sample to officials. A crystalline substance was found where the female victim's belongings were located and were believed to be methamphetamine, according to the report. 
Bowyer later released a statement: "Anyone that knows me, knows that family is everything to me. My thoughts and prayers are with the family and loved ones of Ms. Simmons. This is a very difficult time for my family and I, please respect our privacy as we move forward."
Bowyer returns to Fox airwaves
Bowyer, who is active on Twitter, understandably went quiet for more than a month after the accident. Outside of social media, he hasn't communicated with the broader NASCAR audience since his last appearance in June.
That changed this week when he participated in the NASCAR Race Hub 2023 season preview show with Adam Alexander, Shannon Spake, Larry McReynolds, and Jamie McMurray. It took exactly a minute for Bowyer to feel right back at home with his broadcast buddies when McMurray fired the first of many shots. 
"Anytime we get to the start of the year, I can't help but think about which team has done the most homework. I know Clint doesn't enjoy homework, but some teams do do homework," the former fellow driver said, smiling and looking at Bowyer sitting next to him.
"He has notes. I saw them," McReynolds chimed in. 
"Yeah, in crayon and on a big-sheet notepad," McMurray returned. "That's what Clint's notes are on." 
And that was literally the first minute of the broadcast. There was more where that came from. Bowyer flashed a big smile each and every time he was on the receiving end. That's because, in addition to his fun-loving personality and doing his schtick in the show, this past year, he was given a whole new perspective on the preciousness of life and how you can't take it for granted. He has a lot to smile about.