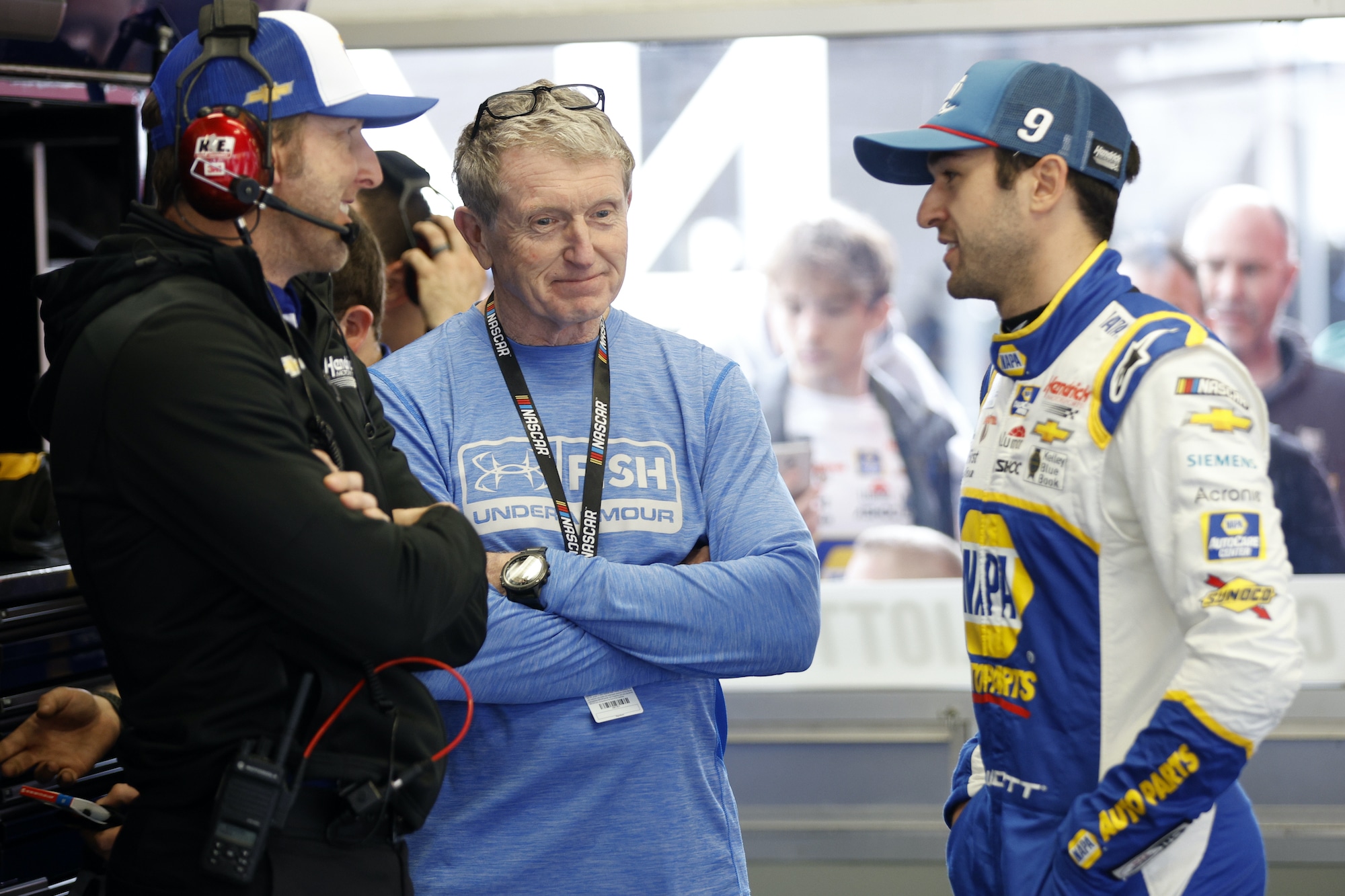 Bill Elliott Gives Clint Bowyer a Dose of His Own Medicine and Takes Hilarious Swipe at Former Driver's Ability
Bill Elliott impressed while working in the Fox NASCAR booth, offering an insightful perspective, and hilariously giving Clint Bowyer a dose of his own medicine.
When NASCAR fans tune into a Fox broadcast, they know they'll get a couple of things from Clint Bowyer. First and most importantly, he'll provide a driver's perspective of what's happening on the track. In his second season, he's also shown a propensity to take a lighthearted approach, joking around, which often includes taking shots at anyone and everyone.
On Sunday at Darlington, the tables were turned. Bowyer had a shot fired directly at him, and it surprisingly came from none other than Bill Elliott. It was a hilarious moment and just one of several reasons fans were suggesting the Hall of Famer should become a regular in the booth in the future. 
Clint Bowyer regularly takes shots at others
Since Clint Bowyer joined the Fox NASCAR team at the start of the 2021 season, he's been more than willing to joke at the expense of others. Last year, his target was often his boothmate and former competitor, Jeff Gordon. 
This year, with Gordon's departure, the former Stewart-Haas Racing driver has had moving targets in the booth with Fox using a rotational lineup of guest analysts. Despite that change, Bowyer didn't take long to start firing shots, beginning with the season-opening race at Daytona and Tony Stewart.
After the network aired a segment with Stewart interviewing Kevin Harvick, in which both made fun of Bowyer's attire, the live broadcast returned to the set where the 42-year-old took aim at his former boss. 
"You made fun of the way I dress. Have you seen some of your Halloween outfits over the years? I mean, my gosh," Bowyer said as the broadcast showed Stewart in one of his Halloween outfits when he dressed like Carmen Miranda, wearing a pink hat, pink skirt, and matching top, exposing his hairy stomach. 
"Look at that. What is that?" Bowyer asked. "Are you kidding me?" 
After Stewart explained it was a Halloween-winning costume from 2015, Bowyer finished off his attack.
"That's a Halloween nightmare," he said. "How would you like to wake up with that babe, folks? Leah, look out!"
Bill Elliott takes hilarious swipe at Bowyer's driving
On Sunday at Darlington, Fox provided a Hall of Fame lineup of guests analysts, including Richard Petty in Stage 1, Bobby Labonte in Stage 2, and Bill Elliott wrapping up the race. With 56 laps remaining and Elliott joining Bowyer and Mike Joy in the booth, Chase Briscoe got loose and drove the No. 14 car hard into the outside wall. Bowyer drove the SHR 14 car for the last four years of his career. 
"14 got off of pit road, but I think you're right, man. Smoked the wall," Bowyer said as the replay showed Briscoe earning one of many Darlington stripes delivered throughout the race. "The 14 way too high, jumped the cushion, is what I'm going to call that, and got into the wall."
"Are you driving that thing today?" Elliott hilariously asked. 
"No," Bowyer quickly retorted. "That's not funny, Bill."
"Just checking. Okay," the Hall of Famer responded with his familiar drawl.
"That cut deep," Bowyer said. "My hero just cut me. I mean right in the back."   
Elliott receives rave reviews
Elliott's humorous dig at Bowyer was one of several highlights of his time in the booth, which most agreed was not only a top guest analyst performance for the day, but one of the better ones for the entire season.
"Bill Elliott is actually doing pretty good in the booth," Xfinity Series driver Ryan Vargas tweeted. "Seems like he's genuinely having a good time and I love to see that."
"Side note: Bill Elliott has been wildly good in the broadcast booth this stage. Very informative," wrote reporter Dustin Albino. 
"Bill Elliott is absolutely crushing it in the booth right now," wrote one fan. "The man is as sharp and up to date with the sport as he's always been."
Those were just a few of the comments that were overwhelmingly positive. Based on that response, if Fox decides to go down the same route in 2023 with its coverage implementing a rotation of analysts, the network would be smart to bring on Elliott earlier in the season and for a couple of races. There's no doubt he's going to already be on location watching his son, so might as well put him to work and, more importantly, watch him put Bowyer in his place. 
Like Sportscasting on Facebook. Follow us on Twitter @sportscasting19 and subscribe to our YouTube channel.