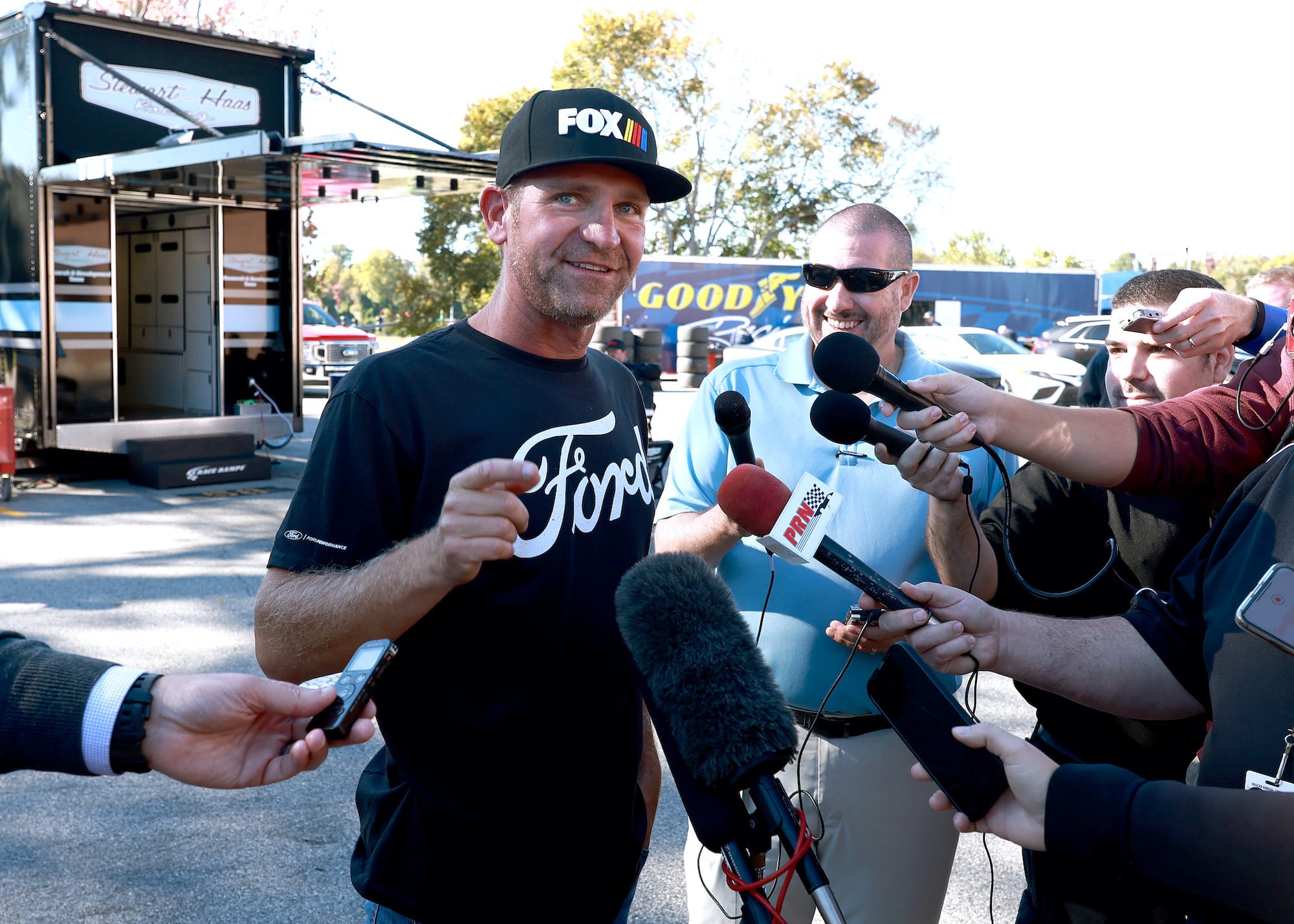 Kyle Larson Calls Out Clint Bowyer for His Rude Behavior and Surprisingly Admits He Needs to Act More Like Him
Kyle Larson blatantly calls out Clint Bowyer for his rude behavior and surprisingly admits it's the best approach in certain situations.
Kyle Larson isn't known for being loud or brash. He lets his racing do the talking. Clint Bowyer is, well, Clint Bowyer. His outspoken, in-your-face, fiery style landed him a job with Fox and its NASCAR coverage.
This week Larson was asked a question during an interview, and he brought up the former Stewart-Haas Racing driver and his behavior, including how he can sometimes be rude. The 2021 Cup Series champion then surprisingly admitted how he needs to act more like the broadcaster in certain situations.
Clint Bowyer takes swipe at Kyle Larson and HMS drivers 
Clint Bowyer has developed his own style in the Fox NASCAR broadcast booth since his arrival at the start of the 2021 Cup Series season. In addition to providing insight into what the drivers are thinking on the track, the 42-year-old also takes a lighthearted approach and often makes fun of himself and others. 
The Hendrick Motorsports group has been one of his most consistent targets, especially last season when Jeff Gordon worked alongside Bowyer and Mike Joy in the booth. Although Gordon has moved on, the former SHR driver has still managed to take several shots at HMS, including just a couple of months ago during an appearance on NASCAR Race Hub when he mocked all four drivers. 
It happened when HMS vice president of competition Chad Knaus joined Bowyer and Adam Alexander on the show, and the three discussed William Byron, when the broadcast showed a strange cartoon graphic of the driver in an odd pose in which he appeared ready to slap something. 
When Alexander asked Knaus about the driver's odd stance, the seven-time championship-winning crew chief joked that he was leading a self-defense class at the organization. 
Bowyer couldn't help but respond. 
"You might need one with that group," Bowyer said, referring to the need of a self-defense expert. "They're good at a lot of things, but I wouldn't think that cage match would be one of those things with your bunch."     
Kyle Larson calls out Bowyer for rude behavior
Clint Bowyer clearly isn't afraid of telling you what's on his mind. According to Kyle Larson, he's not afraid of showing it either. The reigning Cup champ was the featured driver this week with The Athletic's Jeff Gluck and his popular 12 questions. 
When asked the best way to get out of a conversation with someone who won't stop talking, the 29-year-old talked about his approach and then brought up how Bowyer does it.
"Typically, if I'm in a hurry and a fan or somebody is wanting to have a full-blown conversation, I'm pretty short with them," Larson admitted. "I'll just wrap it up and be like, 'Alright, I'll see you later.' And then they immediately get the hint and close their end of the conversation. You learn a little bit of that from (Clint) Bowyer. (Laughs) He doesn't even say 'See you later.' He just disappears. So maybe that's what I should do.
"You'll be like mid-conversation with Clint, and he's just gone. It's like, 'I guess we're over.' It's sometimes rude, but it's just Clint. I feel like that's the best way to get out of it, but I try to at least just say, 'Alright, see you later' and then start walking." 
Regularly around each other with sons
Larson admitted that he's learned a little from Bowyer on the abrupt-ending approach. That's because the two are around each other enough for him to see it happen on a regular basis.
Both of their sons, Cash (Bowyer) and Owen (Larson) are up-and-coming racers and buddies. The pair and Kyle Busch's son, Brexton, are often seen together competing on the track during the week. On weekends they can be found at the big track with their fathers. The three have even been part of a sit-down interview session with Fox's Chris Myers the last couple of years that is both cute and comical.
While it can't be confirmed, it did appear that the boys were reportedly polite, and none of them abruptly up and left the interview.  
Like Sportscasting on Facebook. Follow us on Twitter @sportscasting19 and subscribe to our YouTube channel.