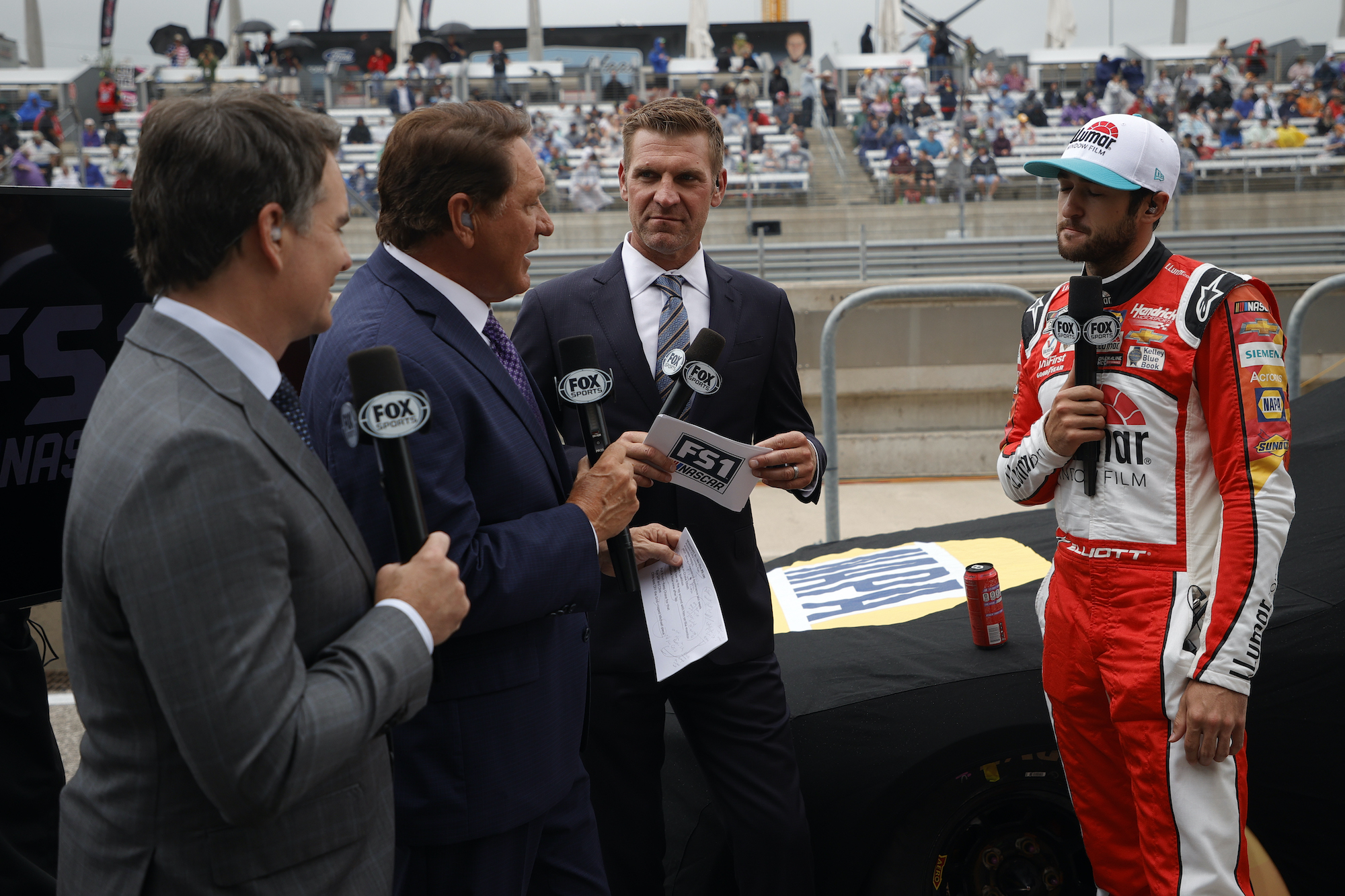 Clint Bowyer Takes Swipe at Hendrick Motorsports Drivers, Mocking Them for Not Being Tough
Clint Bowyer didn't hesitate during his appearance on NASCAR Race Hub to fire a shot at the HMS drivers for not being tough.
Clint Bowyer has made it look easy up in the broadcast booth in his second season of covering NASCAR on Fox, working with Mike Joy and a rotation of former drivers, including Matt Kenseth, Tony Stewart, and Danica Patrick. 
This week he appeared on NASCAR Race Hub and talked about the success of Hendrick Motorsports early in the 2022 season. But it wasn't all compliments. At one point during the show, the former Stewart-Haas Racing driver saw an opportunity to make fun of the four drivers for a certain physical trait, and he pounced.   
Clint Bowyer mocks toughness of HMS drivers
This week HMS vice president of competition Chad Knaus joined Clint Bowyer and Adam Alexander for NASCAR Race Hub. During one of the show's first segments, the three discussed HMS' early success on the West Coast Swing that ended with the team struggling in the final race at Phoenix, with Chase Elliott earning the best finish of the bunch at 11th.
The conversation took an interesting turn when talking about William Byron's 18th-place finish, only because the discussion was accompanied by a strange graphic that showed a cartoon version of the driver in an odd pose, where he appeared to be ready to slap something. 
When Alexander asked Knaus about Byron's pose, the seven-time championship-winning crew chief joked that the driver of the No. 24 is leading a self-defense class at the organization. 
Bowyer, who watched Knaus's explanation stone-faced, couldn't pass on an opportunity to take a shot. 
"You might need one with that group," Bowyer said, referring to the need of a self-defense expert. "They're good at a lot of things, but I wouldn't think that cage match would be one of those things with your bunch."
Bowyer has taken plenty of shots at HMS in past
Clint Bowyer is no stranger to taking shots at HMS. More specifically, he regularly insulted former driver and now-HMS vice chairman Jeff Gordon last year while the pair worked together in the Fox broadcast booth.
But make no mistake about it: It wasn't one-sided. Gordon got in plenty of shots, often pointing out their demonstrably different levels of success on the track. He also mocked Bowyer's intelligence. 
Bowyer often responded, making fun of Gordon for his height and his age, including the race at Homestead-Miami, when the former SHR driver made fun of the four-time champ's vision, suggesting the big, bold block letters on Martin Truex Jr.'s car would be much easier for his old eyes to see. 
Look for more shots with return of Jeff Gordon to booth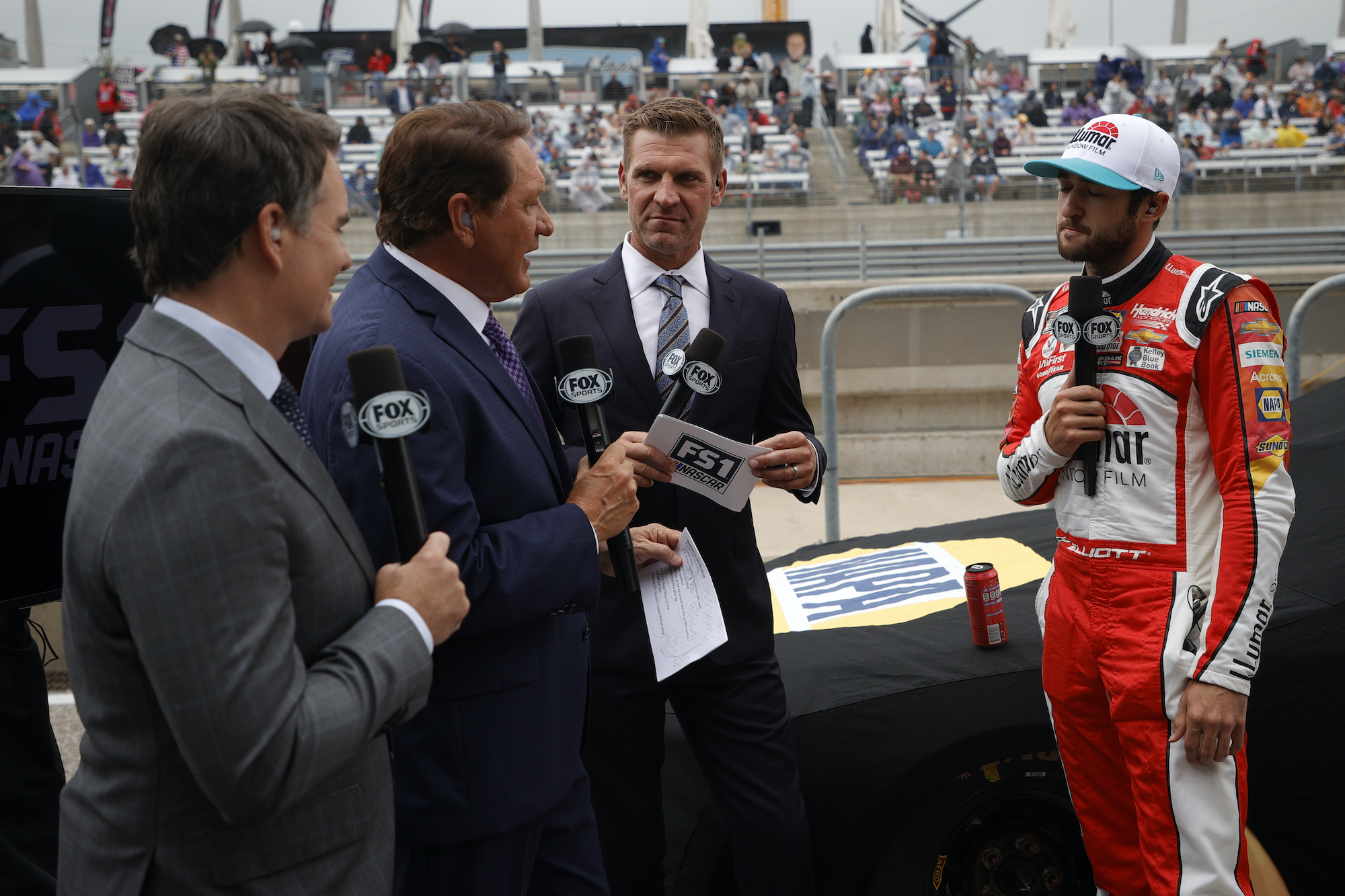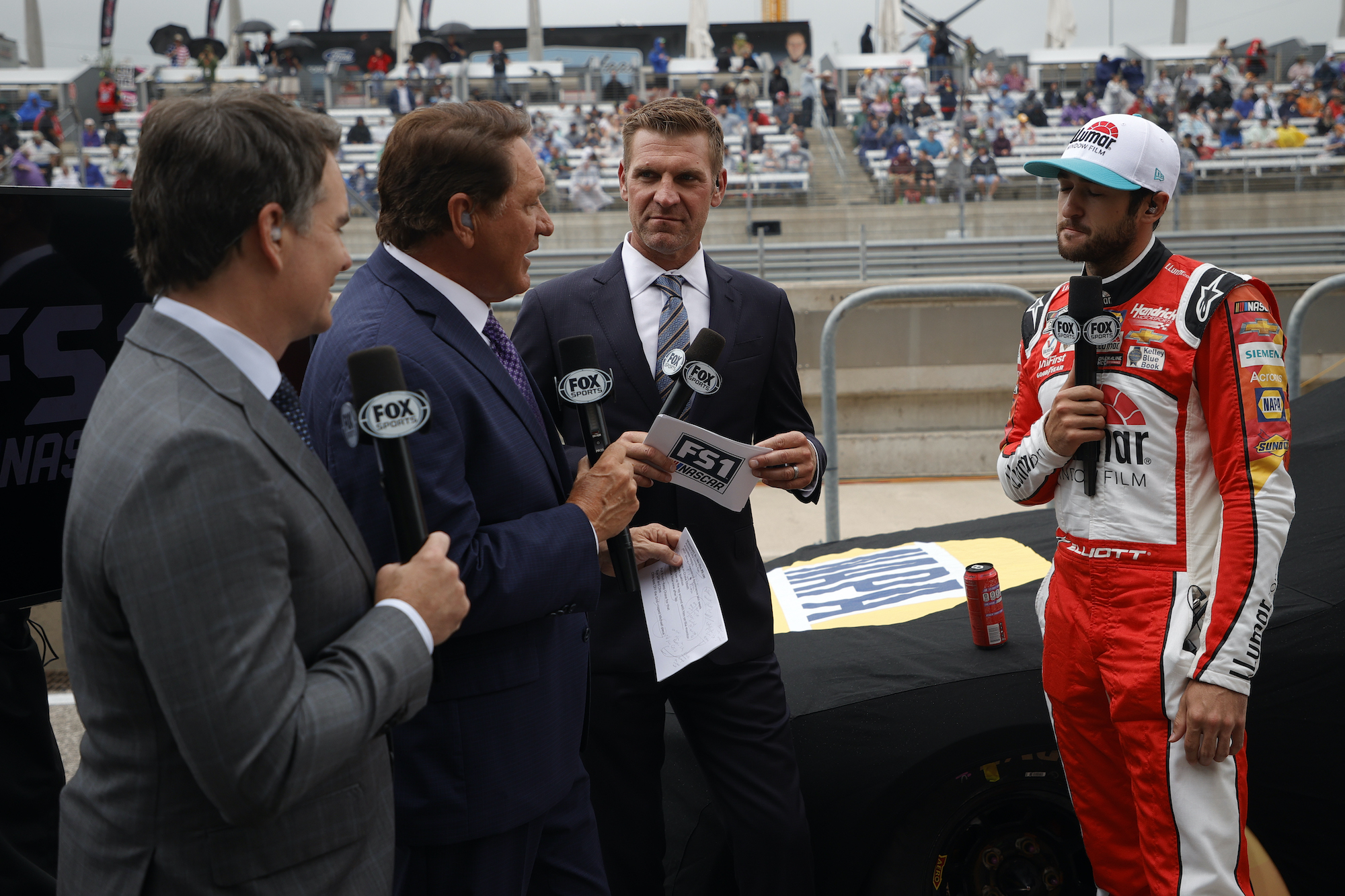 Unfortunately, fans who enjoyed that banter back and forth between Bowyer and Gordon only had a chance to appreciate it for one season with Gordon leaving the broadcast booth to work full-time as vice chairman at HMS this year, prepping for his role as Rick Hendrick's eventual successor whenever the leader decides to step down. 
However, this week those fans will get a treat as the network announced during Sunday's race at Phoenix that Gordon will be returning to the booth as the latest guest analyst with Bowyer and Joy. 
Bowyer has seamlessly worked with the others who have joined him in the booth this season, but the firing of shots has been much more limited. With Gordon's return, fans can expect both former drivers to show up with their guns loaded and ready to take a shot whenever they get a chance. 
And if William Byron ever comes up in discussion, it wouldn't be at all surprising to hear Bowyer talk about the Race Hub episode and question Gordon about the HMS self-defense training.  
Like Sportscasting on Facebook. Follow us on Twitter @sportscasting19.