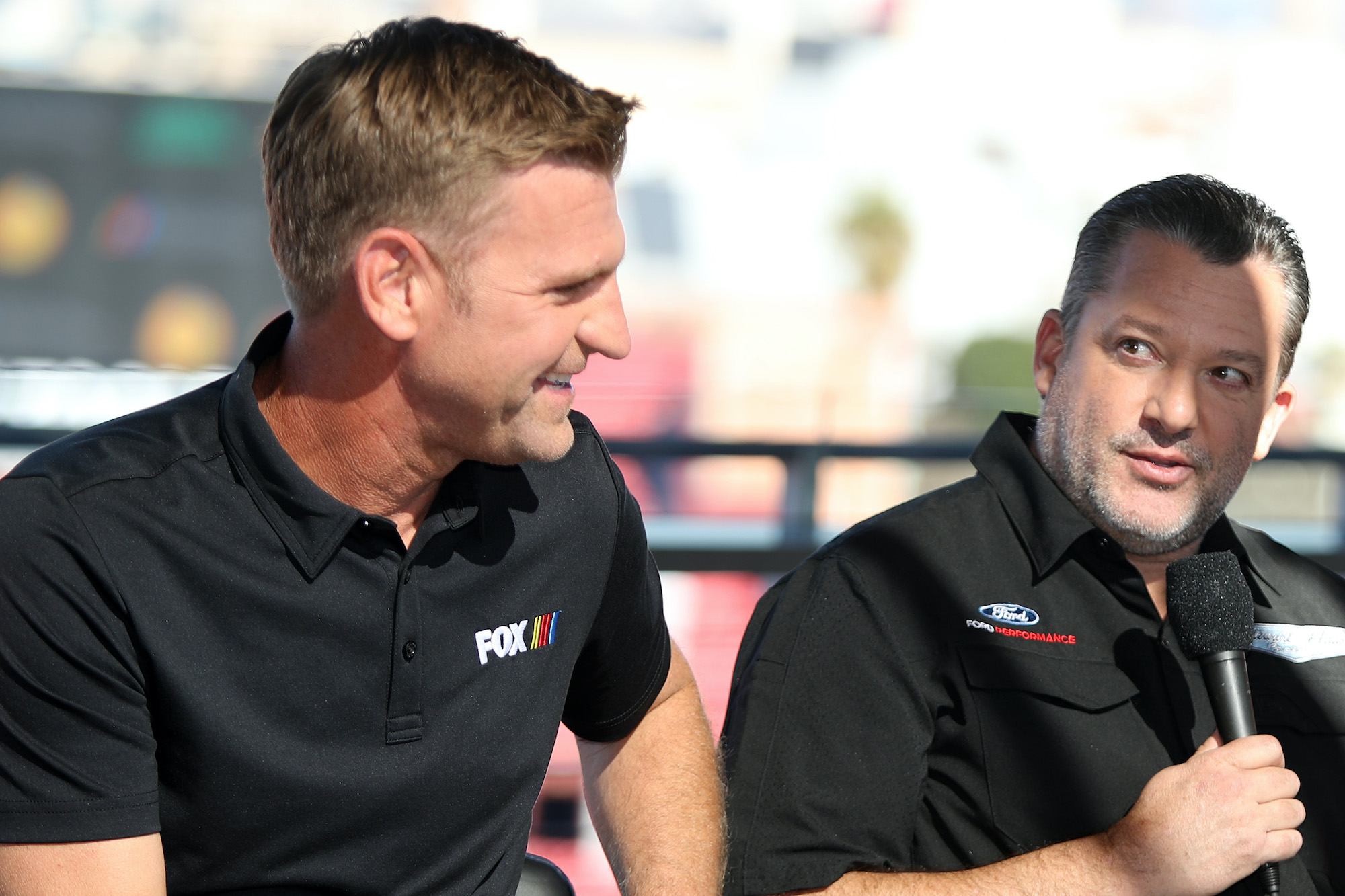 Clint Bowyer and Fox Ambush Tony Stewart During Daytona 500 Broadcast With Embarrassing Photo of 3-Time Cup Champion Dressed Like Woman
Clint Bowyer fired a big shot at Tony Stewart during the Daytona 500 prerace show that included a humiliating photo of the three-time Cup champion dressed like a woman.
At the beginning of his second year up in the Fox broadcast booth covering the NASCAR Cup Series, some wondered how Clint Bowyer would respond following the departure of former broadcast partner Jeff Gordon, who announced last summer his decision to work full-time with Hendrick Motorsports. 
After two races, fans have somewhat of an answer.
However, it's not a completely accurate sample size because during that time, Bowyer has worked with another familiar face in former boss Tony Stewart. During Sunday's Daytona 500 prerace show, the pair showed just how comfortable they are with each other by taking repeated shots at one another, including Bowyer making fun of the three-time Cup Series champion's clothing choices and Fox providing the embarrassing photographic evidence.  
Clint Bowyer mocked by Tony Stewart and Kevin Harvick
During one segment of the Daytona 500 prerace show, Fox aired a Tony Stewart interview with his Stewart-Haas Racing driver Kevin Harvick, which took place several weeks earlier at the Clash at the Coliseum. After discussing a variety of topics, including the 2014 Cup Series champion's feud last year with Chase Elliott, the two trained their sights on Clint Bowyer. 
First, Stewart called out Bowyer's outfit, which was a navy blue pullover sweater and gray slacks. 
"What he is wearing today, I said on-air it looks like he was getting ready to balance my checkbook," Stewart joked.
"I thought he raided (NASCAR President) Steve Phelps' closet," Harvick replied. 
Then Stewart transitioned to their time all working together under the SHR umbrella.  
"The whole time he was with us, he was like a super ball," Stewart said, with the camera showing Harvick moving his finger back and forth, mimicking a ball bouncing off the walls. "It's like just throw a super ball and watch it bounce around." 
Harvick concluded by mocking Bowyer's behavior at the end of team meetings and suggested that his former teammate regularly asked if the meetings were over. 
Clint Bowyer returns fire, blasts Tony Stewart's clothing choices, and Fox shows embarrassing photo
When the interview concluded, the broadcast returned live to Daytona International Speedway, where Clint Bowyer and Tony Stewart sat next to each other with Jamie McMurray and Chris Myers on their flanks. 
Bowyer initially talked about Stewart's interviewing skills and got his former boss-turned-broadcast partner to agree that it's hard interviewing friends like Harvick. The Kansas native then shifted the conversation to the remarks about his clothing.
"You made fun of the way I dress. Have you seen some of your Halloween outfits over the years? I mean, my gosh," Bowyer said as the broadcast then showed Stewart in one of his Halloween outfits, in which he dressed like Carmen Miranda, wearing a pink hat, pink skirt, and matching top, exposing his hairy stomach. 
"Look at that. What is that?" Bowyer loudly asked. "Are you kidding me?" 
After Stewart explained it was a Halloween-winning costume from 2015, Bowyer finished off his attack.
"That's a Halloween nightmare," he said. "How would you like to wake up with that babe, folks? Leah, look out!"
Two will work together again at COTA in March
The exchange between Clint Bowyer and Tony Stewart was entertaining and showed the once quick-tempered former driver has mellowed with age, time away from the track, and now work on the other side of the microphone. 
While Fox initially announced Stewart would work the first two broadcasts of the season, the Hall of Famer announced on Sunday that he will be returning to the Fox broadcast booth again next month at Circuit of the Americas. 
Fans can look forward to his insightful racing knowledge during the broadcast, which has received overwhelmingly positive reviews, and more than likely the exchange of a few barbs with Bowyer. Hopefully, next time around pics won't be included. 
Like Sportscasting on Facebook. Follow us on Twitter @sportscasting19.