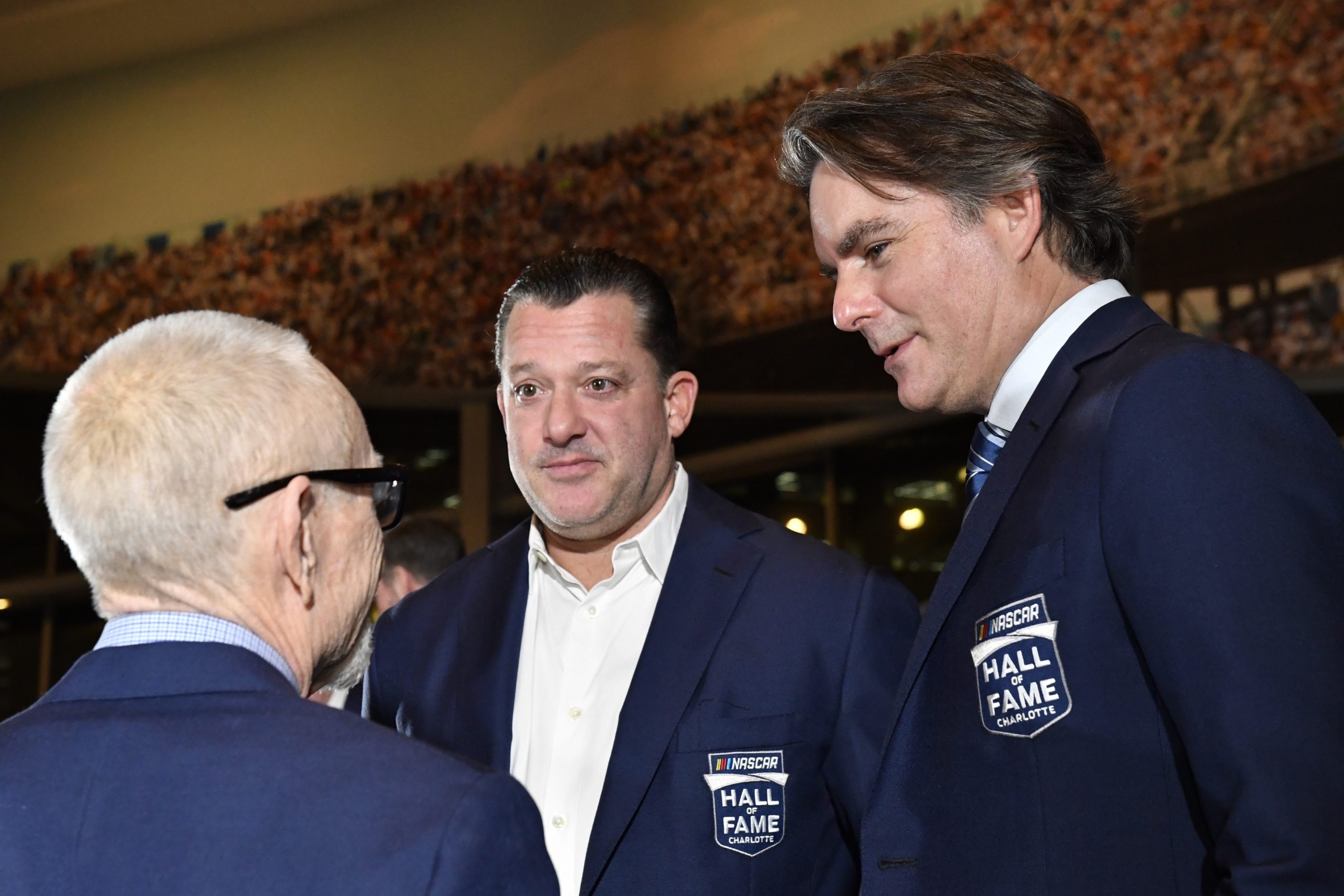 Jeff Gordon Reveals During SiriusXM NASCAR Radio Conversation That He's Jealous of Tony Stewart
Jeff Gordon previewed the upcoming 2022 season on SiriusXM NASCAR Radio and revealed why he's jealous of Tony Stewart.
Jeff Gordon and Clint Bowyer worked well in their one and only season together up in the Fox broadcast booth. Unfortunately, it didn't last long as Gordon announced this past summer that he would be committing his time and energy full-time to Hendrick Motorsports in 2022.
Now, weeks before the start of the season and just a few days after Fox announced Tony Stewart would replace him on the broadcast for the first two races of the season at The Clash and the Daytona 500, the four-time Cup Series champ discussed the move and openly admitted to feeling some jealousy.    
Tony Stewart replacing Jeff Gordon in booth to start 2022 season
Early on, it was evident that Jeff Gordon and Clint Bowyer had chemistry in the Fox broadcast booth. The pair had a natural built-in rivalry from their 2012 skirmish at Phoenix. The network certainly played that up. 
Outside of that, the two former drivers bantered back and forth effortlessly, offering insight on the race while also managing to sneak in a jab or two throughout the broadcast. It worked. It didn't feel forced. However, it was short-lived. 
Gordon announced in the summer that he was moving on to work full-time as vice-chairman at Hendrick Motorsports, a move that portends him running the organization when Mr. H is ready to step down in the future.
Since his announcement, Fox has remained silent on the situation. Finally, after months of fan speculation, the network announced over the weekend that Tony Stewart would be Gordon's replacement, at least for the first two races of the season at The Clash in the Coliseum and the Daytona 500.
"I'm teammates with @ClintBowyer again," Stewart tweeted after the announcement. "@MikeJoy500 will have his hands full. This is going to be fun."  
Jeff Gordon admits to being jealous of Tony Stewart
This week Jeff Gordon appeared on SiriusXM NASCAR Radio and talked about his work at HMS and his thoughts on the upcoming season. Naturally, the conversation included a discussion about Fox's announcement this past weekend and Tony Stewart replacing him for the season's first two races. The three-time Daytona 500 winner was candid with his answer when asked about the move.
"Oh boy. Oh boy. Mike Joy better hold on tight," Gordon laughed. "That's going to be fun. Tony is such a great competitor. He cares so much about racing and the sport. Bowyer, I loved working with Bowyer up in the booth. That's probably one of the things that I'm going to miss the most in this new role is working with those guys and calling those races. 
"So I'm a little bit jealous Smoke's going to be up there having a fun time at the Daytona 500 and at The Clash, but I think it's great. That's what I love about what I'm seeing happening in NASCAR is we're just looking to do things different and outside the box. To be able to bring in a personality like Tony and the way he and Clint get along, and his perspective. I think the fans are really going to benefit from that. It should be a great way to kick off the season." 
Potential other booth analysts in the future
While Stewart's announcement addressed the broadcast team lineup for those first two races of 2022, it opened up an entirely new line of questioning on who would sit in that third seat for the rest of the season. Several other notable NASCAR personalities threw their names into the hat, including another Hall of Famer: Mark Martin. 
The driver, who retired after the 2013 season, was asked by a fan on Twitter about his interest in possibly working with Bowyer and Joy as an analyst. Initially, he shot down the idea, suggesting he wouldn't be any good at it and would embarrass himself. However, he ended his response with a teasing last sentence: "I might try." 
Martin is open to the idea. But is Fox? The network hasn't announced any other drivers. No one knows if this is potentially an audition for Stewart to see if he might be a fit for the rest of the season or if the network plans on implementing a rotation of guests analysts. 
Whatever happens, Jeff Gordon will be watching, and a part of him will be wishing he was up in the booth calling the race.
Like Sportscasting on Facebook. Follow us on Twitter @sportscasting19.