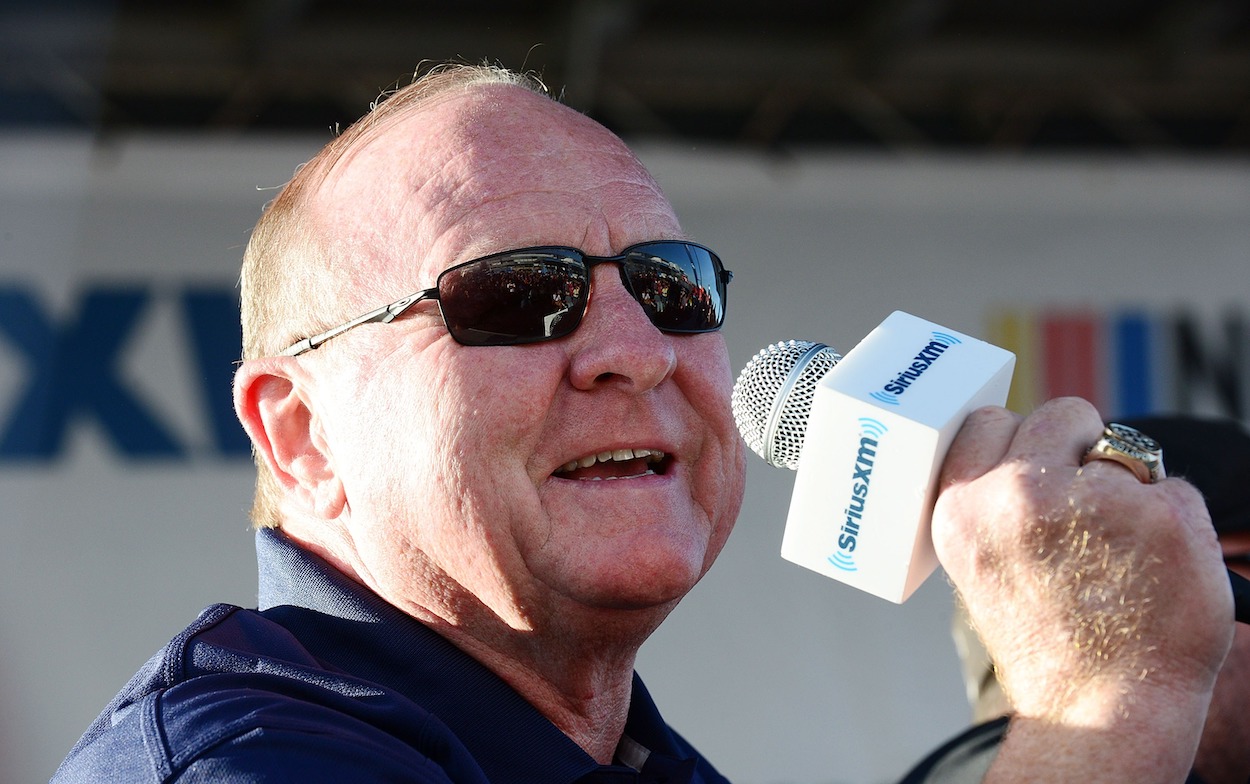 Larry McReynolds Shuts Down Rumor When Fan Suggests the Reason Why 'America's Crew Chief' Won't Be Returning to Broadcast Booth in 2022
Larry McReynolds didn't hesitate in shutting down a fan spreading a rumor on Twitter about the reason why he wouldn't be returning to the broadcast booth this season.
Larry McReynolds is affectionately known as "America's Crew Chief." Before he became the friendly Fox NASCAR personality, he won the Daytona 500 as the crew chief with Davey Allison and Dale Earnhardt. Since 2001, he's provided his expertise as part of Fox's NASCAR coverage. The 63-year-old left the broadcast booth in 2015 and now works in the studio. 
With news over the weekend that Tony Stewart will be working as an analyst and the third person in the booth for the first two races of the season, replacing Jeff Gordon, who left to work full-time with Hendrick Motorsports, many fans on social media proposed ideas on who might also be a good fit to serve in that role if Fox opts to go with a lineup rotation throughout the season. Unsurprisingly, McReynolds came up. Interestingly, one fan offered up a reason why it wouldn't happen. McReynolds, in his very polite style, quickly shut down the rumor.     
Larry McReynolds wins two Daytona 500s before moving to broadcast booth
Larry McReynolds got his start with NASCAR in 1975. A decade later, he landed his first crew chief job. Over the course of the next 15 years, he collected 23 Cup Series wins, including a pair of Daytona 500 victories with Davey Allison in 1992 and Dale Earnhardt in 1998. 
He joined Fox Sports in the broadcast booth with Mike Joy and three-time Cup champion Darrell Waltrip in 2001. The threesome covered NASCAR together until 2015. 
While McReynolds hasn't traveled around the nation and worked in the broadcast booth since 2015, he's still very much involved with Fox's NASCAR coverage. He regularly does studio work and appears on NASCAR Race Hub, the nightly news show on NASCAR, and NASCAR RaceDay, the prerace show where he previews that day's Cup race with Shannon Spake and Jamie McMurray. 
Fox announces Tony Stewart to work first two races of season
When Jeff Gordon announced last summer that he was departing Fox as a race analyst and focusing on his work as vice-chairman with Hendrick Motorsports, the rumor mill quickly fired up with suggestions on who might be his replacement. Many fans proposed the knowledgeable and affable McReynolds make a return to the booth. 
Nothing happened for months on the matter. However, this past weekend, and just a few weeks before racing action begins, Fox announced that Tony Stewart would be Gordon's replacement for the first two races of the season in the Clash at the Coliseum and the Daytona 500. The network's announcement started a whole new round of speculation. 
Is the job Stewart's to lose, and he's effectively proving he can do it at the season's first two races? Or, has this been Fox's plan all along, and they're going to have guest analysts up in the booth throughout their coverage this season? 
Larry McReynolds shuts down rumor
With the latest move and the possibility of a rotating lineup of booth analysts, fans once again proposed McReynolds as a candidate to make his return, even if it's just for a few races. Interestingly, one fan on Twitter brought up a rumor that has made the rounds in the past, suggesting that the former crew chief doesn't want to travel anymore. 
McReynolds promptly shut that thought down.
"Not sure where you heard or read that, totally not true my friend!! Very much miss being at the track!!!" he replied to the tweet. 
His comments clearly suggest that he's not only willing to travel but misses being at the track. If Fox wants to please a large contingent of NASCAR fans, network execs would be smart to allow him to return to the broadcast booth for a few races and allow him and the audience to get nostalgic and take a trip down memory lane. 
Like Sportscasting on Facebook. Follow us on Twitter @sportscasting19.