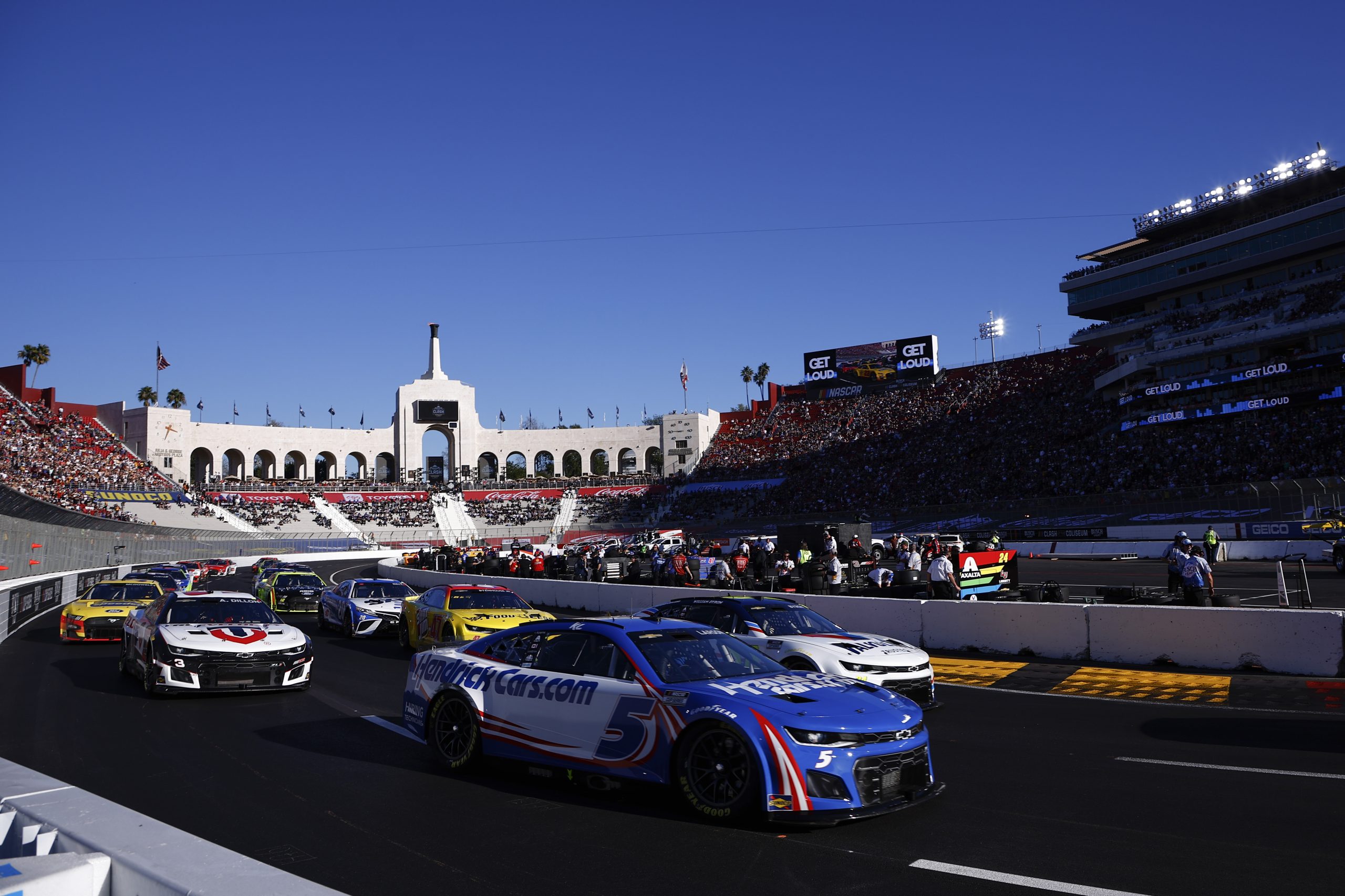 Kyle Larson Gets Called Out by Upset Justin Haley for 'BS' Move During Clash at the Coliseum
Kyle Larson pulled off a questionable move during the Clash at the Coliseum that raised a few eyebrows and got him called out by Justin Haley.
Kyle Larson heads into the 2022 NASCAR Cup Series season with a world of confidence after a dominating performance in 2021, including 10 wins and earning his first championship. Conversely, 22-year-old Justin Haley is heading into his first full-time season and has a lot to learn from veterans like Larson.
During Sunday's Clash at the Coliseum, Haley got a lesson in the school of hard knocks — literally and figuratively — when the reigning champion didn't take too kindly to a move by the youngster and proceeded to redirect him for a hard hit into the inside wall that ended his day.  
Kyle Larson and Justin Haley have drastically different levels of experience
Kyle Larson's racing success has been well-documented. It includes 16 wins in Cup, 12 in Xfinity Series, and a pair in the Truck Series. That doesn't include countless victories outside of NASCAR on dirt tracks and short tracks around the country.
Justin Haley has three wins in the Truck Series, four in Xfinity, and, unbelievably, one in Cup, which came back in 2019 when he shocked the NASCAR world in just his third start, winning a rain-shortened race that summer in Daytona.
Haley has run a full-time schedule in the Xfinity Series for the last three seasons with Kaulig Racing. Last year, he also spent considerable time behind the wheel in the Cup Series, competing in 31 races for Spire Motorsports. 
This offseason, Kaulig Racing announced it was upping its game with Haley, and he would drive full-time in the Cup Series for the team in the No. 31 car. 
Haley impressive all weekend at Clash
To say Justin Haley was impressive during this weekend's racing action in LA would be an understatement. The youngster started fast in practice and followed that up with the third-best qualifying time behind only Kyle Busch and Tyler Reddick.
Racing against the clock is one thing. Racing when there are others trying to beat the doors off of your car is something altogether different.
It made no difference to Haley, and on Sunday, during Heat No. 3, he started from the pole in a race that also included two Cup Series champions Kevin Harvick and Chase Elliott. The Kaulig car showed speed from the drop of the green flag, led from start to finish, and advanced to the feature.
Kyle Larson wrecks Haley and gets called out for it
During the main event with more than 50,000 in the LA Coliseum and millions more watching at home, Haley picked up right where he left off in his qualifying race. He started from the inside of Row 2 next to eventual race winner Joey Logano and stayed up front, never dropping out of the top five in the first 75 laps before the break. 
In the second half, with the intensity and aggressive driving steadily escalating, Haley never wavered. However, that all changed following a restart with 35 laps to go when heading into Turn 3, he got shoved from behind by William Byron, which then pushed him into the left rear of Kyle Larson and moved the No. 5 car up the track. 
An upset Larson responded moments later, coming out of the turn with Haley on his inside, the champ made a hard left and redirected the Kaulig car into the inside wall. 
Clint Bowyer and Tony Stewart both pointed out in the broadcast booth that it was Byron who started the chain reaction, and Larson's frustration was misplaced. Moments later during an interview, Haley agreed and called out Larson for the incident.
"The 24 got into the back of me and shoved me into Kyle, and then Kyle just came down and put me in danger," he said. "Not really impressed with the move. It's hard to be a rookie and gain respect. The 18 just passed him cleanly and he didn't turn down on Kyle (Busch). I don't know. It's kind of BS." 
Haley's performance in LA was impressive. Now the question is whether or not he can build off of that momentum and carry it into the season, all while keeping a watchful eye out for the No. 5 car.
Like Sportscasting on Facebook. Follow us on Twitter @sportscasting19.