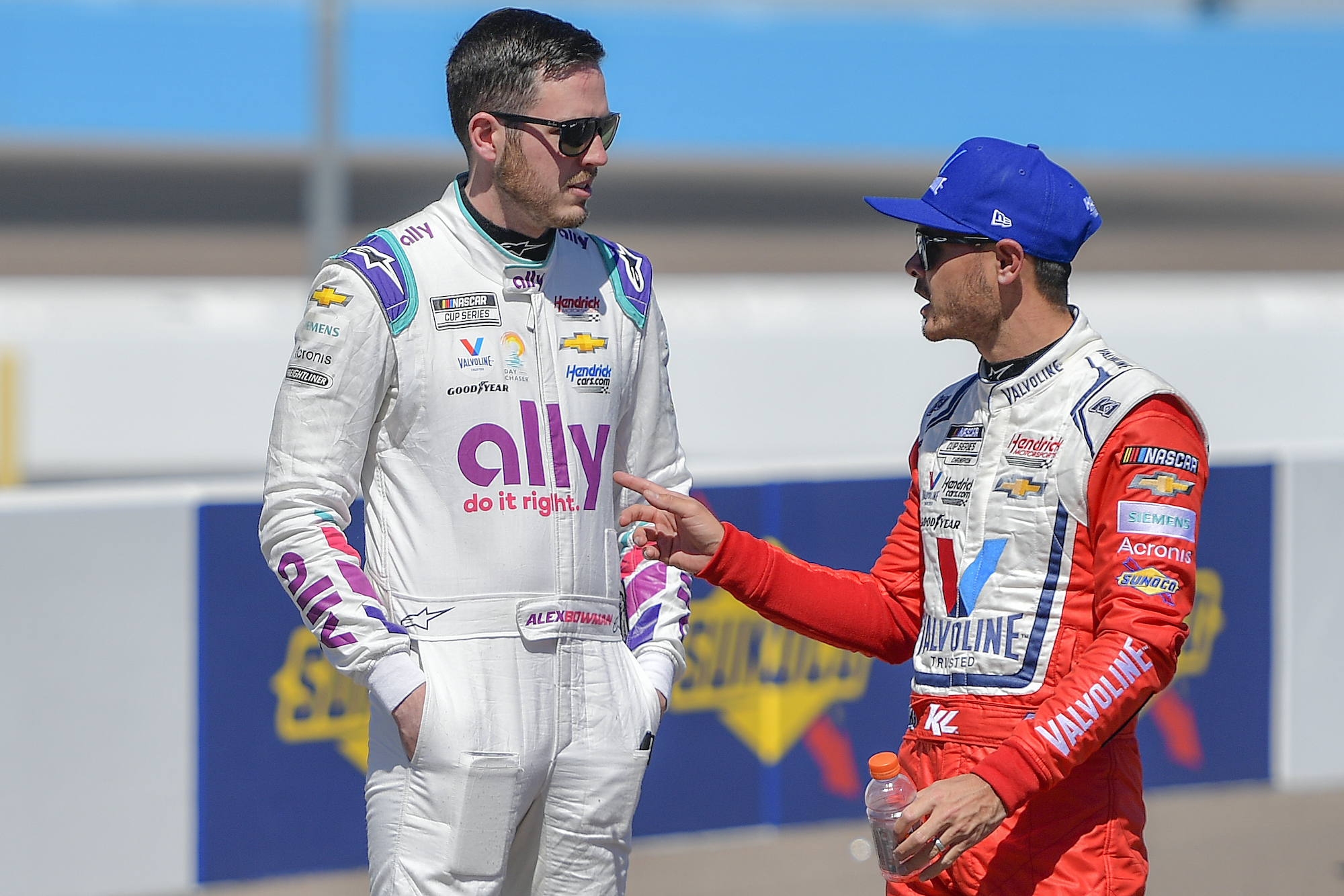 Kyle Larson on Butt End of Joke From Teammate Alex Bowman Just 24 Hours After Addressing Denny Hamlin Twitter Joke That Went Horribly Wrong
Kyle Larson offered his thoughts Saturday on Denny Hamlin's joke directed at him that turned into controversy. A day later, the 2021 champion found himself on the receiving end of another joke by teammate Alex Bowman.
Kyle Larson found himself in the headlines a week ago, and he didn't even do anything. His fellow competitor and friend Denny Hamlin did all the work in an attempted joke that turned out to be a racially insensitive tweet directed at the reigning Cup Series champion. A firestorm ensued.
Over the weekend at Dover, the Hendrick Motorsports driver addressed the controversy and characterized Hamlin's actions as "poor judgment." Just 24 hours later, Larson again found himself on the butt end of a joke. But this time it came from teammate Alex Bowman. 
Kyle Larson talks about Hamlin's 'poor judgment' in Twitter joke
Last week Kyle Larson watched as Denny Hamlin dealt with the blowback from a controversial tweet he posted a day after the Talladega race when he jokingly compared the HMS driver's last-lap move to an Asian woman seen in a clip from the Family Guy. 
Hamlin removed the tweet, apologized, and received a mandatory invitation to sensitivity training. This weekend at Dover, Larson addressed the situation.
"NASCAR did what they had to do, and I appreciate Denny going through the steps to learn from that," the HMS driver said. "Obviously, it was just poor judgment on his part. I think being the position that we're in, you have to be very careful with what you put out to the public. I know he'll learn a lot from the next couple of weeks. I think we're all just ready to move past it and get back focused on racing."
Fox reporter Bob Pockrass questioned Larson if the tweet offended him.
"I wasn't personally offended by it because he is my friend," Larson admitted. "But I know, and I think he knows now how there's millions of other people that a tweet like that could offend. No hard feelings from me."
Kyle Larson on receiving end of joke by teammate Alex Bowman
On Sunday, with Cup Series racing action delayed due to rain, Fox had to ad lib its coverage, which included bouncing back and forth from the studio to the track where the reporters were busy getting interviews with drivers. Jamie Little was tasked with interviewing HMS drivers Kyle Larson and Alex Bowman.
After talking with Larson about his versatility and jumping in between different cars through the week, Little turned to Bowman and asked him about his car's early performance at Dover and how it compared to his race-winning car from a year earlier.
"I think we're OK. Pretty glad to be here holding the umbrella for my more talented teammate over here. He didn't hold it because he's too short to hold it high enough for us," Bowman said, as the camera panned back to include Larson in the shot, which revealed a smile on his face.
Larson been getting last laugh a lot lately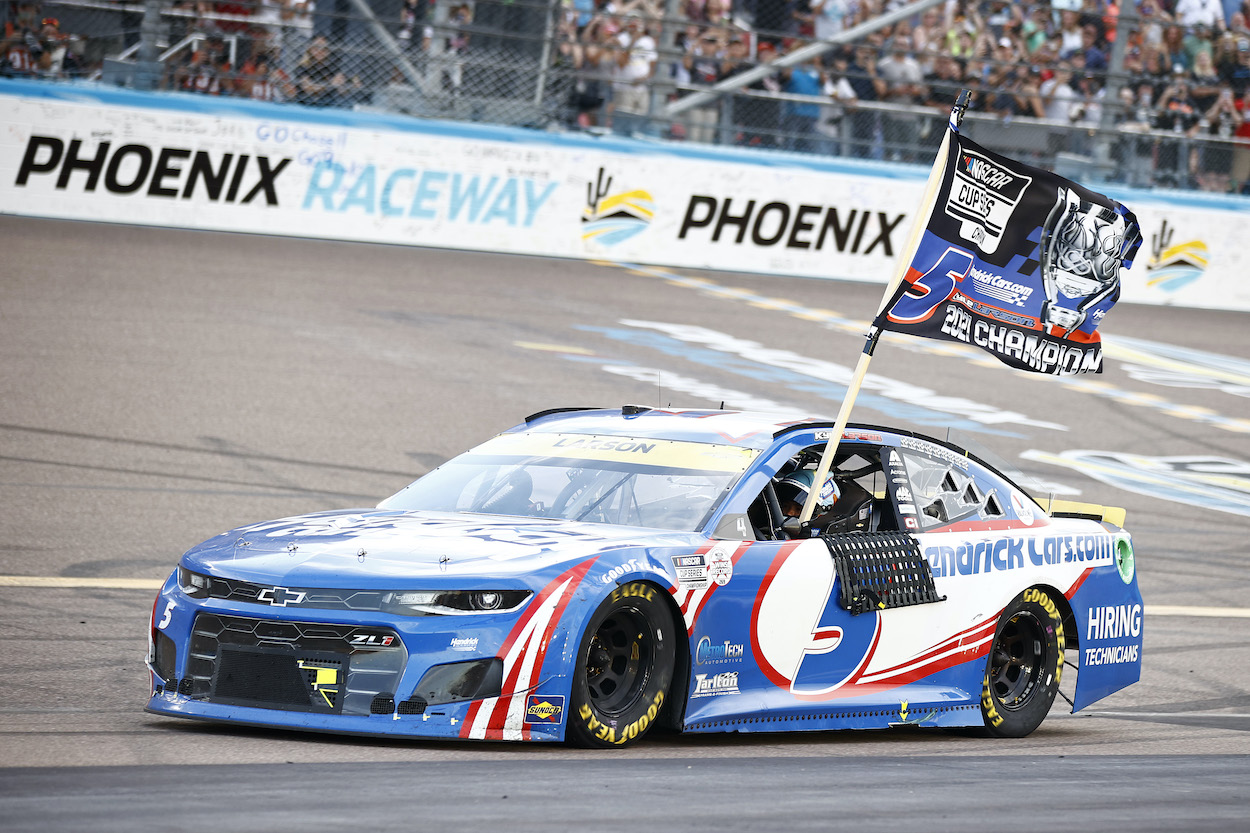 Larson, who is listed at 5-foot-6, has heard jokes about his height before. His on-track results are his best response and he's proven time and time again that in the sport of racing, size doesn't matter. Talent behind the wheel does. And he's got plenty of that.
He proved that at Dover and was leading when the rains came. When racing action resumes on Monday, the 29-year-old hopes to maintain that lead all the way to Victory Lane, for what would be his second win of the season.
Another joke might be incoming after the race, but in the past year he's been the one who more often than not gets the last laugh. His trophy case confirms that.
Like Sportscasting on Facebook. Follow us on Twitter @sportscasting19.