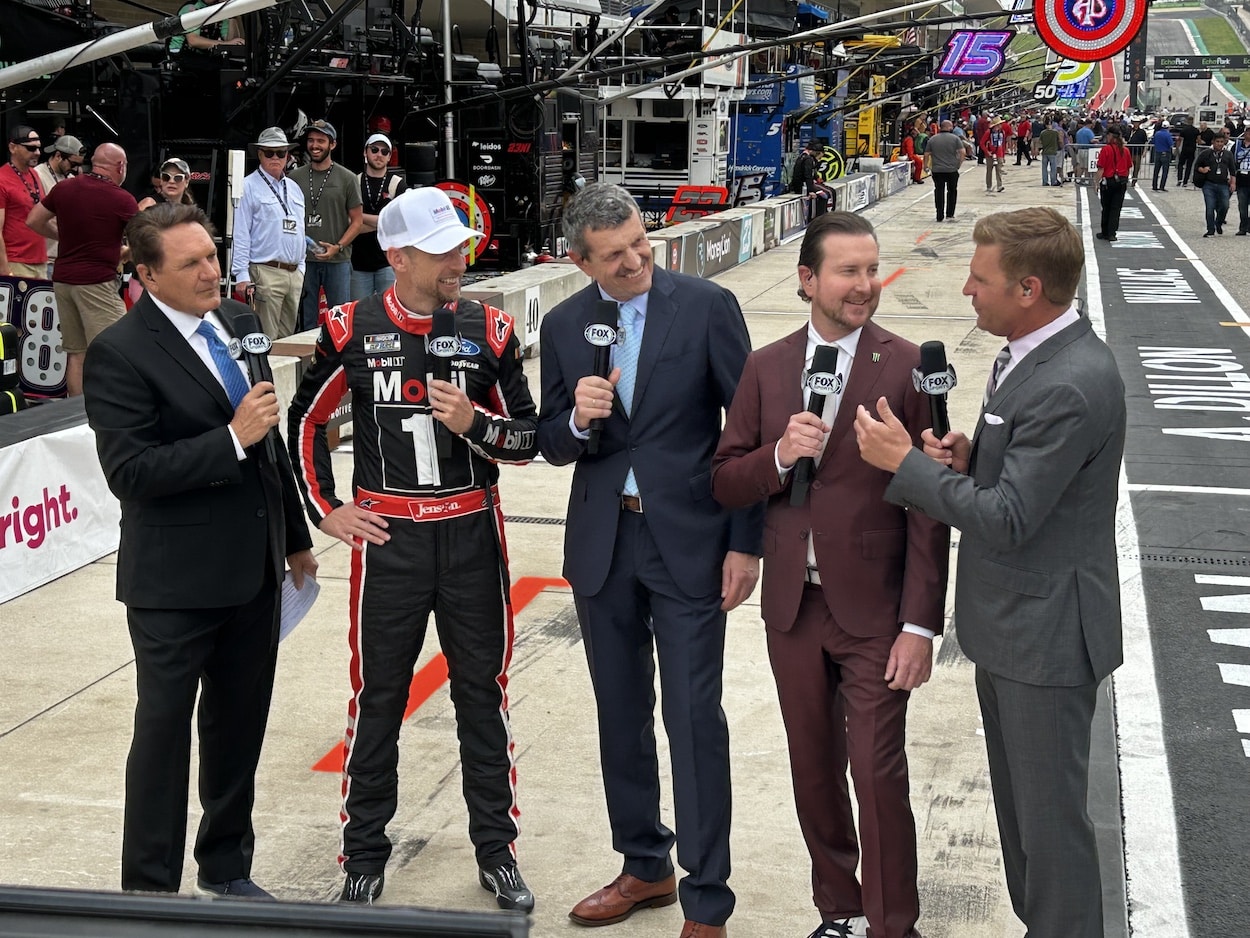 Clint Bowyer Unexpectedly Brings Up Fan Complaints About Commercials and Admits He's Had a Change of Heart on Divisive NASCAR Rule
Clint Bowyer unexpectedly brought up fans complaining about commercials and admitted he had changed his mind on a divisive topic during an appearance this week on SiriusXM NASCAR Radio.
Clint Bowyer wrapped up his third year in the Fox broadcast booth this past weekend at Sonoma Raceway. The former Stewart-Haas Racing driver appeared as a guest on SiriusXM NASCAR Radio this week, where he revisited the 2023 season, including coverage of the network's final race on the 1.99-mile circuit, which only had two cautions.
During that specific conversation, the 44-year-old made a couple of interesting remarks when he surprisingly brought up how fans complain about commercials and then admitted he's not a fan of NASCAR's recent change to a controversial rule. 
Clint Bowyer covers second road race without cautions during stage breaks
Clint Bowyer joined Mike Joy for the 16th race of the 2023 Cup Series season in the booth last weekend at Sonoma, in an event that was notable for a pair of very different reasons, including Fox's final broadcast of the year, and the second time this season there were no cautions during stage breaks. After the first try at Austin back in March, both drivers and fans were overwhelmingly positive about no yellows at the stage ends. 
Sonoma, however, turned out to be dramatically different. There were only two cautions during the entire race, including a loose wheel on pit road and a late single-car accident with Denny Hamlin. That long green-run action allowed the race to get strung out, and Martin Truex Jr. dominated, leading a race-high 51 laps.  
Many on social media complained about a "boring" race and Jeff Gluck's weekly Was It a Good Race? Poll reflected that, with 56.8% saying it wasn't a good race.  
Bowyer discusses fans complaining about commercials and switching his opinion on a recent NASCAR rule change
A few days after the race, Clint Bowyer made a guest appearance on SiriusXM NASCAR Radio, where he talked about the last race for Fox and made a couple of eyebrow-raising remarks. 
"I wasn't a big stage guy. But I was leery, just like a lot of people were," Bowyer started. "Yes. I thought that the stages sometimes, you know, mess up a road course and I agree. I like strategy when it comes to road courses. But buddy, if that caution don't come or you don't have anything going on, that's a long road to the end of that thing. And especially you asked me about my new perspective. You take away those stages and don't have anything in between. You're in trouble. 
"Especially when you start learning about the business side of it, right? You're still selling the same amount of commercial breaks and stuff like that and people will, 'Man, it's a commercial every four or five laps. What the hell's going on?' You hear that and you see that. And you know, I see it right. 
"But if there's nothing on the racetrack to break anything up. You can't take care of business, and certainly at Sonoma, there wasn't enough on the racetrack to break anything up to create any kind of scenarios. The ways that cautions fell, didn't allow the strategy side of it to come into play. So then you're just kind of torn in between kind of a lackluster weekend so I don't know, everybody has a different opinion on that. I've lived both sides of it. And I feel like stages aren't necessarily a bad thing."
Highlights interesting fact about Next Gen car at Sonoma
Moments later in the interview when Larry McReynolds suggested that two cautions in the 110-lap race through wine country could be viewed as an anomaly, Bowyer promptly suggested otherwise. 
"Well, hold on a minute," the former driver interrupted. "The writing was on the wall. The year before there were only two cautions except for the stage breaks. There was only two legitimate cautions and one of them was a wheel falling off with Larson."
Bowyer providing factual nuggets like that to McReynolds is ironic, to say the least. And it shows that the former SHR driver is paying attention to not only what's happening on the track, but the decisions NASCAR is making, and how it's affecting the overall product, including the race broadcast and how it's providing fans with yet another reason to complain about commercial overload.
To stay up to date on the latest happenings in NASCAR, including breaking stories you can't find anywhere else, follow Kyle on YouTube and Twitter.