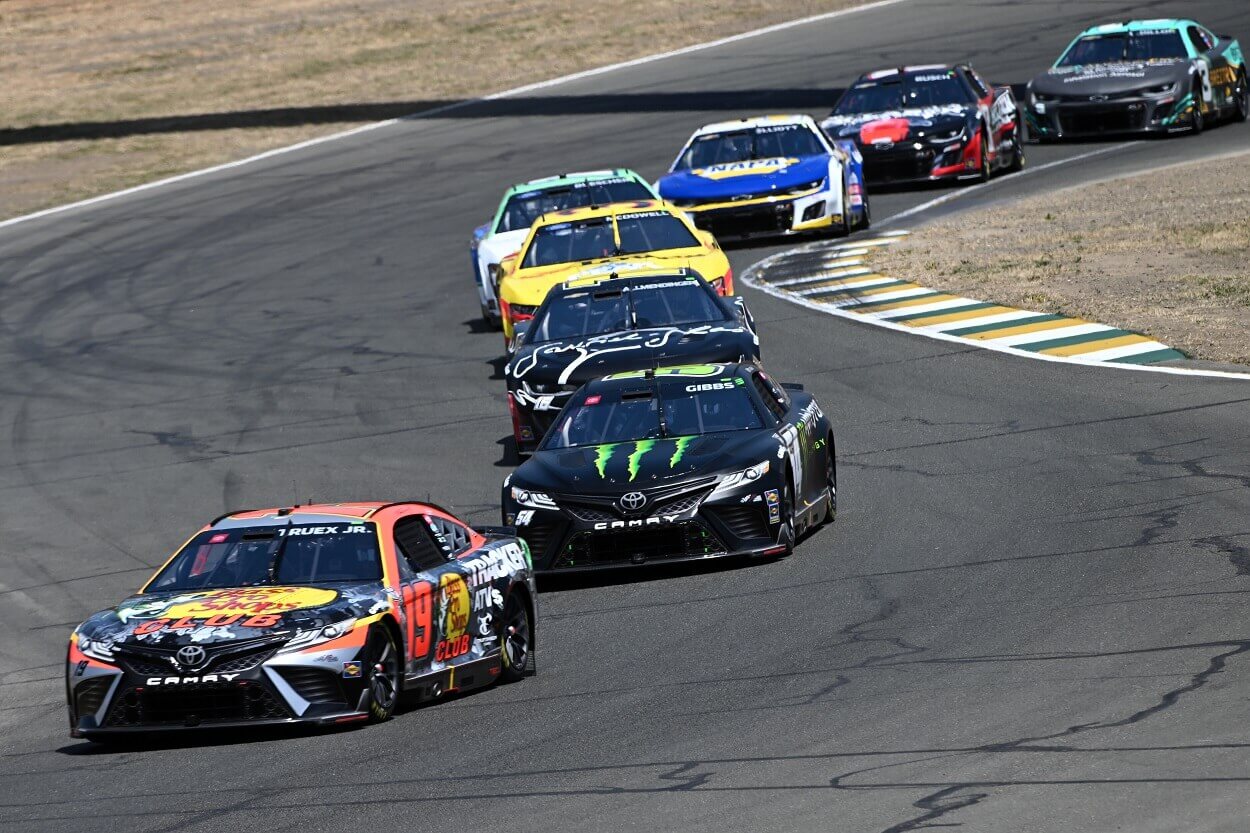 Sonoma Raceway Proves NASCAR Road-Course Races Don't Have to Be Gimmicks
Sunday's race at Sonoma Raceway was about as old-school as NASCAR gets these days.
Martin Truex Jr. cruised to his second win of the NASCAR Cup Series season on Sunday at Sonoma Raceway to complete a type of road-course race that has become increasingly rare in recent years.
Truex 51 of the 100 laps, including the final 14, and crossed the finish line nearly 3 seconds ahead of runner-up Kyle Busch. The finish did not include a heated battle for the win, but it also did not become one of the crazy caution-filled finishes that are now commonplace at Cup Series road-course events.
NASCAR had long had only Sonoma in northern California and Watkins Glen International in upstate New York as the only two road courses on the Cup Series schedule. The events were novelties since they had minimal impact on the playoffs and championship, especially before NASCAR added a rule in 2014 to allow all race winners in a given regular season entry into the playoffs.
NASCAR has added many road-course races to its schedule in recent years
NASCAR shifted the traditional October race at Charlotte Motor Speedway to an infield road course it dubbed the Roval in 2018. That move added a road course to the 10-race playoff schedule and calmed complainers who said the playoffs were not representative of the rest of the season without at least one road-course race.
The sanctioning body did not stop there, however. The Cup Series raced on the infield road course at Daytona International Speedway for the first time in a points-paying event in 2020 when the COVID-19 pandemic forced NASCAR to skip Sonoma and Watkins Glen because of crowd restrictions in California and New York at the time.
Daytona and the Charlotte Roval were the only two road courses on the modified 2020 slate, but NASCAR expanded to seven road-course races in 2021. The Daytona road course returned as the second race of the season while the industry continued to navigate its way through the lingering effects of the pandemic. The sanctioning body also added events at the Circuit of the Americas in Austin, Texas, Road America in Wisconsin, and Indianapolis Motor Speedway shifted its race to its own infield road-course layout.
The road-course boom was likely overkill, and many of those events at the new road courses featured multiple overtime finishes as the entire field barreled into sharp-yet-wide corners that caused pileup after pileup.
Most NASCAR Cup Series events at the new road courses have been absurd
NASCAR tried to run the inaugural event at COTA in 2021 in a downpour, which turned out to be a bad idea. Chase Elliott won by nearly six seconds in the first Road America race later that season, but the 4.048-mile layout made the four caution periods during that Fourth of July race take an extremely long amount of time.
The initial attempt to run the IMS road course five weeks later featured two huge wrecks in the final 16 laps when the curbing in Turn 6 became dislodged from the track and ruined several cars.
The Cup Series dropped back to six road-course races in 2022 when it dropped the Daytona road course, but similar headaches cropped up again. The final laps at COTA had drivers dumping each other throughout the entire 3.410-mile circuit. Road America thankfully did not have a natural caution as Tyler Reddick ran away with his first career Cup Series victory. 
The IMS road-course race again featured insanity during three late-race restarts that included drivers cutting the course because Turn 1 became too packed with cars bumping into each other. The Charlotte Roval race also had an overtime finish when an advertising sign fell on the track in the final laps and produced crazy restarts.
A similar ending happened again this year in the March race at COTA. The race needed seven laps of overtime and three restarts to try to finish the race. Reddick managed to hold on and win after leading a race-high 41 laps, but the finish turned into a battle of survival more than a display of any skill.
The layout at Sonoma Raceway lends itself to genuine racing
Those sorts of finishes don't often happen at Sonoma, and Truex helped explain why in his postrace press conference.
"Just the track layout. Narrow track," he said. "Turn one to turn two, there's not a lot of room for dive bombs. Compared to Indianapolis, for example, you have a long straightaway that's eight car widths wide going into a corner that's two car widths wide, flat.
"This one, turn one, slippery, kind of narrow. There's nowhere to go. You can't dive-bomb people and go in there like you do at COTA. You go up the hill, everybody bonsais, it's five-wide, you got to turn, I don't know, 120 degrees, 180 degrees to go back to the other way, you get run into, run over."
All of that recent history is what makes a race such as the straightforward event at Sonoma refreshing. No, it likely won't be included in any end-of-year highlight clips, but it was at least a legitimate race with a legitimate ending.
Those have become far too rare in recent years.