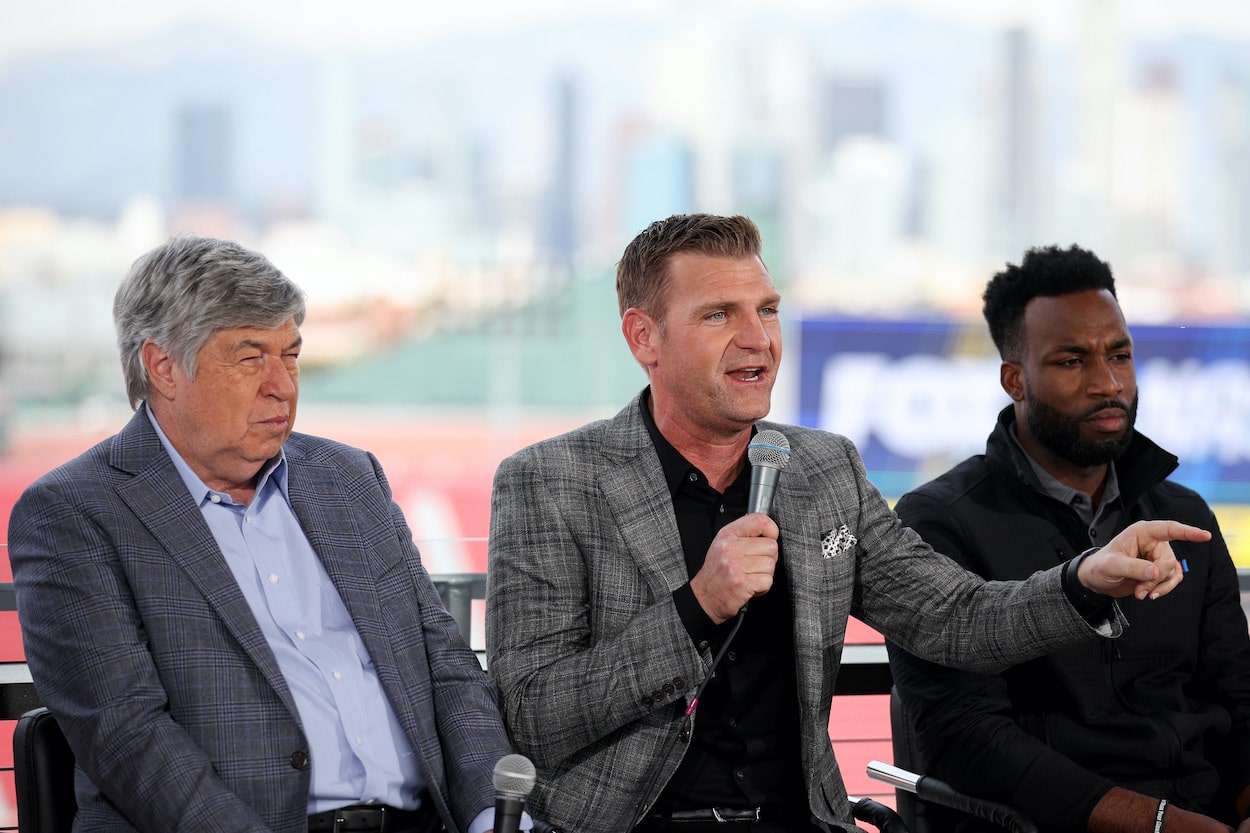 Jamie McMurray Takes Shot at Clint Bowyer in Final Fox NASCAR Broadcast of 2023, and Former Stewart-Haas Racing Driver Fires Back
Clint Bowyer returned fire on Sunday at Sonoma in Fox's final race broadcast of 2023 after Jamie McMurray took a shot at the former Stewart-Haas Racing driver.
Jamie McMurray joined Clint Bowyer and Mike Joy in Fox's final NASCAR broadcast of the 2023 campaign and the last time the network employed a guest analyst with Kevin Harvick coming in full-time next year. The broadcasters talked a lot about Martin Truex Jr. during Sunday's race at Sonoma as the Joe Gibbs Racing driver led a race-high 51 laps.
Toward the end of the race, with the 2017 Cup Series champion pulling away from the competition, Joy revisited the last time the driver won on the road course 10 years ago and the team he did it with, Michael Waltrip Racing. McMurray couldn't resist and took a not-so-subtle shot at his former fellow competitor, and unsurprisingly, he responded. 
Jamie McMurray takes shot at Clint Bowyer
On Sunday at Sonoma, Clint Bowyer and Mike Joy concluded the 2023 NASCAR broadcast schedule on Fox and ended their second year of welcoming a third guest analyst to the booth weekly. The pair, who were joined a final time by Fox regular Jamie McMurray, watched Denny Hamlin dominate early and lead throughout the first stage. But it was his JGR teammate Martin Truex Jr. who proved to have the best car, taking the lead, losing it on a pit stop in the final stage before regaining it, and never looking back.
With five laps remaining and the No. 19 destined for Victory Lane, Joy talked about Truex's last win on the track 10 years earlier with Michael Waltrip Racing, while the accompanying video showed the driver victoriously crossing the finish line. 
"I tell you what, Mike, anybody could win in one of those MWR cars back in the day. It was incredible how fast they were," McMurray said, referencing Bowyer's time with the team, including the 2012 season when he won three races, the most of any season in his career. 
"Yeah, we uh," Bowyer started. 
"Are you talking to Bowyer?" Joy asked. "I know you're talking directly to Bowyer, right?"
"I was talking directly to Clint," McMurray replied with a laugh.
"Apparently nobody could win in what number was that?" Bowyer fired back at McMurray. "Number one?"
Bowyer missed last year's final race due to tragedy
While Bowyer didn't hesitate to return fire at McMurray, the exchange was all in good fun. Considering what happened a year ago, the 44-year-old broadcaster was just happy to be there. 
Last year the former Stewart-Haas Racing driver was notably absent in Fox's final broadcast of the season and the network indicated he was handling an unspecified personal matter. Larry McReynolds filled in for him.
Unfortunately, a few days later, news came out that the former driver was involved in an auto-pedestrian accident on June 5 following the race near St. Louis when he struck and killed a woman who was walking on a highway ramp, according to a police report. Bowyer showed no indication of impairment and provided a roadside sample that did not show alcohol in his system.
Fox booth welcomes Kevin Harvick in 2024
On Sunday, Kevin Harvick joined Bowyer, McMurray, and Chris Myers in the pre-race show, talking about his final race as a driver at Sonoma and his future as an analyst with the network. The 2014 champion said he was looking forward to next year and keeping his former SHR teammate in check.
And Bowyer thought McMurray was taking shots at him. Just wait until next year. Happy will be more than happy to put him in his place whenever he gets a chance.
To stay up to date on the latest happenings in NASCAR, including breaking stories you can't find anywhere else, follow Kyle on YouTube and Twitter.