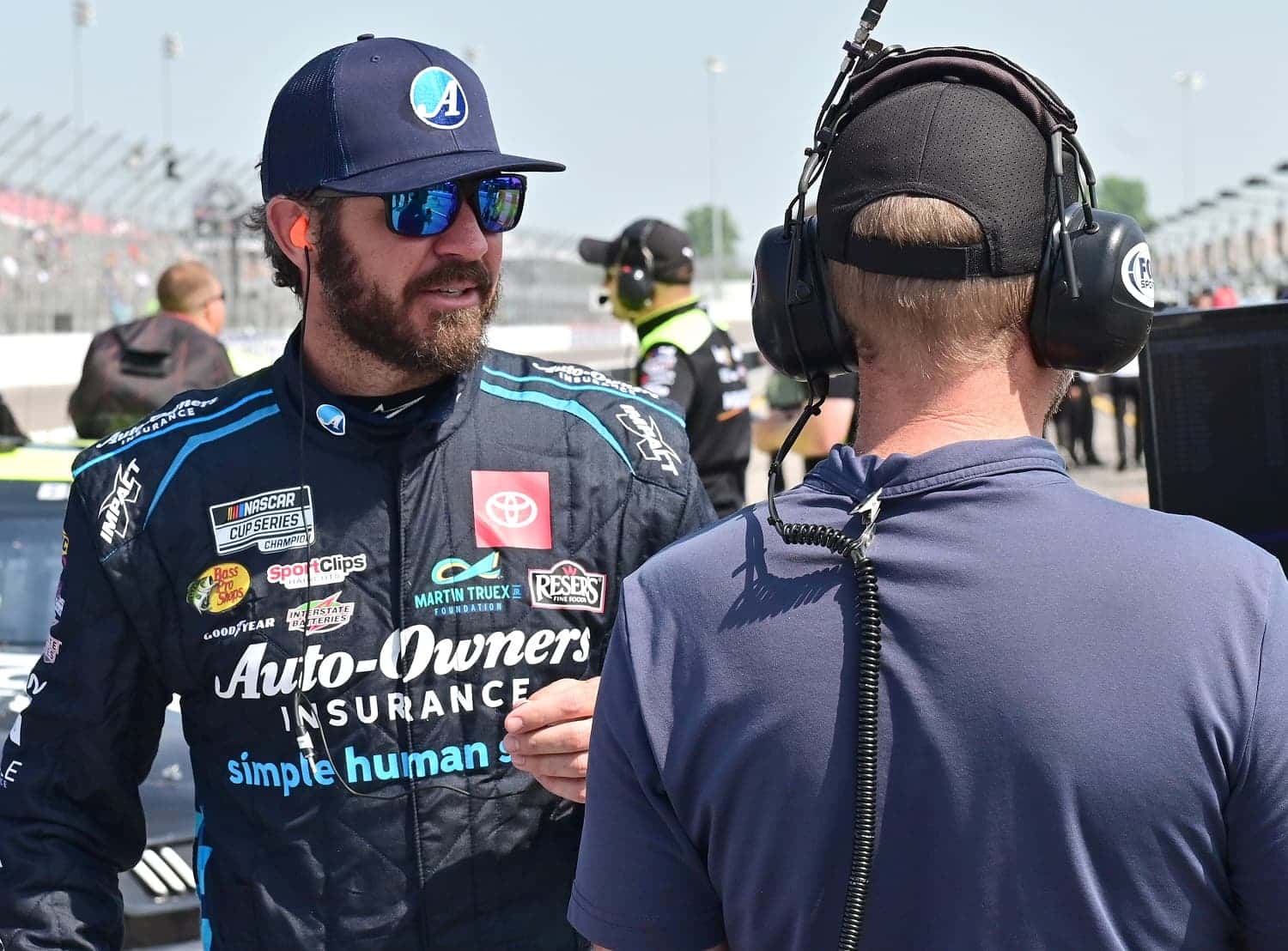 Martin Truex Jr. Is Taking Advantage of Toyota's New Road Course Weapon
Martin Truex Jr. says having Tyler Reddick on the Toyota roster is proving to be an asset to the manufacturer's other drivers on road courses.
The football analogy to what Martin Truex Jr. is expecting on road courses this season would be a hotshot offensive coordinator coming in and showing the quarterback and receivers pages in the playbook they hadn't noticed before.
Truex wasn't awful on road courses last year, but he left just enough points on the track to miss the playoffs by finishing three points behind Ryan Blaney. He's optimistic his No. 19 Toyota and all the Joe Gibbs Racing and 23XI Racing drivers will fare better on the roads this season with help from Tyler Reddick.
Martin Truex Jr. is going to school on Tyler Reddick's car data
A speeding penalty and a broken brake rotor doomed Tyler Reddick to 35th place last year at Sonoma, but he more than made up for it on the other road courses: Wins at Indianapolis and Road America as well as top-10 results on the three other circuits.
Reddick has already won at Circuit of the Americas this season, but circumstances have changed. A year ago, he was driving the No. 8 Chevy for Richard Childress Racing. Now, he's in the No. 45 Toyota at 23XI Racing, and Reddick is a valuable resource for all the Toyota drivers across his team and Joe Gibbs Racing.
"Everybody was looking at this data at COTA," Cup Series veteran Martin Truex Jr. said on Saturday. "I guess for us the benefit is we get to ask him questions and hear about it, like, 'Why did you do this, why did you do that, et cetera.' I think there's a lot of benefit to that for sure these days."
Road courses were a Toyota nemesis last season
If you drove a Toyota in the Cup Series a year ago as NASCAR teams rolled out their Next Gens cars, there was a better chance you would finish 30th or worse than there was of a top-10 showing. Christopher Bell's clutch win on the Roval gave him three top-10 results. Bubba Wallace placed in the top 10 twice, and Kyle Busch and Martin Truex Jr. logged one apiece.
Overall, however, the six full-time Toyota drivers posted a cumulative average finish of 20.2. Trading Kurt Busch for Tyler Reddick, ranked third on the roads among current drivers since 2020, is sure to help that average.
Truex, only 17th at COTA earlier this year but eighth in qualifying on Saturday, is looking forward to a more productive rest of the year on the roads. Twenty-sixth place at Sonoma and 23rd at Watkins Glen cost him just enough points to miss the playoffs a year ago. He's fourth in points this season and less likely to get squeezed out by too many winners, which was the case in 2022.
"As a group in general we struggled on road courses and really never really hit on much last year that worked very well," he said. "I think this year we're a lot closer. … Tyler in the 45 car was dominant (at COTA), so we know that the opportunity's there with our cars this year."
Road courses are an integral part of the remaining schedule
The Cup Series is more than halfway through its regular season, and road courses will play a significant role in setting the playoff field. After Sonoma, the next race away from the ovals comes on Independence Day weekend on the streets of Chicago. In August, the Cup Series travels to the Indianapolis infield and the traditional stop at Watkins Glen.
A year ago, the worst road courses for Toyotas were Sonoma, Road America (replaced this year by Chicago), and Watkins Glen. Kurt Busch (18th) was the only one of the six to finish in the top 25 at Sonoma, and Tyler Reddick is now in that car. How Reddick and the rest of the Toyotas fare Sunday could be a bell weather for how the remainder of the season plays out for Martin Truex Jr. and the rest.
Got a question or observation about racing? Sportscasting's John Moriello does a mailbag column each Friday. Write to him at [email protected].