Tyler Reddick Admits Michael Jordan Bluntly Called Him Out Recently in an Attempt to Motivate the 23XI Racing Driver
Tyler Reddick is in his first year with 23XI Racing, driving for co-owners Denny Hamlin and Michael Jordan. This week, the 27-year-old driver made a guest appearance on the Dale Jr. Download, where he talked with Dale Earnhardt Jr. about what it's been like at the new organization, including the first meeting with His Airness. 
He also admitted how surprised he was to see how involved the NBA Hall of Famer is within team operations, and told a story about a recent conversation with Jordan and how the basketball legend, known for his unique ways of finding motivation in his own career, employed an interesting tactic to motivate his new driver. 
Tyler Reddick moves to 23XI Racing and struggles early
Tyler Reddick and Denny Hamlin surprised the NASCAR community last year when the pair unexpectedly showed up together on a call with reporters and announced the driver was heading to 23XI Racing in 2024. It's been well-documented how Richard Childress wasn't pleased by the news or the manner in how it was handled. 
Reddick remained professional and loyal to RCR, and he proved it by going out and winning a couple of races at Indy and Texas. The owner's frustration from the unexpected departure was also offset by the signing of two-time champion Kyle Busch. 
Now, just three races into the 2023 season and RCR appears to be out to the early lead on the driver change with Busch already earning a win at Fontana. Reddick has admittedly struggled with a pair of DNFs at Daytona and Fontana, and a 15th last weekend at Las Vegas. 
Jordan calls out Reddick and shows a compassionate side 
This week during his appearance on the Download, Reddick talked about how he is on good terms with Childress before he was asked about his relationship with Jordan. It was during that discussion that the driver revealed how the team co-owner was recently trying to get into his head and motivate him for the 2023 season and one race in particular.
"We got right down into it. Got to talk about just anything imaginable — racing, non-racing related stuff," Reddick said of his first meeting with Jordan. "I knew he was involved and I knew he pays attention, but it really surprised me how locked in and involved he really is and how much he pays attention. 
"Even before Daytona, he was busting me pretty good about, 'Yeah, your speedway finishes haven't been too good. I'm not expecting a lot on Sunday.' That got me fired up. Up until I got collected with Harvick, I'd run the cleanest race of my life on speedway, like coming into pit road eighth or ninth and coming out first to third. I was extra motivated. It's been fun.
"Again, it's been really surprising. Like last year, when I got a little banged up at Martinsville and just a number of other things were going on, just always checking up on me. 'Hey, you alright? How are things going?' He checks in all the time and it's been really cool to see."   
It's going to be a good fit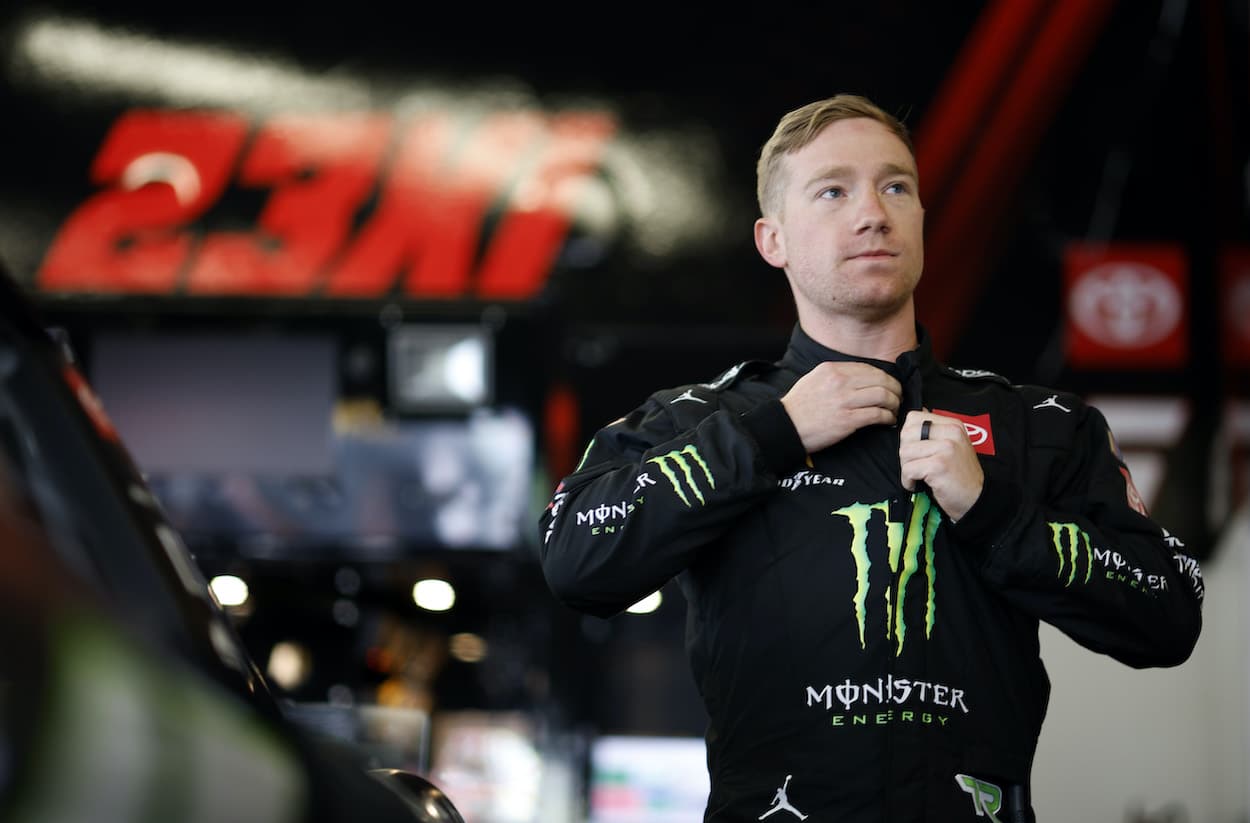 No one will deny that the No. 45 team has started the season on a rough note. As Reddick mentioned, he was involved in an accident with Harvick at Daytona that ended his day early. He finished 39th. A week later, he got caught up in a massive pileup at the start-finish line on a chaotic restart and finished 34th. 
Last week at Las Vegas, he somewhat rebounded and earned a 15th-place result. 
While Jordan's speedway remarks didn't necessarily translate into success at Daytona, they certainly made an impression on the young driver. He knows his boss is not just watching, but paying attention.
And it's not hard to imagine how Reddick's talent and his motivation to impress one of the greatest athletes in sports history doesn't turn out to be a winning combination in the near future and beyond.
For the latest breaking news and information about NASCAR's three national series, check out @kdsportswriter on Twitter.