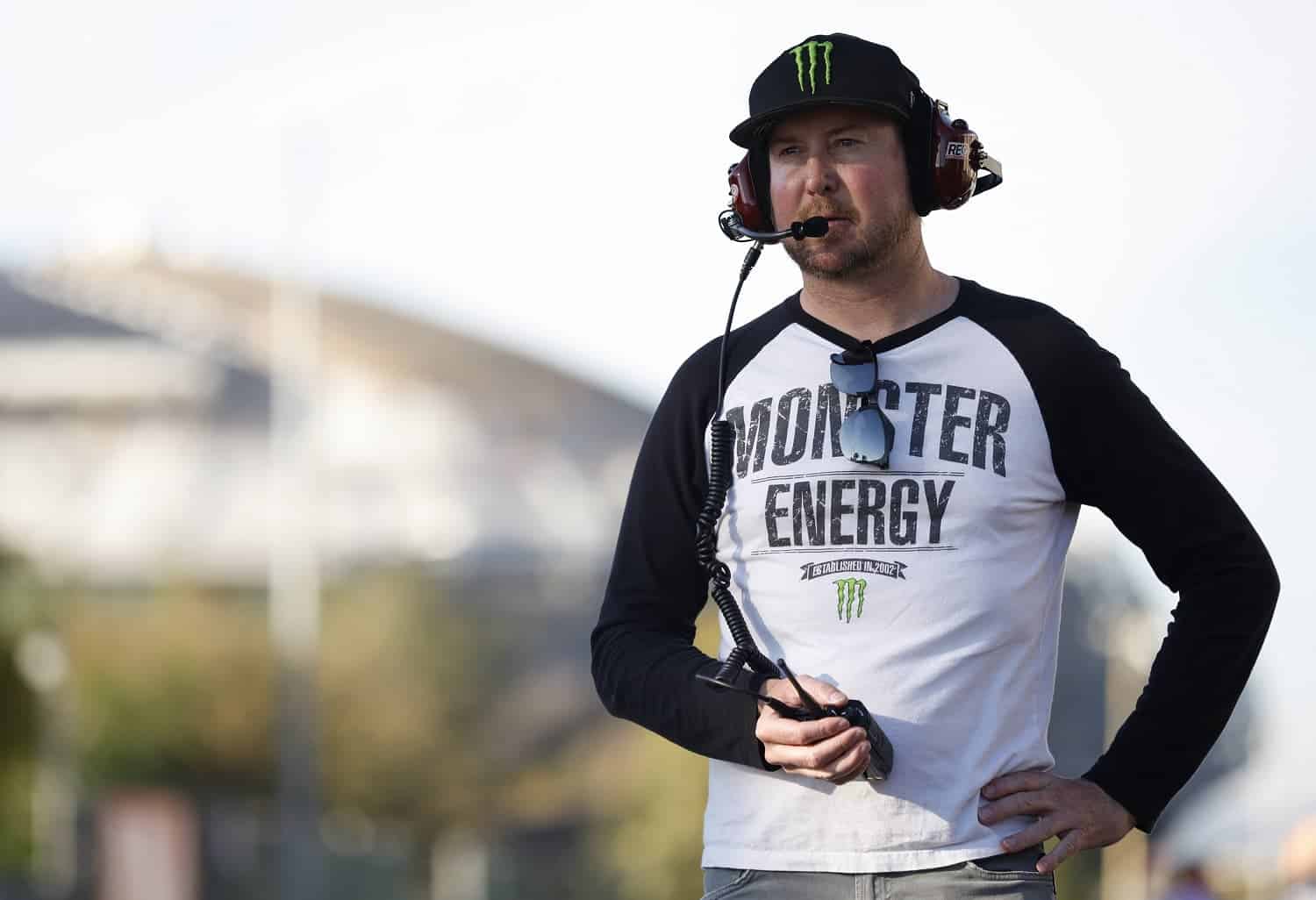 If Kansas Was Kurt Busch's Last NASCAR Win, Then It Was a Great Moment for Kyle Petty
Kurt Busch scored his final win in the No. 45 Toyota at Kansas. Bubba Wallace then won in the same car at the same track. Is it Tyler Reddick's turn on Sunday?
Future Hall of Famer Kurt Busch may return to the NASCAR Cup Series, though conjecture over last week's 23XI Racing social media posting was a false alarm. The organization has two charters and two drivers, Tyler Reddick and Bubba Wallace, but there's always the possibility of running a third car in select races, which Legacy Motor Club does with Jimmie Johnson.
Talk of Busch's future picked up steam in recent days because NASCAR is back this weekend at Kansas Speedway, the site of his last win.
Kurt Busch is back at Kansas Speedway – for FS1
Kurt Busch joined a crowded Fox Sports broadcast booth in March at Circuit of the Americas, but it'll be just him, Mike Joy, and Clint Bowyer on FS1 on Sunday at Kansas Speedway. He's both well-versed in NASCAR and the defending champion of the oval's spring race. A spot in the booth for the AdventHealth 400 is a no-brainer.
We might never know for certain if Busch would have been driving this weekend if not for the concussion at Pocono last July. There was speculation that he intended to retire at the end of the year anyway, but Tyler Reddick became the wildcard in the equation.
Reddick signed with 23XI Racing last summer, but he was scheduled to arrive in 2024. Bubba Wallace, the winner of the Kansas playoff race and backed by big sponsorship money, certainly wasn't going anywhere. It's never been established how hard 23XI Racing would have worked to bring Reddick aboard early had Busch ended the season healthy.
Kurt Busch's win at Kansas was a big day for Kyle Petty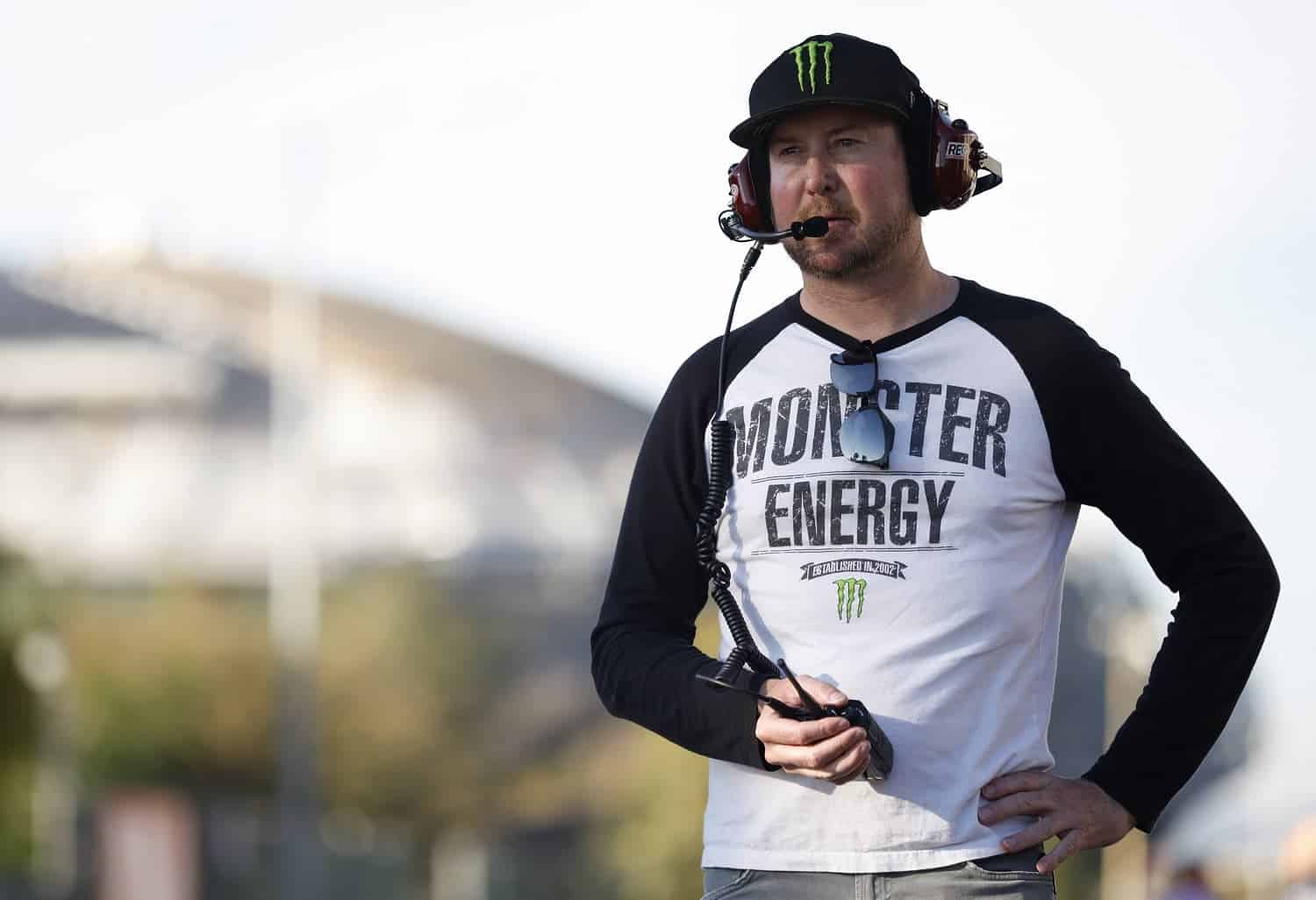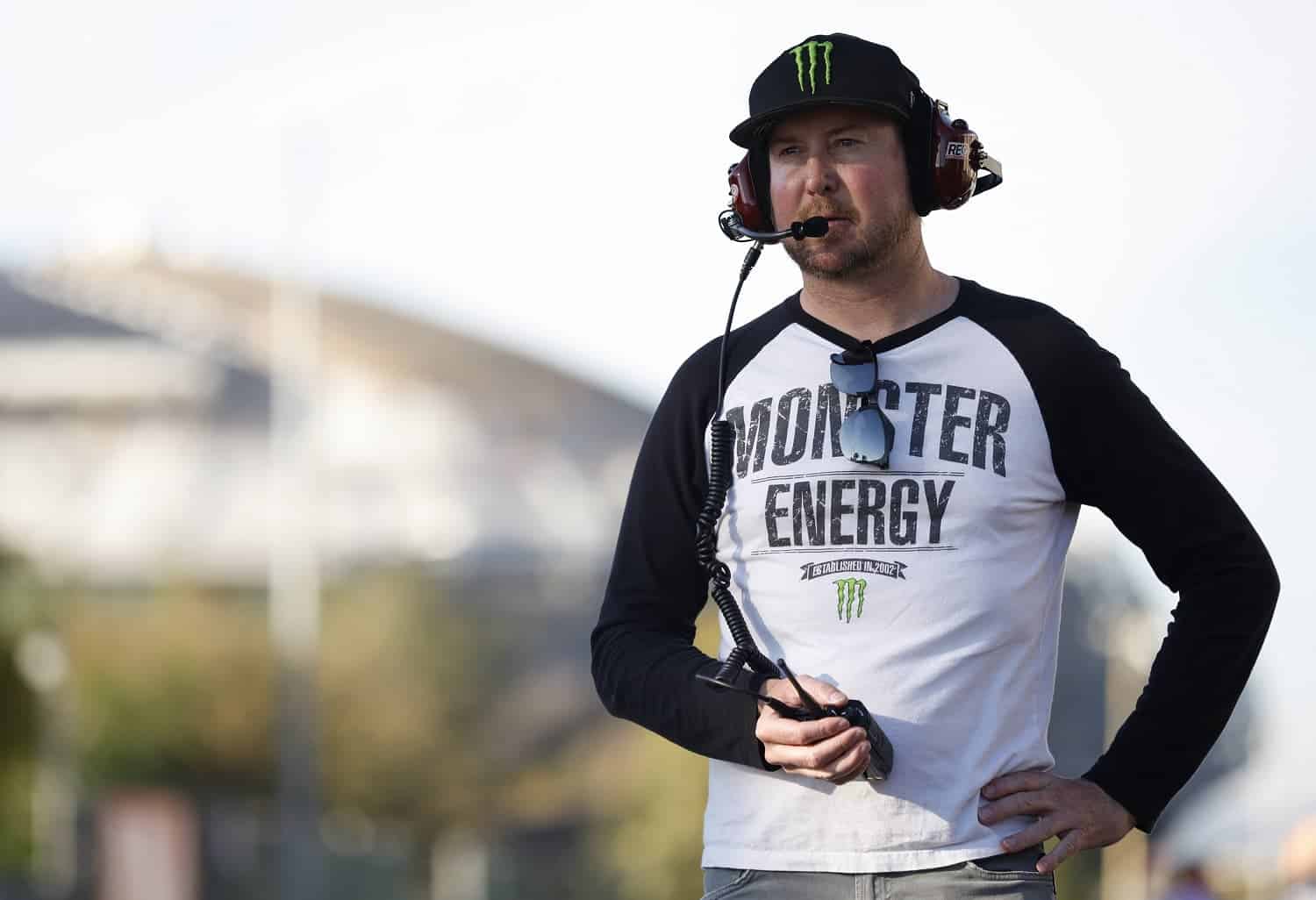 Adam Petty died in a crash at Loudon in 2000. One of last season's Cup Series highlights was Kurt Busch winning in the No. 45 car, which was Adam's number but also meaningful to 23XI Racing owner Michael Jordan in his basketball and baseball careers.
"It was a special day for a lot of people," Kyle Petty told Sportscasting.com this spring as he prepared for his annual Charity Ride Across America. "You don't think about numbers tying people together, but they do in some ways. That was a big day for our family and a huge day for Kurt. That may be his last win, but it came in a good number."
The "45" went into mothballs in the Cup Series in 2008. When Busch came over to 23XI from Chip Ganassi Racing last year, expanding the team to two cars, adding that number to the garage that began with Bubba Wallace's No. 23 Toyota was a natural because of the connection to Jordan's playing days.
Still, Busch and team co-owner Denny Hamlin weren't going to ask NASCAR for the number without speaking to Petty, who finished out Adam's 2000 season in the No. 45 Xfinity car.
"It was Michael's number and his dad's number, so it meant something to Michael Jordan and meant something to us," Petty said.
Kansas is a unique opportunity for 23XI Racing
Kurt Busch's win at Kansas Speedway last spring was the second in 23XI Racing's brief history. Two months later, however, Busch suffered a concussion during qualifying at Pocono. The team brought Joe Gibbs Racing Xfinity Series driver Ty Gibbs over to drive the No. 45 Toyota, hoping it might be a short-term arrangement.
However, the lingering effects of the concussion caused Busch to miss the remainder of the season. That triggered a strategic decision. Though Busch surrendered his position in the driver playoffs so another competitor could advance, the No. 45 Toyota remained eligible for the owners' championship.
Figuring his experience would give the team a better shot, 23XI moved Bubba Wallace into Busch's old car and put Gibbs into the No. 23 Toyota. Two weeks later, Wallace won the Kansas playoff race.
Now, Tyler Reddick is driving the No. 45 Toyota. Should he win Sunday at Kansas, it would give 23XI Racing three different winners in the same car in three consecutive races at the track.
It's a little bit of a longshot: Reddick's average start and finish numbers there are 12.1 and 20.1, respectively. However, he qualified second and first at Kansas last season. On Saturday, however, Redick qualified fifth.
Got a question or observation about racing? Sportscasting's John Moriello does a mailbag column each Friday. Write to him at [email protected]