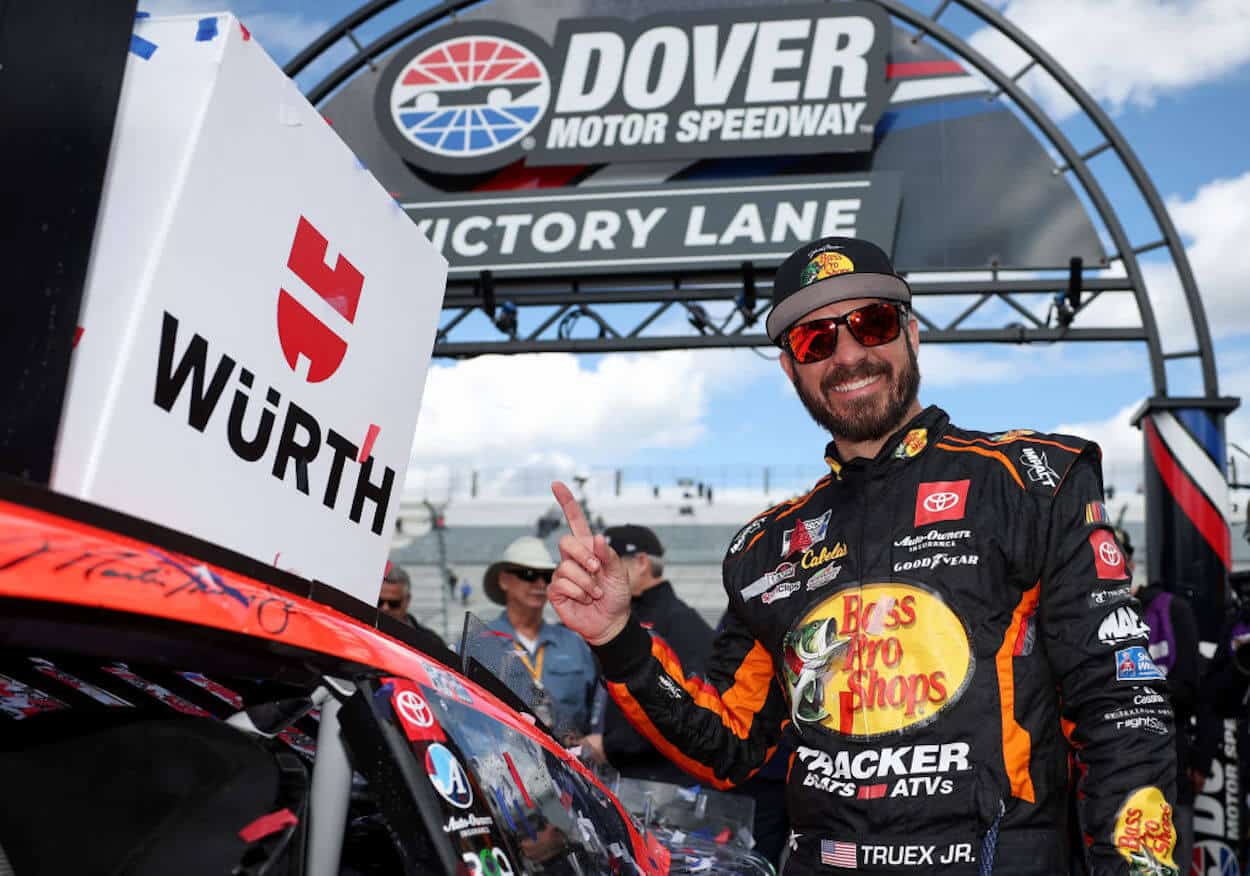 Martin Truex Jr. Suddenly Seems a Lot More Likely to Renew Contract, Return in 2024
While retirement seemed to be on the cards for Martin Truex Jr., the driver could be making a sharp turn and staying in the action.
When Martin Truex Jr. revealed last summer that he planned to forgo potential retirement and remain with Joe Gibbs Racing moving forward, the announcement came with a caveat.
The caveat was that Truex only agreed to a one-year contract extension, meaning that 2023 might be his final year in the NASCAR Cup Series.
But after snapping a 54-race drought with a victory in Monday's rain-postponed event at Dover Motor Speedway, Truex looks and sounds a lot like a guy who intends on remaining the driver of the No. 19 JGR Toyota in 2024 and perhaps even beyond.
Winning at Dover could be a game-changer for Martin Truex Jr.'s future
At age 42, Martin Truex Jr. is the second oldest full-time driver in the NASCAR Cup Series. Only 47-year-old Kevin Harvick — who announced before the 2023 season that he'd retire at season's end — is Truex's elder.
It's, therefore, only natural that many folks would speculate about whether Truex is nearing the point of hanging it up.
After all, Truex could've agreed to a multi-year contract extension last summer with Joe Gibbs Racing, but he chose the one-year option for a clear reason: He wasn't sure if he wanted to race past 2023.
It's not surprising that the 2017 Cup Series champion was reluctant to commit beyond one more year when you consider his response to a question in August 2021 about how much longer he planned to race.
"I really don't know," Truex told me in a wide-ranging interview for NASCAR Pole Position magazine. "I do know that I'm at the point of my career where I want to be having fun. I want to enjoy going to the race car every weekend. I don't want to do it just to have a job. I could find something else to do if I felt that way. Right now, I still love racing. Still committed and still winning."

But Truex made these remarks during a season when he won four races, reached the Championship 4, and finished second in the standings. Up until Monday's race at Dover, Truex had been absent from Victory Lane since September 2021. That means his drought included all of 2022, a year in which he failed to make the playoffs or win for the first time since 2014.
So, does Truex's Dover triumph impact his plans for 2024?
His NASCAR and Pro Football Hall of Fame team owner, Joe Gibbs, certainly hopes so.
"I think it's huge," Gibbs said at Dover in a recorded post-race press conference — a part of which you can watch in the tweet below from FOX Sports' Bob Pockrass. "We are constantly talking to Martin about next year. We want him to stay with us as long as we can convince him to do that. I think the best way of doing that is winning races, or having a chance to win a championship. I think that's the best sales job we can do."
If 'having fun' matters most to Martin Truex Jr., his plans for 2024 seem pretty clear
Martin Truex Jr. hasn't directly indicated before or since Monday which direction he's leaning in for next season. He did, however, make it known in the Dover post-race winner's press conference that he feels good about his decision to return for at least this year.
As for how much of an effect Monday's win had on that feeling, Truex admitted he wasn't sure.
"It's hard to say," Truex said during the post-race press conference. "We've won now, so I can't say if we didn't win all year how I would have felt about it.
"But I'm glad I'm back, and I was glad before this weekend even. It's been going good. I've been enjoying my team and working together with those guys. They've been doing an awesome job, and it's been fun."
But is that enough for Truex to return in 2024 for his 19th season as a full-time driver in NASCAR's premier series?
If you connect the dots between his comments from Monday and his comments from August 2021 — about how having fun will influence how long he hangs around — then Truex's inclination concerning next season couldn't be any more obvious.
Translation: He's pretty much announced he's coming back without announcing it. And his big day at Dover may have very well just sealed the deal.