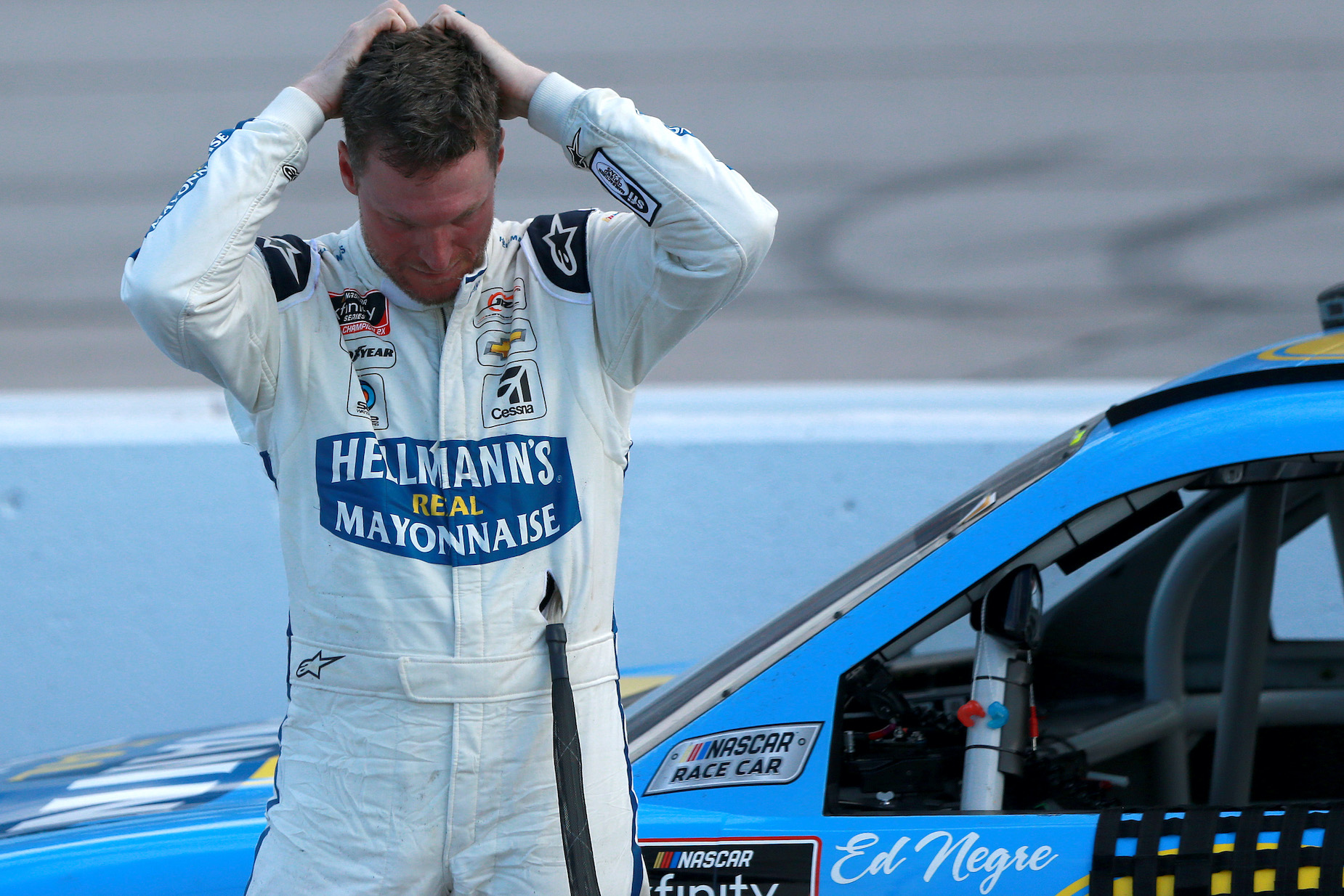 Dale Earnhardt Jr. Once Fell Victim to the 'Worst' Prank Involving a Home Pregnancy Test and His Ex-Girlfriend
While Dale Earnhardt Jr. is no stranger to having fun, he was once on the receiving end of 'the worst' prank.
While Dale Earnhardt Jr. proved to be a talented driver, he also had plenty of fun during his time on the NASCAR circuit. From partying and playing Madden to pulling off the occasional practical joke, the motorsports star had no problem cutting loose and enjoying himself. On at least one occasion, though, he found himself on the receiving end of a serious prank.
As he once explained on the Dale Jr. Download, Earnhardt once had "a very rough moment" due to one specific prank. This one, however, was a bit more intense than most; it involved a home pregnancy test and an ex-girlfriend.
Dale Earnhardt Jr. was no stranger to having fun during his NASCAR career
While he might not have found the same success as his famous father, Dale Earnhardt Jr. put together quite the NASCAR career. Along the way, though, he also had plenty of fun.
"It's documented, and I'll admit, in the Bud years, we had a lot of fun," Earnhardt Jr. told Graham Bensinger. "I mean, we raised hell. We'd go and party and, when we did Bud appearances, we were in bars, you know, signing autographs for fans at a bar. And if there wasn't no racing the next day, we would have beers and hang out. And when I'd come home, we had a ritual that we'd go to the bar every Tuesday. We'd go every Wednesday. We'd do back-to-back nights every week. … And when [the bar] closed, we'd come home and party."
Even after he dialed the partying back and focused more on racing, Dale Earnhardt Jr. was still known to pull some pranks on his peers. One day, though, he received a taste of his own medicine.
The 'worst' prank involving a positive pregnancy test
As any prankster can confirm, you'll eventually get a taste of your own medicine. That's even true if you're Dale Earnhardt Jr.
During a 2017 episode of the Dale Jr. Download, the NASCAR star recalled being on the receiving end of a particularly jarring practical joke. This one touched on a pretty serious topic: an unexpected pregnancy.
"I came home from whatever I was doing; my ex-girlfriend sitting on the couch," Earnhardt explained, according to a NESN write-up. "I go upstairs, and there's a pregnancy test sitting on the counter of the bathroom, and it says positive."
As you might imagine, the driver was shaken up after that discovery.
"I come downstairs, and I go, 'What the hell is this? Why can't you just tell me? Why do I got to find this test on the fricken' counter? This is not how you do this," he continued.
That ex-girlfriend, however, wasn't actually pregnant. As explained by ForTheWin, an unidentified friend was looking to prank Junior and enlisted a pregnant woman to provide the positive test; it was then left in the bathroom, awaiting Earnhardt's arrival.
Unsurprisingly, Dale Jr. described the practical joke in question as "the worst" while calling the experience "a very rough moment."
These days, Dale Earnhardt Jr. is married and the father of two kids
At the time of the prank, Dale Earnhardt Jr. was understandably shaken up by the prospect of unexpectedly becoming a father. These days, though, the NASCAR legend is married and the father of two.
Despite a drunken, go-kart-related incident during their courtship, Earnhardt has been married to Amy Reimann since 2016. The couple now has two children together, Isla Rose Earnhardt and Nicole Loraine Earnhardt.
As seen during episodes of the Dale Jr. Download, Earnhardt is still perfectly capable of cutting loose and having a good time. The pregnancy-related pranks, however, are probably safely confined to the past.