Dale Earnhardt Jr. Admits to Elevated Anger Levels During Road Rage Moment This Week and How His Wife Promptly Shut Him Down
Dale Earnhardt Jr. had his share of conflicts during his NASCAR Cup Series career. Kyle Busch. Kevin Harvick. There were others.
This week on his podcast, the Hall of Famer was asked about the angriest he ever was at another driver for a racing incident. Interestingly, the two-time Daytona 500 winner initially avoided talking about his career, but instead recalled an incident that happened the day before, detailed how his anger quickly escalated, and how his wife promptly shut it all down. 
Dale Earnhardt Jr. talks about road rage moment
While Dale Earnhardt Jr. is one of the best in the business when it comes to interviewing drivers and other well-known figures in NASCAR, the sport's former most popular driver is also entertaining during his weekly Ask Jr. segment, where fans ask him random questions, and he responds. 
During this week's episode, a fan inquired about the time he was angriest behind the wheel. The podcast host offered a surprising response because he didn't initially discuss any racing incidents but what had happened the day before while driving around the streets of Charlotte. 
"Yesterday. I was driving home from the beach, and some jerk — so, I'm driving and I'm in the left lane and there's an exit ramp going off to the left driving through Charlotte," Earnhardt recalled. "I'm going to continue straight in my lane. Somebody behind me goes onto that exit ramp, and then cuts in front of me. Like really close just to jump in front of me. 
"There was a moment there when I throttled up and was going to, I don't know, we were going to have a little race. I don't know what I was going to do," he laughed, genuinely unsure of what he was thinking. "I was going to do a little sidedrafting. I'm not sure exactly. I didn't have a plan but my wife heard me throttle the car up and she goes, 'You got kids in the car.' I was like, 'I do.' And so I had to let the cowboy ride away. I was pissed off."
Earnhardt talks about racing conflicts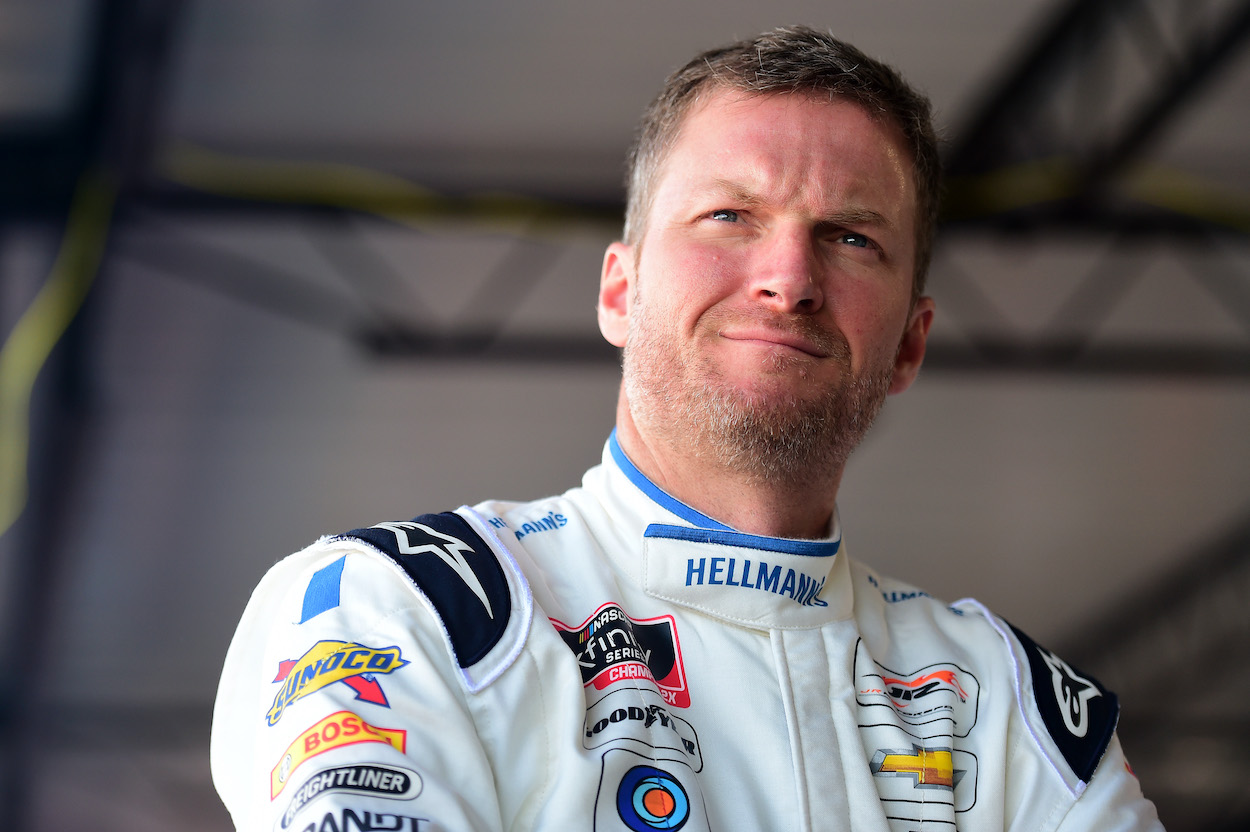 After talking about his incident with the everyday aggressive driver, Earnhardt refocused on his career, and brought up the obvious in Kyle Busch. 
"I was mad at Kyle that night in Richmond," he said. "Kyle at Phoenix. Flipped me the bird. I was mad that day." 
Then, Junior took an unexpected detour talking about a couple of incidents with Matt Kenseth and Mark Martin. 
"Matt's going to be mad," he started. "I was racing with Kenseth. We were running – there's not many instances that I can remember being really that upset after a race, but me and Matt are racing for like eighth at Michigan, last lap. And we're side by side through Turns 1 and 2 and he's on the inside. And we come up off of 2, and he squeezed me into the wall. I think we actually hit the wall. I had to lift off the gas and I finished 11th or 12th. 
"I was like, 'Matt, I had a top 10.' When I'm racing, I'm thinking about those things. Top 5. We're going to get top 3. Wherever we're running. Top 10, alright. And, in an instant, like I'm 12th. Sterling Marlin goes by and a couple of other guys. I was like, 'Damn Matt.'
"Mark Martin did the exact same thing at the same track. Squeezed me off the wall on Turn 2. There's a YouTube clip of me sitting on the back of the tailgate talking about Mark. I was so pissed off. 
"So Mark and Matt are very similar in their styles and I loved racing them. I really learned a million things from Mark Martin driving in the Xfinity Series and racing against him in the Cup Series. They were both very good friends of mine. They were both very supportive of my career. So those two moments were sort of uncharacteristic, and I think when somebody does something sort of out of character, that kind of catches you off guard."
Catches you off guard like some random person cutting in front of you on the highway. And Dale Earnhardt Jr., despite regularly dealing with some aggressive drivers in his career, gets just as upset as the rest of us when it happens.
For the latest breaking news and information about NASCAR's three national series, check out @kdsportswriter on Twitter.