Dale Earnhardt Jr. Feared That He Ruined His Relationship With His Wife After a Drunken Go-Kart Race
Even if you don't watch NASCAR, you probably know the name Dale Earnhardt Jr. As his last name would lead you to believe, Junior was the son of a motorsports legend, the late Dale Earnhardt; he also had his own impressive career behind the wheel. Despite that success, though, the driver once found himself in a sticky situation during a go-kart race.
Before he and his wife tied the knot, Dale Earnhardt Jr. and Amy Reimann face off in a drunken go-kart race. Their time on the track, however, quickly went south, leaving Dale Jr. to worry that he had ruined his relationship.
Dale Earnhardt Jr. has had a successful NASCAR career
As the son of the legendary Intimidator, it's easy to assume that Dale Earnhardt Jr. was always destined for motorsports greatness. While he eventually grew into a star, that wasn't Junior's initial plan.
Earnhardt Jr. earned his automotive degree and took a job at this father's car dealership; he planned to rise through the ranks and became a full-time mechanic. After a new service manager took over the garage, however, Junior lost his job.
Before long, Dale Jr. realized that his place was behind the wheel. He started out on the short track scene before moving up to the Busch Series in 1996; two years later, he made his Winston Cup Series debut.
Although Dale Earnhardt Jr. was never quite as dominant as his dad, he still had quite the career behind the wheel. He won 50 races across NASCAR's Cup Series and what's currently called the Xfinity Series, came in first place at two Daytona 500s, and was a 15-time winner of NASCAR's Most Popular Driver title.
Drunkenly driving go-karts on a date
Everyone, whether they're a NASCAR star or not, knows that drinking and driving is a major no-no. Dale Earnhardt Jr., however, once climbed behind the wheel of a go-kart after having some drinks; needless to say, things didn't go well.
On an episode of the Dale Jr. Download podcast, Junior shared a story of how he and his now-wife Amy Reimann found themselves driving go-karts after a night of partying.
"Me and her, when we first started dating, we had been partying with friends for hours. Everybody went home, and we weren't tired. And I said, 'Hey, you know what'd be good?' Me and her had just started dating, and I said, 'Have you ever raced?' You know, 'I've got these go-karts, and we can go race," Earnhardt. Jr. explained, according to USA Today. "And she was like, 'Yeah, let's go! Let's go check it out! Let's go race, I'll do it."
As you might imagine, drunkenly driving go-karts isn't the smartest idea; going against a NASCAR star, however, made things even riskier.
"And so we got on these [go-karts] at 2 o'clock in the morning, and, I mean, it's dark. We're racing, there's no lights at this track," Junior continued. "There was a building on one end of it, so that was the only light that we had was sort of the corner lights off that building shining across it. I ran into her in this corner, and she didn't lift off the gas. When I hit her, she just mashed the throttle wide open and just held it and almost went into the creek."
Dale Earnhardt Jr. was afraid he ruined his relationship with that crash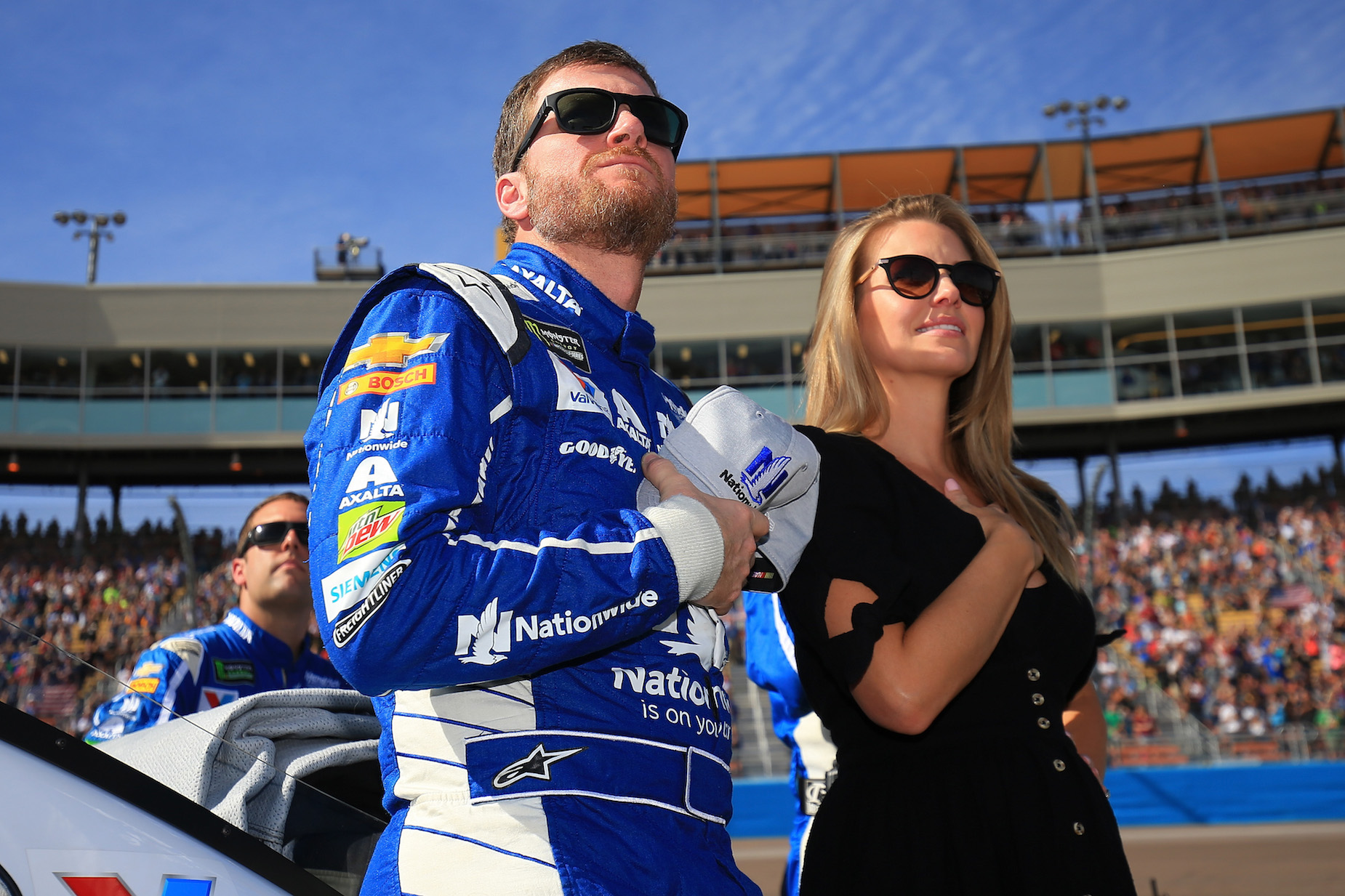 Flying off the track during a drunken go-kart race doesn't exactly sound like a fun time. Unfortunately for Dale Earnhardt Jr., his issues weren't over yet.
"She went over the berm that was sort of the protective berm to keep people from going into the creek, and the back tire got hung up on the root [of] this tree that was kind of growing out of the side of the bank of the creek," Earnhardt Jr. explained. "And she's literally hanging into the creek, and it's like six [feet] down. It was straight down into this creek, man. And it scared the hell out of me."
Although Dale Jr. managed to get Amy out of that precarious situation, he wasn't out of the woods yet. At that point, he was worried that the race had ruined his relationship.
"I thought I done ruined this relationship right here," Earnhardt Jr. said. "She's going to be so mad that she doesn't want to see me again."
Dale Earnhardt Jr. and Amy Reimann, however, are still married. Apparently, the drunken go-kart crash didn't derail their time together.