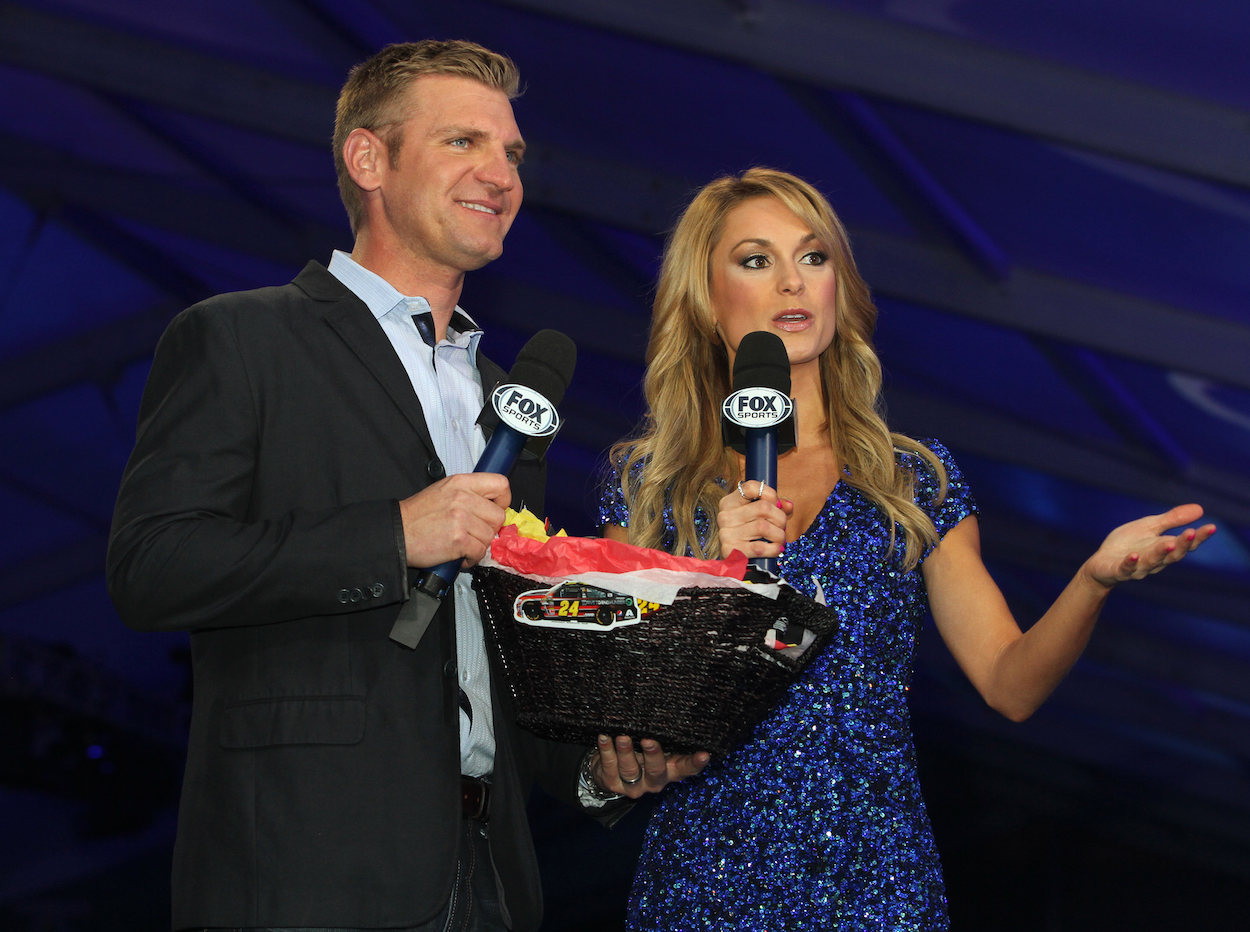 Clint Bowyer Once Again the Butt of the Joke During NASCAR Broadcast but This Time From a Different Source
Clint Bowyer was once again the butt of the joke during Fox's NASCAR coverage Sunday from Talladega but it came from a different source.
Clint Bowyer had a moderately successful NASCAR Cup Series career, earning 10 wins in 16 seasons. Jeff Gordon is on another level with 93 wins and four championships. There's no avoiding that disparity, and Fox's NASCAR coverage has played it up since Bowyer joined Gordon and the broadcast team to start the 2021 season.
As you might expect, Gordon has fired most of the shots at Bowyer. However, in recent weeks, broadcast partner Mike Joy, and even driver Kevin Harvick has jumped in on the action. You can now add a new marksman to the list. 
Clint Bowyer and Jeff Gordon both earned multiple wins at Talladega
Talladega Superspeedway was the center of the stock car racing universe this weekend. The ARCA Series first took center stage on Saturday afternoon and was followed by the Xfinity Series later in the day.
On Sunday, the Cup Series ran the GEICO 500 with Brad Keselowski pulling off a last-lap pass for the victory. Before the race, the Fox broadcast crew previewed the action and Jeff Gordon and Clint Bowyer talked about their experiences at Dega.
Not surprisingly, Gordon had considerably more success than his counterpart. In his 25 years, Gordon won six times, with his last win coming in 2007 when he won both races that season. Of Bowyer's 10 career Cup wins, he earned a pair of victories in back-to-back years at Talladega in 2010 and 2011. 
Chris Myers takes shot at Bowyer
During one segment of Fox's prerace show NASCAR RaceDay, Chris Myers visited with Gordon and Bowyer and talked with them about their fondest memories from Talladega. Gordon mentioned his sweep of both races in 2007 and how he won the fall race with a last-lap pass on teammate Jimmie Johnson. 
Despite Myers' intentions of the former drivers talking about their on-track accomplishments, Bowyer couldn't help himself and went off-track, discussing the atmosphere surrounding the race and specifically Talladega Boulevard, which is also known as "The Party Capital of NASCAR."
During Bowyer's description of the fun he had, video showed him partying on stage with a microphone in one hand and a red plastic cup in the other. Kyle Larson stood beside him and Gordon stood right behind him. 
When the cameras returned live to the track, Myers couldn't help but mention what he observed in the video.  
"Notice in that picture, that's the one time Jeff was behind you in anything," Myers said with a straight face. Gordon busted out laughing. 
"Does he pay you for this?" Bowyer asked. 
Bowyer has played second fiddle all season
Bowyer is accustomed to it by now. Since he arrived, he's willingly played the role of second fiddle to Gordon. It started before the season opener at Daytona when Fox ran a promotional commercial where Gordon conveniently let the elevator door close behind him so he could beat Bowyer upstairs to the office. 
Bowyer has been eating Gordon's dust since. During the broadcast, the four-time Cup Series champion has regularly talked about his accomplishments and how they tower over Bowyer's. However, Gordon hasn't been the only one.
Mike Joy inadvertently took a jab at Bowyer during the race in Atlanta, making a comment where he completely forgot that Bowyer raced in 2020. Most recently, Kevin Harvick jumped in on the action during the prerace show at Richmond, when he told Gordon he would have to help Bowyer understand how QR codes work.  
"Jeff, make sure you explain to Clint how he can use his camera to use this QR code here," Harvick said, referencing a large QR code on the hood of his Hunt Brothers Pizza car. 
Bowyer always takes it in stride, and, on occasion, fires some shots of his own at Gordon. But when it comes to taking incoming fire, Bowyer is the winner hands down. He's No. 1 at something.
Like Sportscasting on Facebook. Follow us on Twitter @sportscasting19.